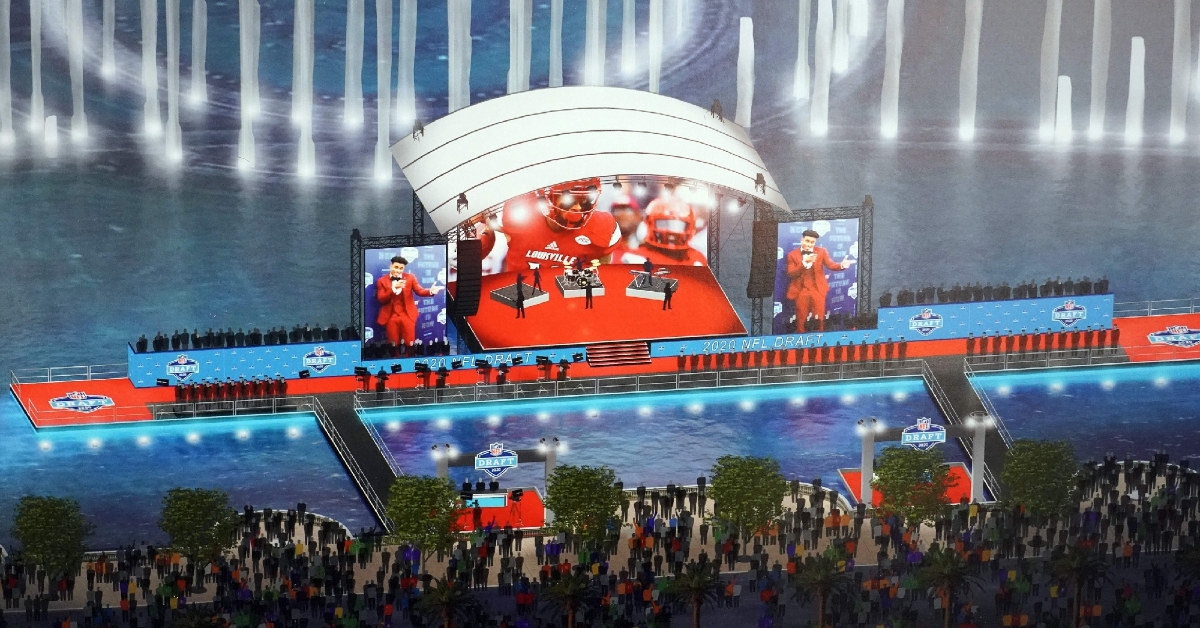 | | |
| --- | --- |
| Get ready for a unique NFL draft experience | |
---
As virtually everything in this country has been shut down until further notice, the NFL is benefitting from a fall start by continuing to do business as usual. Well, business as usual to a point. Yes, the free agency period has been going on for a month now, and scouts have been able to watch film on this year's draft prospects, but that is about it as of now.
We have already heard the NFL will be pushing the start of the new season back in terms of workouts, which was scheduled for the week after the NFL draft. Instead of early May, you're now looking at late May, early June, if not later. Another big adjustment the NFL has gone through is conducting prospect interviews via Skype and other outlets. With no pro days to watch these players in person and to meet, teams need to do their due diligence to properly scout their player hopefuls.
The regular season is still planning to start on time, but a lot can change from now until August when that first preseason game happens. However, quite possibly the most crucial part of an NFL season is set to take place in just two weeks as the NFL draft will take center stage.
Initially taking place in Las Vegas, fans began to wonder if we would even have a draft this season, especially after pulling it from Las Vegas. The answer to that question is Yes, there will indeed still be an NFL Draft on the scheduled dates, but it won't be something any of us are used to as the draft will be an entirely virtual this season.
This doesn't mean the draft will be in Las Vegas with executives gathering and no fans in attendance. What this means is that the draft will be entirely virtual, and Roger Goodell made sure to notify every team about the new process Yesterday. According to NFL Network Insider Tom Pelissero, NFL Commissioner Roger Goodell informed clubs in a memo that club facilities will remain closed indefinitely and that the league will conduct a "fully virtual" draft, with club personnel separately located in their respective homes.
That means that, like most non-essential workers in certain parts of the country right now, the draft will be a work from home experience, and no more than one executive could gather at a single time. Team employees are being instructed to draft from their homes, meaning they will have to conduct their decisions via conference calls to each other before calling in the pick and calling their selection.
As weird as this will be, this is something that had to be done to try and stop the spread of COVID 19, but at least we will have sports in some retrospect soon. Previously, the NFL was debating on allowing smaller war room type of meetings for teams to gather off-site and not at team facilities, but with all the shelter in place and stay at home orders orchestrated the change needed to be made to make the draft stay at home also.
That means that Ryan Pace, Matt Nagy, and everyone else involved in the talent making selection process needs to do their homework the next couple of weeks to make sure they are all on the same page when those conference calls are made draft weekend. Currently, the Bears have seven picks in this year's draft, with two of those in the top 50. The only downside is that those are the only two inside the top 150, so all trades will also have to be done the conference call way after team executives from both sides discuss things.
As weird as it will be for coaches and prospects to conduct draft this way, imagine what it is going to be like for fans who wait all year to watch the draft. I am not talking about the ones who pay the money and go to the venue itself, but the ones who watch the draft on TV and simply love the way they cover the weekend. While the draft will still take place on ESPN, NFL Network, and ABC once again this year, how will it be covered knowing there are all these stay at home orders in place.
Not only will we have no prospect and coaching interviews in person, but you will have your standard four-person crew having to broadcast from isolated locations in their own homes. Does that mean you will have a four-person split-screen on the TV, or how will that work? Regardless of how it works, we will have some form of live sports in two weeks. We need to appreciate what we can get at this point, as it may be the last time we see sports for a long time.