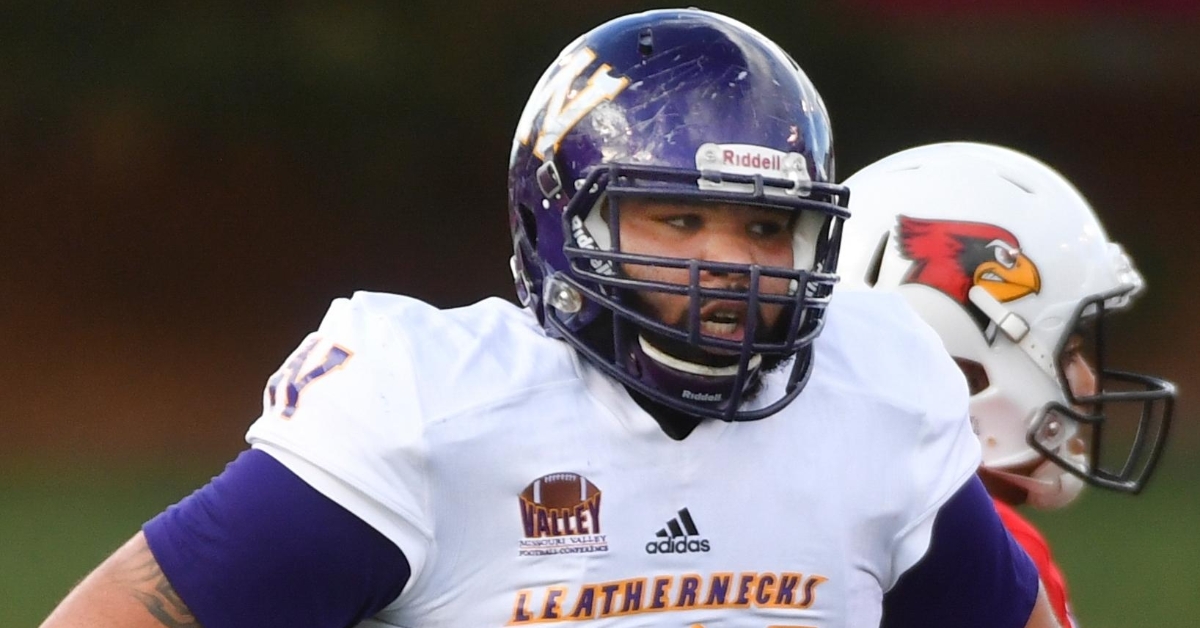 | | |
| --- | --- |
| Getting to know: LaCale London | |
---
The Bears continued to do their homework on the undrafted waiver wire as they spent a large sum of their picks beefing up the defensive depth on the ball. Western Illinois product LaCale London was another one of those low-risk high reward signings that the Bears are hoping will pay off for them down the road.
A Peoria Illinois native, the 6-5 280-pound senior, spend a lot of his time on the defensive line for the Leathernecks before moving to Edge rusher and LB for much of his senior season. That decision proved to be a good one as he started all 12 games for Western Illinois and tallied 8.5 tackles for a loss, four sacks, and three forced fumbles. All those stats ranked in the top 10 in the conference as London put together a solid senior campaign.
Given his size and experience on the defensive line as opposed to LB, the Bears have an interesting decision to make moving forward as they try to put the pieces together and figure out where he would play best. I like his chances at the LB because he is very undersized for a defensive lineman, so getting him out in space to attack the QB may be a better option at this point.
Viewed as a seventh-round talent by many, London was not going to be a breakout star in this year's draft, but he was good enough to grab the attention of several teams. One being the Bears, which made them happy he ultimately took their offer. London, much like a lot of the Bears undrafted free-agent pickups, came from the junior college ranks first before transferring to the Division 1 FCS level. Given that a lot of fans may not watch the FCS as opposed to the FBS, they may think the talent pool isn't as great, but that couldn't be farther from the truth.
London is a fundamentally sound small school defensive player with a versatile game that allows him to move around. He gets great jumps on the ball, plays with excellent pad level for a player his size, and gets his hands up quickly to attack opposing defenders. He is a little undersized for a lineman but big for a linebacker, so depending on where he lines up, you rarely see him off his feet.
Not only do you rarely see him on the ground, but he is tough to move off the point of attack and gets great leverage on his opponents. London has shown great instincts and quickly locates the action of the play and fights to make plays in the process. London plays with great balance and body control while he keeps his feet moving to showcase the power of his legs.
While those all seem like great positives that the Bears are looking forward to having on their roster, London does come with some negatives that need to be ironed out before he can start seeing the field. For starters, when he was used more on the line, London was more of a gap occupier than a playmaker. Granted, that is good to have when it comes to stuffing the run, but when you are looking to make plays in space, you need to be more than just a gap stuffer.
Despite being the gap stuffer, his lack of overall interior size made it inconsistent for him to stop the run, which will not bode well at the NFL level. Chicago prides itself with a stingy run defense, and if you are not able to contribute to that, then you will not see the field. The most surprising thing given what we talked about with his feet earlier is that London often gets out positioned by his opponents, which doesn't go well when trying to make plays. London needs to be able to keep his position to put his strengths to use, so the Bears need to do a lot of coaching up on that for that to happen.
Overall, Chicago is getting another under the radar in-state prospect that is going to give you his all to make this roster. London comes with size and growth potential, while his overall instincts on the field give him a legitimate shot to make the NFL roster as the teams fourth DT or possibly Edge rusher depending on the scheme.
Upgrade Your Account
Unlock premium boards and exclusive features (e.g. ad-free) by upgrading your account today.
Upgrade Now