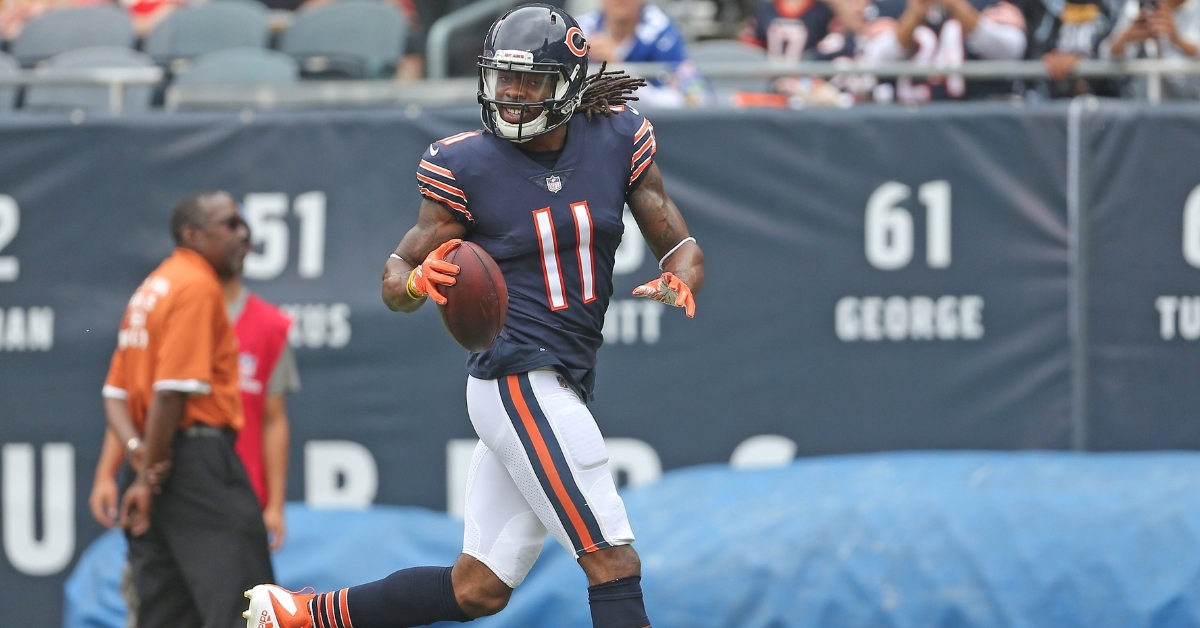 | | |
| --- | --- |
| Kevin White returning to the gridiron | |
---
The Bears have been known for their share of busts in terms of draft picks, but none may have been a bigger bust than former receiver Kevin White. The West Virginia product burst onto the scene as a sophomore in 2014, before rising up the draft boards ahead of the 2015 draft. Given the season he had and the talent he possessed, Chicago couldn't pass him up with the seventh selection and took him No. 7 that year.
Upon arriving in Chicago, you could immediately see the potential he had as White was instantly one of the better players in practice. However, that potential never materialized as White dealt with countless injuries his entire Bears career forcing him to be released in 2018. He is just another prime example of someone with immense talent but could not showcase it due to unforeseen circumstances.
Now 28 years old and away from football the last few seasons, White has not given up on the NFL, and it appears the NFL hasn't given up on him quite yet either. According to Field Yates, the White comeback tour is fully underway. As a matter of fact, he has found a new home on the West Coast with the San Francisco 49ers signing White to bring him in. I know this isn't fully Bears related, but it is nice to see someone like White get a second chance given what he has all gone through as a player.
Ironically enough, White is signing with a team that has dealt with injuries galore to their receiving core. Given that White has very little time on the field and hasn't seen action in two years, I am unsure what the 49ers expect to get out of him. However, when you see the work ethic, he has shown to get back to the NFL, along with his pedigree, and you can see why they took a shot to bring him in.
I wrote a column earlier this season about White and just the struggles he dealt with in Chicago. White was viewed as the can't miss receiver of that year's class, so Ryan Pace couldn't miss the opportunity to draft White as his first-ever draft selection. At that time, no one knew the injuries White was about to go through, and I am sure 90% of GM's make the same pick Chicago does in that spot if they needed a receiver.
Upon his reflection with Chicago, White continues to open up about what he all went through. He was dealt with the injury card, which forced him to become a bust and out of a job. Instead of crying and complain about it, White took the cards to heart and refused to give up on his dream of returning to the NFL.
White had all the talent in the world coming out of college, so seeing the injuries pile up as they did is so disheartening for anyone to witness. It was almost as if his dream to play in the NFL was stolen as White was one of the few players that went about his business the right way, but had nothing to show for it.
No one knows what the 49ers will be getting out of White, and he may have just been added as a depth piece. However, given what White has gone through and seeing his refusal to give up on this game, it makes this story one to root for as we know firsthand the talent he brings to the table.
If San Francisco truly sees something in him that other teams don't, I applaud them to do their homework and find some talent still left in this man. When he was given a shot in Chicago, White was producing in camp, but he never could when it came time to deliver on the field. With the first game of the season two weeks away and the injuries starting to pile up for their receivers, I anticipate White to get every opportunity the next two weeks in camp to prove he still has it.
At the worst, he is used as a depth piece in practice and will continue to push through and work hard to get back on the field. However, should White show he can remain healthy and prove he still has it, San Francisco has a weapon they could use in week one to catch everyone off guard. Whatever happens to White from here on out, Bears fans would like to wish him the best of luck as he fights back to continue his journey.