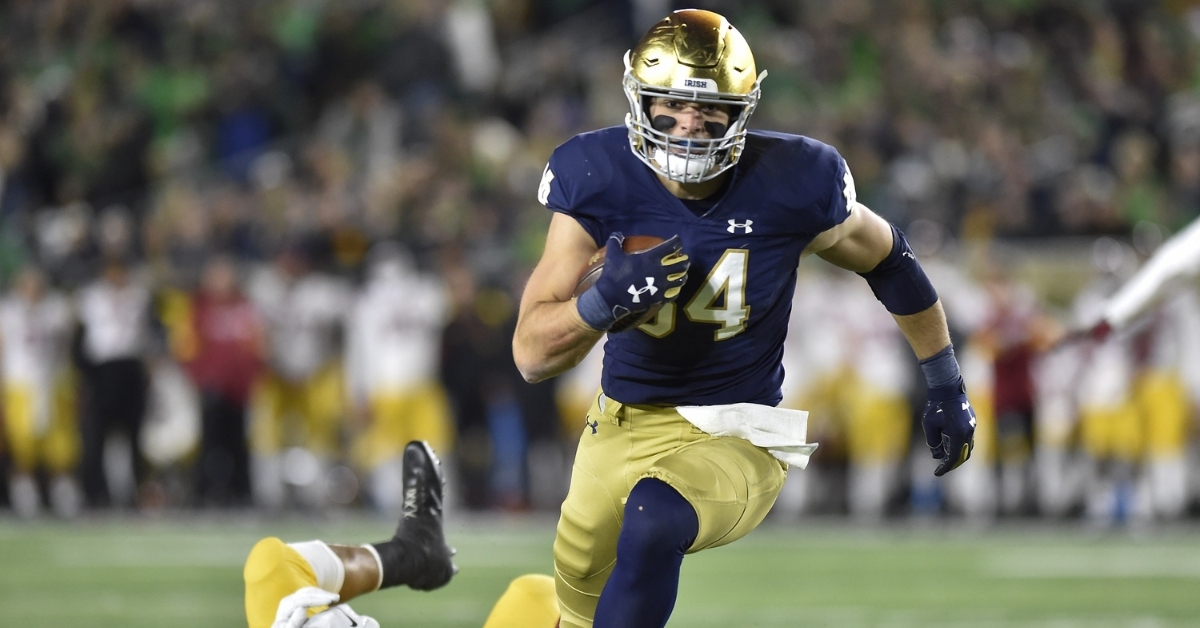 | | |
| --- | --- |
| NFL 2020 prospect profile: Cole Kmet | |
---
As we discussed this yesterday, the Bears are certainly looking to fill the TE market and have been rumored to be in on Brycen Hopkins, among others. However, he isn't the only TE we should keep our eye on during the draft weekend, as the Bears and former Notre Dame TE Cole Kmet is another possibility and one Bears fans would love to have.
Known as a run-first team, Kmet is precisely the type of tight end the Bears are looking for as he can block and catch the ball. At 6-6 and 262 LBS, Kmet certainly is an imposing physical presence on the field that makes him hard to miss. That size will come in handy in the run blocking side of things, while his height and reliable hands make him a solid target to throw the ball to.
This past season, Kmet was nagged by a minor injury that limited him to just ten games. Despite that, he still produced at a high level bringing in 43 catches for 515 yards and six scores. Oddly enough, those six scores were the only ones he had for his career as he didn't do much his previous season. For his career with the Irish, Kmet saw action in 23 games, picking up 60 catches for 691 yards and those six scores.
The Mackey Award winner or also known as TE of the week award winner for his week three performance against Georgia this season, Kmet projects to be an extremely coveted TE piece ranking as the first or second-best TE prospect among most draft experts. That would almost certainly make him a lock to be taken in the second round as the Bears may have a choice to make if he is available at both 43 and 50.
While Kmet is still a young and raw talent who is still developing, his talent is too good to pass up as he has the potential to be a solid starter in this league. Not only will he be a solid pass-catching TE who can line up and block, but his above-average speed for his size would also make him a matchup nightmare for linebackers in the slot position giving Mitch Trubisky a new favorite target to throw too.
While Kmet is going to be coveted by tons of teams seeking TE help, he has been mocked with the Bears No 43 pick in Mel Kiper's mock draft and has also been seen going No. 50 to the Bears in other mock drafts put together. Being an Illinois native from Lake Barrington, getting drafted by his home state team would be a dream come true for Kmet and something that appears to be a realistic possibility at this point.
Kmet is the highest-ranked TE prospect and for a good reason, as he certainly would fill a need for the Bears on offense. Not only is he the most talented TE of this year's class, but given his size, he also may be the most athletically gifted one of the bunch, which is a win-win for whoever drafts him. For him to reach his full potential and continue to develop, he certainly needs to iron out the unpolished parts of his game which includes being a more consistent blocker, running smoother routes in the passing game, and not to be afraid to go up and get the ball as a pass-catcher.
While Travis Kelce, George Kittle, and Zach Ertz are the model TE's for the Matt Nagy system, Kmet shouldn't be overlooked as he can make plays just not as frequent as them. If I had to compare him to a current NFL TE, Kyle Rudolph would be your closest bet. Both are colossal standing 6-6, respectively, but Kmet has about 10 pounds on Rudolph and maybe a bit faster in the open field. Rudolph never wows you athletically, but he is as reliable as they come and consistently puts together 350-400 yard receiving seasons. His 8 TD per season average shows how much of a red-zone threat he is also, which is something the Bears would have with Kmet.