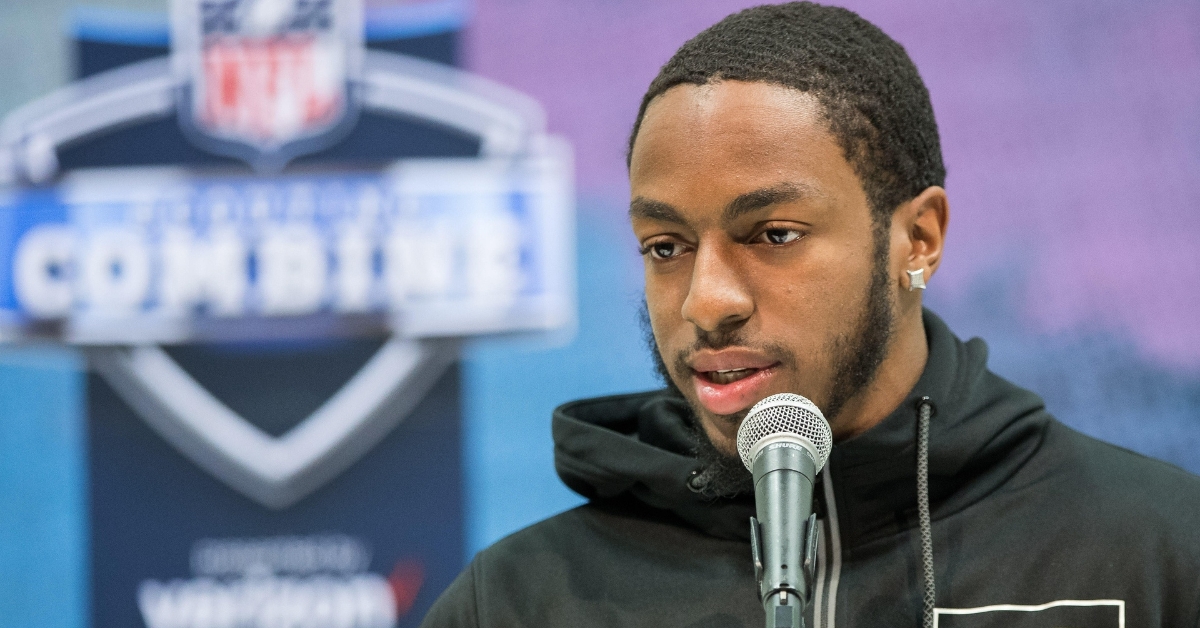 | | |
| --- | --- |
| NFL 2020 prospect profile: K.J. Hamler | |
---
Whenever you look at an NFL Draft, it usually takes 3-4 years to see how successful or deep that draft often is. In years past, you have seen QB rich drafts, RB rich drafts, OL rich drafts, and even defensive rich drafts. This year, for the first time in as long as I can remember, the WR group is as good and deep as ever as starters could be had in the third and fourth rounds this year.
While players like Tee Higgins, Denzel Wims, Jerry Jeudy, Henry Ruggs, and Cee Dee Lamb will steal the headlines as first-round guys, several other day two receivers have the potential to be breakout stars who could be impact players as soon as they step on the field. One of those players happens to be Penn St. receiver Kahlee Jacoby Hamler, also known as KJ Hamler, as he could be had for the Bears in day two to add some explosive speed to their offensive side of the ball.
Let's be clear on this, Hamler is not going to be your prototypical No. 1 WR as his size is certainly going to limit him in terms of what he can do. At just 5-9 and 178 pounds, Hamler projects to be more of a slot type of player but has the potential to lead his team in receiving yards from that spot. What he lacks in size, he makes up for in speed as he runs a 4.2 40 and makes teams look silly when they try to make plays on him. If I had to compare him to someone over the past decade, I would look to Percy Harvin as those two are extremely similar.
Hamler played just two seasons for the Nittany Lions, but those two seasons certainly were big time in terms of production. Take his senior season alone when he hauled in 56 catches for an impressive 904 yards and eight scores. Hamler also added 43 yards rushing, 513 yards on kick returns, and 126 yards on punt returns, proving how versatile he can be when he touches the ball.
For his career, Hamler played in 26 games and came down with 98 catches totaling 1658 yards and 13 scores. Add in his other 1300 plus all-purpose yards in the return game and rushing side of things, and you can see why he is a game-changer every time he touches the ball. To go along with all that production, Hamler has taken home some hardware as well, All-Big 10 second team this season to go along with preseason All-American.
While those numbers may scream as a top-five receiver in some drafts, Hamler is listed as the 11th or 12th best receiver prospect showing how deep this draft is with receiver talent. Most of that may have to do with his lack of size, but his speed is second to none and will undoubtedly have him moving up the board if he can prove to be a legitimate No. 1 threat.
A lot of scouts see his small size as a problem as he isn't built for tough yardage and could have durability issues if taking consistent contact. The one thing to always remember about Hamler and football itself is that speed kills, and Hamler certainly brings that to the table. He has game-breaking speed and can change the game any time he touches the ball. He is truly the definition of a high-risk, high reward player, but one not too many teams will pass on in the second or third round.
If you have been paying attention to some of the Mock drafts lately, Mel Kiper JR has the Bears taking Hamler in the second round with one of their two selections. Granted, that may be a little higher than some have him going, he certainly fits a need for Chicago and ads an element that outside Cordarrelle Patterson, they simply don't have much of. Other experts see Hamler as the perfect fit in Matt Nagy's offense given the number of wrinkles he likes to use, but don't see the Bears taking a WR that high and don't think he falls to day 3.
I have been high on Hamler for a while now, and the Bears certainly are in need for speed, especially on offense at the WR position. The Bears have some great WR threats already in Allen Robinson and Anthony Miller, but those two are not burners, and the only legitimate speed threat they have is Patterson, who is not a true WR.
Hamler gives the Bears something they have been missing for a while and fits the slots position perfectly. Despite his lack of size, his speed will allow him to play on the outside for specific routes as he will be able to outrun anyone in coverage, especially Jeff Okudah, who is projected to be third overall in some mock drafts.
Size is my only concern with Hamler, but with the amount of speed and game-breaking ability he brings to the table, can you pass him up at this point. His tools are so profound that we may look back at this draft in a few years and say he was the best WR taken despite where he lands.