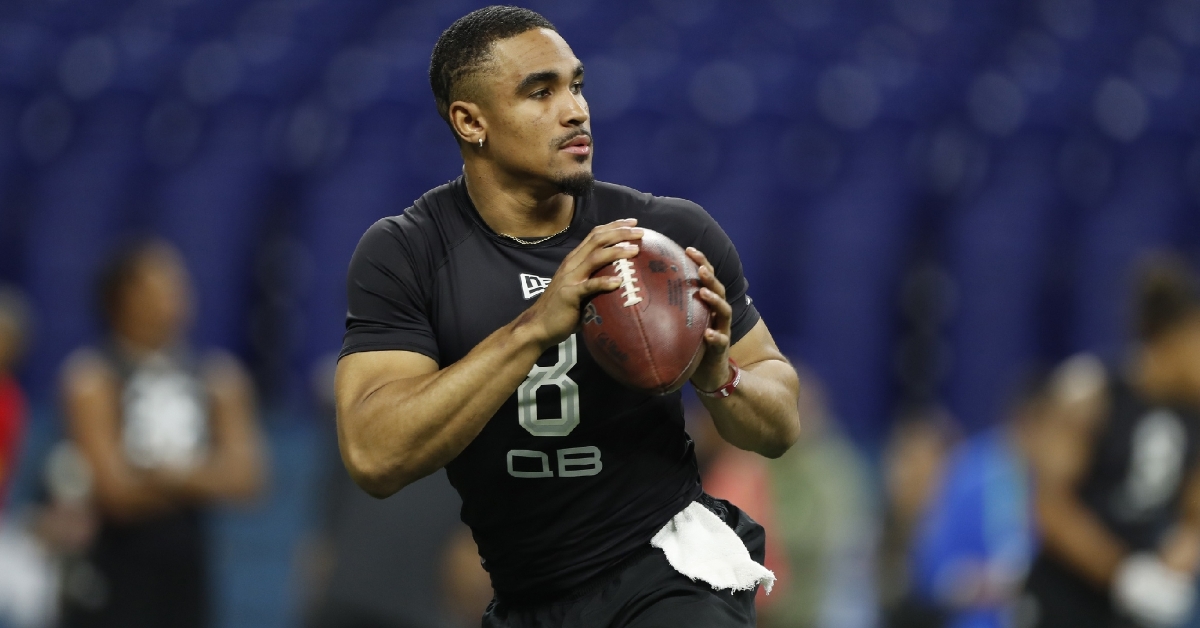 | | |
| --- | --- |
| NFL 2020 prospect profile: QB Jalen Hurts | |
---
| | | |
| --- | --- | --- |
| Thursday, April 23, 2020, 9:06 AM | | |
We have arrived at Draft Day 2020 as the NFL Draft kicks off tonight on ESPN. While the Bears don't officially draft until tomorrow night, as of now, they will be paying attention to the first round as much as everyone else trying to piece together their round two selections. One player who I wanted to look at today I have mentioned with the Bears before, but the only way I could see that happening would be if the Bears move up to the earlier portion of the second round.
That player is Oklahoma QB Jalen Hurts, who is starting to build on his draft stock. While most experts are pegging him as the seventh-best QB in this year's class, some experts grade him out as the fourth-best QB, which could ultimately land him in the first round. Recently, we have been hearing his draft stock begin to climb as he was once viewed as a third-rounder.
With Deshaun Watson comparisons now starting to creep in, could the Bears risk passing him up if available considering they had a shot at nabbing Watson four years ago. When you look at what he did in his 14 games with Oklahoma this season, you can see why the Watson comparison started to kick in. Hurts was an absolute machine completing 67% of his passes for 3851 yards, 32 TD and 8 INT while adding 1298 yards on the ground with 20 TDs and 25 yards receiving with one score.
For his career, which started in Alabama, Hurts played in 56 career games throwing for 9477 yards 80 TD to just 20 INT, 3274 yards rushing with 43 scores and five receptions for 40 yards and 1 TD. Add in his national title from Alabama, and the bottom line is Hurts knows how to win, which is something the Bears need on their team.
You can coach abilities and coach people up, but you cannot coach a winning attitude. The Heisman runner up from last season may struggle to beat NFL defenses if you make him a pocket passer. Still, his ability to churn up yards on the ground would make it easy for the Bears to design plenty of play-action rollout plays for him and allow him to make plays on his own. Regardless of what happens, should Hurts fall to the Bears, he would not be the starter this season unless injuries occur during training camp and preseason.
While some of you may be surprised to see me list Hurts as a fit for the Bears, NFL Draft expert Matt Miller has gone on record of saying that Hurts is the dream fit for the Matt Nagy offense. This isn't the first time Miller has linked both the Bears and Hurts together as he feels the Bears are rethinking their franchise QB situation and won't be shocked to see the Bears pounce on Hurts in round 2.
Most fans may want the Bears to draft other needs in the second round, but passing on Hurts may be too much at this point, given he is the most intriguing prospect in this class. On the one hand, he could just be another great college QB that doesn't match up well in the pros. On the other hand, you have a guy who not only won a national title but excelled in two different systems meaning he should be able to survive in this league.
Not only did he start at two of the best programs in the country, Hurts is the most decorated college star in this year's class. Hurts has succeeded in playing under pressure in huge environments, and entering a battle for a starting spot is not something that would be too much for him. While his leadership still is in question at times, he checks a ton of the boxes the Bears are looking for in a new QB.
His playmaking ability is out of this world, and his mobility both in the pocket and out in space is very impressive. Hurts is still a prospect, but is much more seasoned than most at this point. While I do expect Hurts to be given a chance to start with someone, he needs to land in the right system, or his talent will be wasted at the NFL level. Looking around at the teams that need QB's or may want to invest in the future, the Bears system I feel fits Hurts the best.