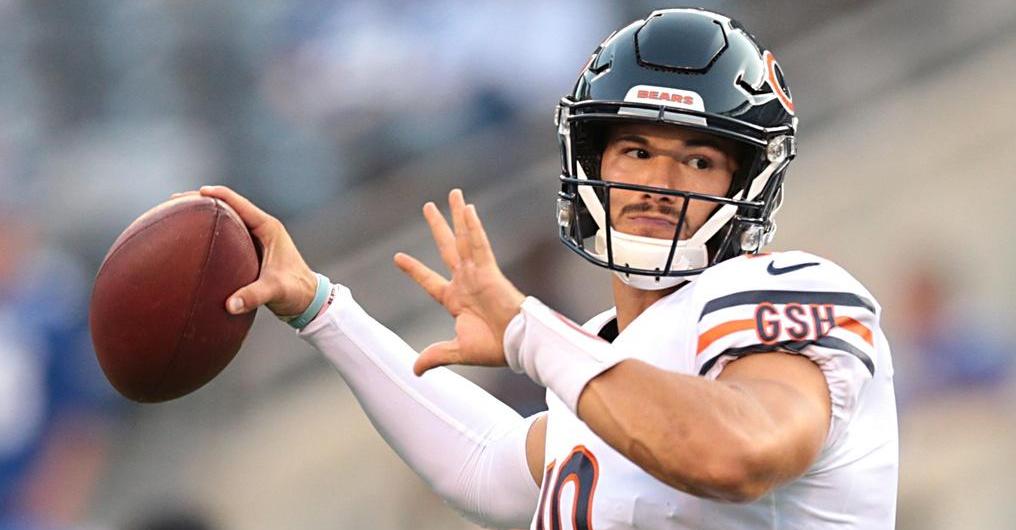 | | |
| --- | --- |
| Reading an NFL defense and why there is hope for Mitch Trubisky | |
---
When we sit back and reflect on the 2017 NFL, most fans continue to think about what could have been. It was in this draft where you had QB's by the name of Patrick Mahomes and Deshaun Watson highlighting the class in which the Bears traded up to the No. 2 position with a chance to take either one of them at QB. Instead, they elected to for some reason go with Mitch Trubisky, which hasn't worked out in their favor thus far.
I know whenever we talk about the 2017 draft, most Bears fans simply don't want to hear Watson or Mahomes mentioned because Chicago could have had either one of them when they traded up. However, there is one story floating around about Mahomes, which I felt was a good thing to investigate with hopes of possibly putting Chicago fans at a bit more ease when talking about Trubisky.
We have all seen what the former Texas Tech and now Kansas City gunslinger can do with the ball in his hand as he has proven to be the best QB in the league over the past two seasons, and it isn't even close. The scary part about that is that Mahomes may even get better, and that could be a problem for defenses for years to come.
According to Adam Schefter of ESPN, Mahomes has said repeatedly that he didn't know how to read a defense until midway through last season. You heard that right. That means during his MVP season and the first half of last year, Mahomes had no idea what to look for when surveying a defense and instead just trusted his ability to make things happen. Now that he understands how to read a defense, his ability will only add to the success he can have in the future.
These were the exact words for Mahomes during his THE SHOP interview on HBO.
"I didn't understand how to read defenses until halfway through last year. I understood coverages, but how to be able to pick up little tendencies' defenses do. Stuff that Brady and they have done that they know and just do it; I was just playing …. The more experience and the more I learn, then I'll be able to go out there and call plays and do that different stuff because I've seen it …. I still think there's a long way for me to go there. And that's where mentally, I think I can get better. Physically, I feel like I've done a lot of stuff. But I think mentally, I think I can take my game to a whole other level."
When the best QB in the game says he can get better, teams will take notice as that means every QB in the league can get better at something. How does this tie into Trubisky, you may ask? Well, with Mahomes talking about the learning curve and how hard it was to pick out defenses that leads me into Trubisky and the hope that he too can learn to read a defense.
Reading a defense is undoubtedly not easy, and there is a lot that goes into it. You have the pre-snap reads, the post-snap coverages, and reads, what teams do before and after motions, defensive alignments, shifts, and just watching the players' responsibilities change in a blink based on how the offense lines up. I would also say that defensive coordinators are better now than ever before at disguising what they are doing to make it that much harder to dissect.
With all those factors in play, I believe Mahomes, when he says he didn't have a full grasp on how to read a defense until midway through his third season in the league and second season as a starter. What makes that even more impressive is that he was able to put up the seasons he had based on pure talent and ability and less on the intellectual part of the game.
So far this offseason, we have seen Matt Nagy lay out his plan as to what Trubisky needs to do to get better. You will notice that at the very top of the list, Nagy has mastering and reading of defensive coverages listed. What that tells me is that through three seasons, Trubisky has done all he can do with his overall talent and ability and still has a hard time reading the defensive schemes. Once he can harness that will hopefully give us the first real opportunity for him to show us what he can truly bring to the table.
A lot of people want to bring up age and inexperience as to why Trubisky has been so inconsistent as a starter, and I refuse to go down that road. Through three seasons, Trubisky has made 41 starts and one postseason start, so it isn't as if he is raw anymore. The talk of inexperience is over, but now we need to focus on a possible learning curve as to why he hasn't developed as quickly as the Bears would have liked him to.
To be clear on this, I am not expecting Trubisky to suddenly dial-up an inner Mahomes and start posting MVP numbers this season. Their games are entirely different, and Trubisky doesn't have the weapons or arm talent to compensate for misreads in coverage. Instead, I am hoping this story urges fans to have a glimmer of hope in terms of Trubisky's development as a QB. The NFL has a massive learning curve compared to college, and sometimes it takes players longer than others to crack the curve.