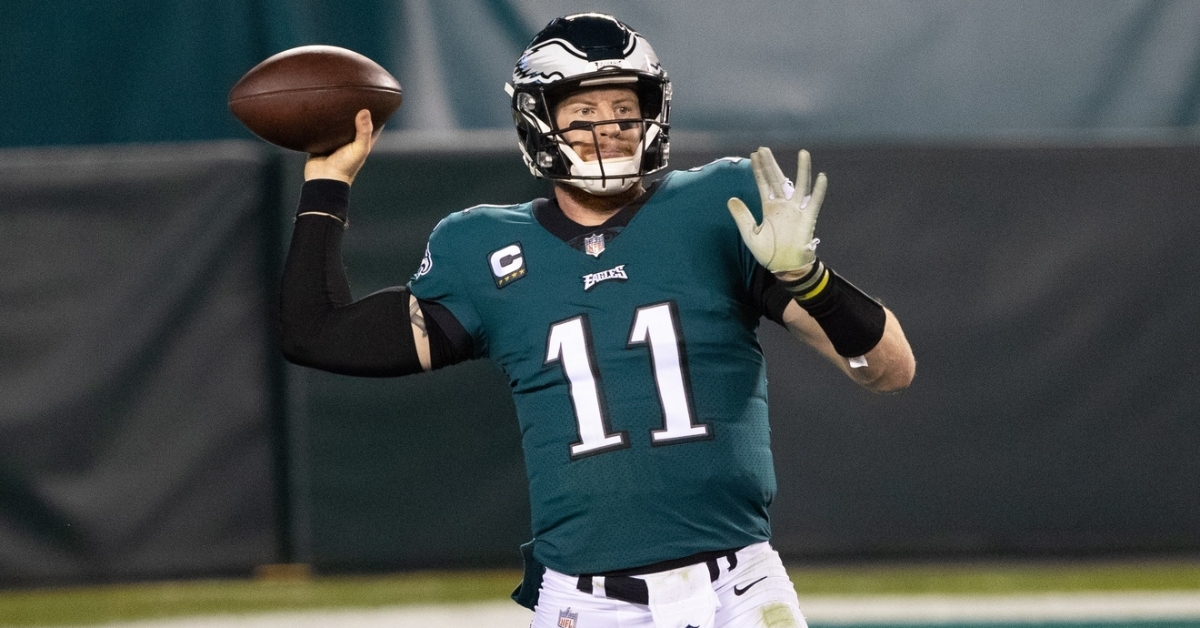 | | |
| --- | --- |
| Should Bears trade for Carson Wentz this offseason? | |
---
My how the times have changed in the NFC, especially when it comes to the quarterback position. Four seasons ago, when Mitch Trubisky was taken No. 2 overall, Carson Wentz was entering his second year and went on to post MVP numbers across 13 games. He then suffered a torn ACL that ended his season, and low and behold, Nick Foles stepped in and carried the Eagles to a Superbowl win.
Foles wasn't done in Philadelphia as he opened the 2018 season as a starter and kept the team competitive in the process. Once Wentz was ready to go from that torn ACL, he immediately took the field, and the results were mixed. Once again, an injury sidelined him the final few weeks of the season, leaving Foles to play hero once again to get Philadelphia into the postseason.
Ever since that 2017 season, Wentz has been a shell of himself and is teetering on the verge of becoming a bust. He is in a similar position that Trubisky is, only he has a long-term deal in front of him as Trubisky does not. Philadelphia doesn't trust Wentz anymore as they went and drafted Jalen Hurts in the second round and named him the starter going forward this week. Could this be the end of Wentz in Philadelphia?
If it is, the Bears need to do whatever it takes to get him into Chicago next season. Fans already know that not only will a new coaching staff most likely be coming in, but a new quarterback will also be needed. There are some reliable candidates available in the draft, but it won't matter who they would draft without an offensive line to protect them.
With more additional cap space than initially projected, the Bears should use that money to help build up some offense and focus on what they can do better. Finding a franchise quarterback is clearly on their list, as is offensive line help. To me, Wentz still has all the tools to be a franchise quarterback, and depending on what the asking price would be, I would take a stab at him.
He is 28 years old and would have four years left of his contract extension. That means the Bears would still be getting Wentz in his prime and could ultimately find a younger QB a few years later in the draft with Spencer Rattler as a possible option. Wentz also has the size and skills that most quarterbacks dream of having but has had trouble consistently showcasing those skills.
NFL executives, future hall of fame QBs, defenders across the entire league - all are aware of how special Carson Wentz is.

Quit listening to your local blogger telling you Carson Wentz isn't good. pic.twitter.com/aMRBlmwQaR

— Tyler Steege (@TSteegeNFL) December 8, 2020
A big reason for his struggles over his career has been his inability to stay healthy for an entire season, which is a huge concern going forward. This year, Wentz was on track to play all 16 games, but the production isn't there as he was benched following a league-high 16 interceptions. While those interceptions are undoubtedly alarming, there is a massive reason why his production has declined, and you can compare it to the Bears struggles.
Carson Wentz leads the NFL in turnovers (19) and sacks taken (50). pic.twitter.com/uc1BvZQ6T1

— NFLonCBS (@NFLonCBS) December 8, 2020
When Wentz was at his best in 2016 and 2017, the Eagles posted the best offensive line in football. That not only gave Wentz time to survey his options, but he could use his legs effectively to make things happen. When given time in the pocket, Wentz has as strong and accurate of an arm as anyone, and he certainly didn't hesitate to show it off.
Once the injuries started piling up, his production began to fade, but there is more to that than injuries.
December's been a nightmare month for Carson Wentz's NFL career: pic.twitter.com/omgMap9DsC

— Eagles Nation (3-8-1) (@PHLEaglesNation) December 9, 2020
For starters, most of the weapons Wentz had his first two years are no longer with Philadelphia as the Eagles have one of the worst receiving cores in football. They have Alshon Jeffrey, who has been injured this season, but they have an aging Desean Jackson, rookie Jalen Reagor and others. To make matters worse, Philly had a chance to take
Justin Jefferson this season and DK Metcalf last season and passed on both. Can you imagine the numbers Wentz and that offense would be putting up had those two come to Philadelphia instead? We wouldn't even be having this talk if it was the case.
The other big reason for his struggles is a similar problem to the Bears struggles as the Eagles do not have a great offensive line. As good as Wentz is, he still needs a decent offensive line, so he doesn't panic in the pocket. The more time you can give him, the healthier and better he will be.
While it is unclear as to how long Hurts will be starting this season, what is clear is the Eagles are getting sick of the play Wentz is displaying.
They may elect to move on from him sooner rather than later. If that is the case, you can bet there will be several teams in on him, with the Patriots, Cowboys, Washington Football Team, and possibly the Panthers as ones that come to mind. Chicago should also be on that list.
Trading for a guy like Wentz does come with many risks and comes with high rewards if it works out. You not only found a quarterback capable of being a franchise leader, but he is under contract for several years, allowing you to build up the other spots of your team. Wentz's success ultimately comes down to the weapons and protection around him, and that is what the Bears could shift their focus on during the draft and free agency.
Upgrade Your Account
Unlock premium boards and exclusive features (e.g. ad-free) by upgrading your account today.
Upgrade Now