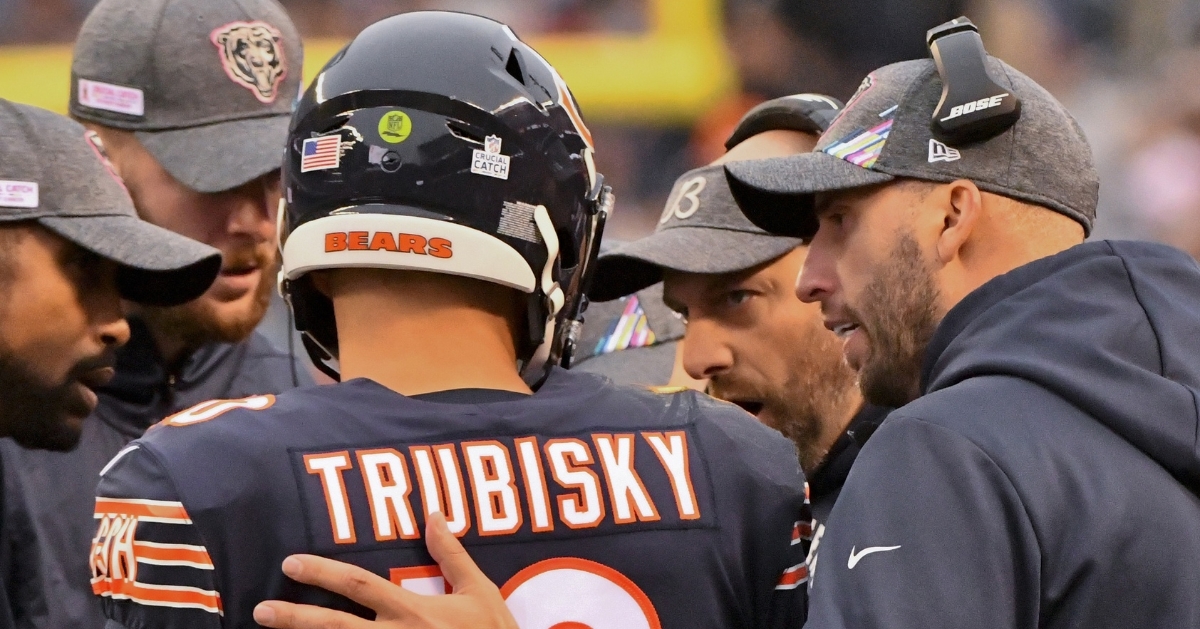 | | |
| --- | --- |
| Three Things to watch, Prediction: Bears-Packers | |
---
The Chicago Bears are back in action this weekend as they get to treat us to a little Primetime Football to close out the Thanksgiving weekend. Riding a four-game losing streak and coming off their bye, the Bears head to Lambeau to take on an angry Packers team.
Many exciting storylines surround this game, from the Bears having a chance to all but be eliminated from division contention, the opportunity to put themselves right back in the division race. Consider what is happening at the quarterback position, and there are plenty of things to look forward to this weekend. Here are some things to watch for ahead of week 12.
Welcome back, Mitch Trubisky: The quarterback position has been a struggle mainly since Mitch Trubisky was benched in week 3. Despite going 3-0 as a starter, Matt Nagy didn't like what he saw and elected to go with Nick Foles after he orchestrated a comeback win against Atlanta. What seemed like the right decision then has quickly turned sour as the Bears are fading fast.
Not only has Foles gone just 2-5 as a starter, but he is currently on a four-game losing streak coupled with what could have been his worst performance last time out. His numbers are worse than Trubisky's, and the offense hasn't been able to get anything done consistently. Despite all that, Nagy has stuck by Foles' side, and if it weren't for his hip injury, Foles would be starting on Sunday.
That is not the case, as it is time for Trubisky to give the Bears perhaps his last chance to prove he is franchise material. When you look at the Bears' remaining schedule, there are many winnable games to be had where theoretically the Bears could and should go 4-2 if not 5-1. Looking at the opponents the rest of the way and you can see the success Trubisky has had against each of those teams. That could be another reason why Nagy is going with him over Foles right now.
This is once again Trubisky's team, and it is time for him to show everyone what he can do. Should he go out and lead the Bears to the postseason, there will be some tough questions to answer regarding his future next year.
Bears QB Mitch Trubisky said he embraced scout team and "tested throws" in practice he normally wouldn't try if he was taking starter's reps.

"I feel like I was progressing as a player. I was in a space where I wanted to push myself and continue to get better."

— Kevin Fishbain (@kfishbain) November 27, 2020
All or nothing for Chicago: I never look at games as a must-win, especially with six games left. However, if the Bears want any shot at a division title, Sunday night must-win for them as they cannot afford to fall three games out with five to play. With two games against Green Bay over the final six games, Chicago needs to find a way to win one, if not both, of those games to give them a realistic shot at passing Green Bay in the standings.
With Chicago on the outside looking in for the final playoff spot, every game from here on out is a must-win, but this one carries a whole lot more meaning as it is against their biggest rival. A loss and not much will be said as most analysts are expecting the Packers to win easily. A win would drastically change this team's confidence level and jumpstart things the rest of the way.
Regardless of the outcome, things will not be easy as the Bears haven't had the best of luck at Lambeau Field. With no crowd except family members in the seats, now would be a great time to jump on the Packers as the crowd wouldn't be able to lead them back.
How has the bye helped the Bears: Historically, speaking, most coaches have said they like the bye to happen somewhere between week 7-9 as that signifies the mid-point of the season. For the Bears, week 11 was a little later than they would have liked, but it couldn't have come at the perfect time.
Dealing with injuries, riding a four-game losing streak and an offense that can't score, getting to the bye when they did couldn't have come at a better time. Now the question is, how will the Bears respond for this stretch run?
Across his previous two seasons as a coach coming off a bye, Nagy has had mixed results going 1-1. Historically, the Bears have been one of the better teams in winning games coming out of the goodbye. Hopefully, that trend can continue this week as this could ultimately be the telling game as to how the Bears season will finish.
Prediction: Packer/Bear games are always special, but Sunday night at Lambeau makes it just that much more special. These are two iconic franchises that don't like each other but respect each other on the field. They are the winningest franchises in NFL history, holding the most NFL championships of anyone.
Sure, the Packers have had more success of late, but that doesn't take away how close contested this rivalry generally is. With the Packers coming off a tough loss and the Bears desperate for a win, I look for an emotionally charged game with each team looking to prove a point. If this game were at home, I would go Chicago, but in this one, I have to give Green Bay the edge as they will slug it out for a 23-17 win.