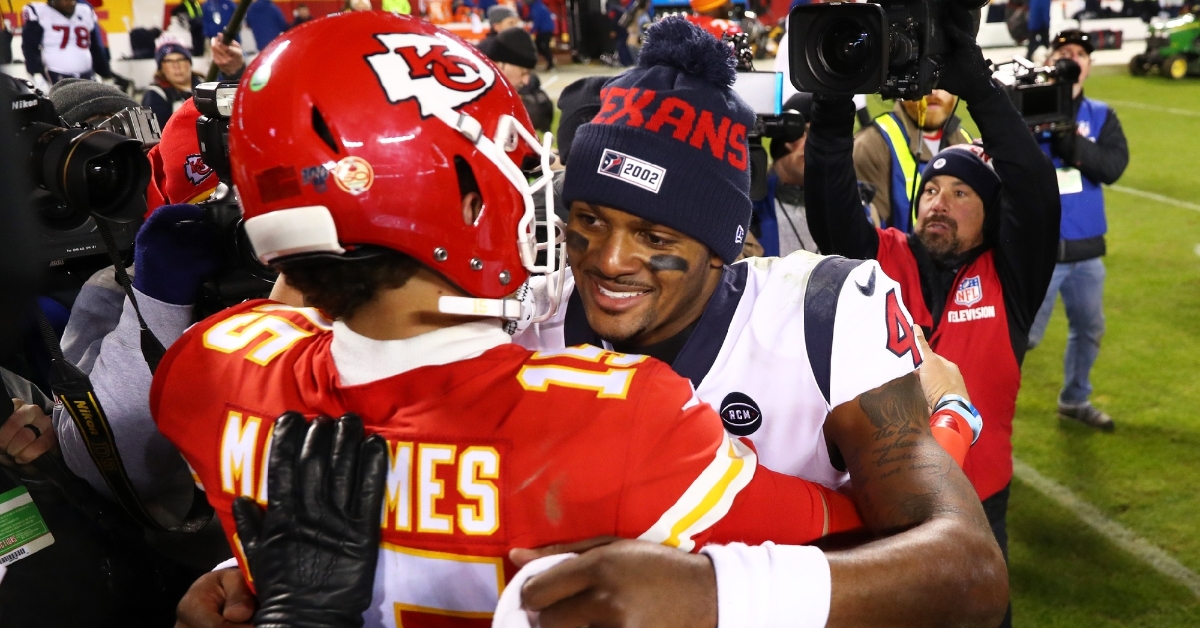 | | |
| --- | --- |
| What can Bears learn from watching Patrick Mahomes and Deshaun Watson? | |
---
For all Bears fans, watching the AFC divisional game between the Texans and Chiefs was extremely hard to watch. For everyone else in the NFL, it was a treat.
We got to see Deshaun Watson lead his team to a 24 point lead, put up over 30 in a playoff game, and dazzle with both his arms and legs. Watson, the Clemson graduate, finished Sunday's game with 388 yards passing and a pair of passing scores, he also added 37 yards rushing and a touchdown.
We also got to watch Pat Mahomes fuel a comeback from down 24 to nothing, and do something that we have never seen before by a quarterback. Mahomes and the Chiefs went on a 41-3 run at one point, throwing four touchdown passes in the second quarter and leading the Chiefs to a touchdown on seven consecutive drives. Mahomes' numbers jumped off the box score, as they have since he entered the league. Mahomes, the Texas Tech graduate, finished the game with 321 rushing yards and added five passing touchdowns — while also leading the Chiefs with 53 rushing yards.
Both of them dazzled. Neither of them threw an interception.
Here's the dagger, Mahomes was drafted eight spots behind Mitchell Trubisky, and Watson 10 spots behind.
The reason Sunday's epic showdown was so hard to watch for Bears fans was that the game featured a pair of elite quarterbacks who the Chicago Bears could have drafted instead of the project they are currently working on under center.
While yes, Pace and the entire Bears scouting and development team could have done a lot better in the 2017 draft — it is time to put this colossal mistake of the organization behind us. Mitch Trubisky is not as talented as Deshaun Watson or as gifted as Patrick Mahomes, but the Bears could still be great with Mitchell Trubisky under center.
Instead of constantly comparing the Bears QB to the pair of stars he was drafted before, we should be analyzing Mitch's skills and putting him in a system to succeed.
The Bears should look away from the Ravens, Chiefs, and Texans of the world because they are blueprints that the Bears can not build with their QB talent. Instead, the Bears should take a look at the Bills, as I mentioned before, with Josh Allen or at the Titans who are playing in the AFC Championship with Ryan Tannehill under center.
Instead of focusing on what Mitch Trubisky can not do, the Bears should start building him and an offensive system with pieces around him that allow him to do what he can. Trubisky can make good throws with time, but the Bears offensive line has struggled to give him that. Then, some of the times that he makes good throws, his receivers drop them. Mahomes did not look so great in that first quarter when he was under duress, and Travis Kelce and Tyreek Hill couldn't hang on to a pass.
Matt Nagy, new offensive coordinator Bill Lazor, and the Bears should build Trubisky a system surround his strengths: play-action, rollouts, bootlegs, scramble drills, and a run game that he can work off of — it works for so many other teams… why not the Bears?