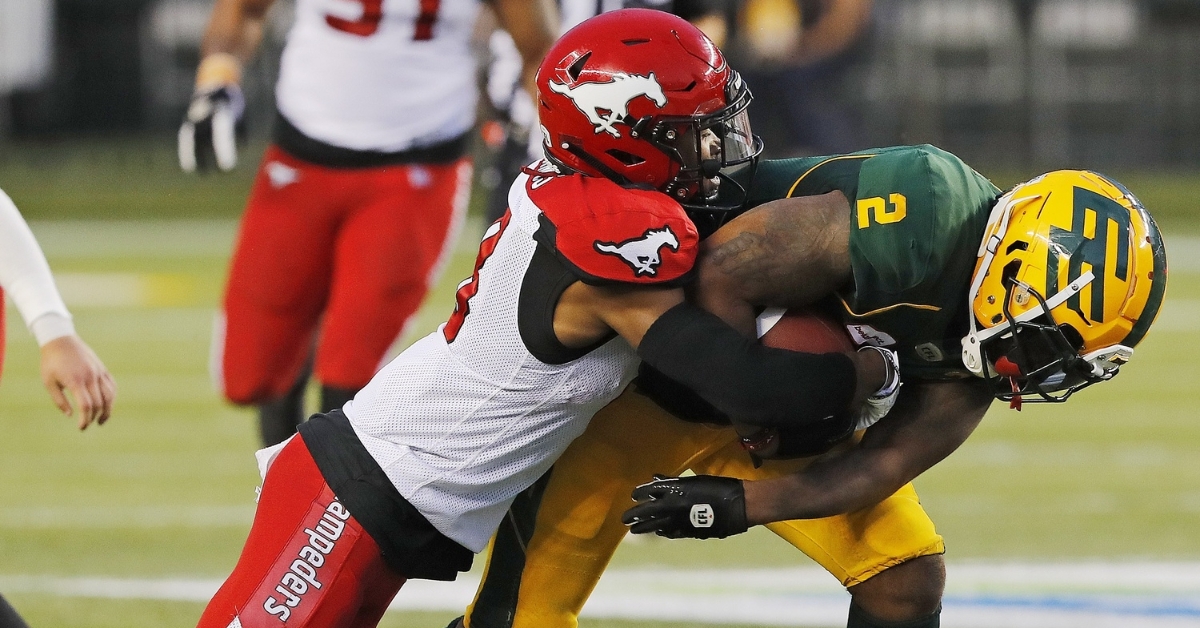 | | |
| --- | --- |
| Will more CFL stars be coming to Chicago? | |
---
As news broke out a few weeks ago that there may not be a CFL season this summer, it got me thinking about some of the names in the CFL and how they would translate in the NFL game. I am one of the rare football fans that enjoy watching the CFL and try to watch it every week despite how different the game is played.
Chicago has already invested in a former CFL in Tre Roberson and added him to the secondary this offseason. Now I am starting to wonder if the Bears should turn their attention back to the CFL and scour for more free agents. Not only will that help fill out their roster, but those free agents will come much cheaper than NFL free agents and will help the Bears conserve salary cap money.
Here is a list of some players I would like the Bears to target.
C.J. Gable (RB Edmonton): Of all the RB's to take note of in the CFL, Gable is the one I would love to see in Chicago. Not only does he come with some good size at 6-0 and 220 lbs., but he also brings with him good speed for his size, making him a deadly combo to bring down. Not to mention he finished with over 1000 yards for the second straight season, which is an accomplishment given the league he plays in.
Gable is precisely what the Bears are looking for in terms of role players in their offense. Not only does he know how to run between the tackles, but he also can catch the ball out of the backfield, which is an integral part of Mitchell Trubisky and Nick Foles' game. I think Gable could become very similar to Tarik Cohen, and the Bears would be able to use him in a variety of ways.
Marquis Bundy (WR BC Lions): When you look at the stats and see that he had zero yards receiving, you may question why I would want the Bears to look into him. Well, for starters, Bundy was a CFL rookie last season who only saw action in one game. Secondly, at 6-4 220 pounds, he would give the Bears an excellent big body receiver, which is something they have been missing since the Brandon Marshall Alshon Jeffery days.
While Bundy didn't do a whole lot in the CFL game last season, he has experience at the AAF level with the Arizona Hot Shots, as well as the NFL playing for several different practice squads. Given a fair shot and with the proper organization, I think he could add some size to the Bears receiving room and could produce in the red zone when called on.
Odell Willis (DL BC Lions): To be successful in the CFL, you need a great pass rush to slow down the high-powered passing attacks. While the BC Lions were not a great team by any means in 2019, they did know how to get to the QB; however and Willis was a big part of the pressure they put on. At 6-2 and 255 lbs., Willis is way undersized to be used as a lineman in the NFL and would most likely need to move to LB. However, he does know how to produce.
Coming off a season in which he recorded just 23 tackles, four of those tackles went for sacks, which is a great rate. That gives him 101 career sacks across 11 CFL seasons as he has become one of the premier pass rushers for the past decade. At 35 years old, it would be a bit surprising to see him play outside the CFL at this point, but that kind of production is worth a look, wouldn't you say?
Winston Rose (DB Winnipeg): the Bears certainly did their homework when it came to signing Roberson earlier this offseason. However, Chicago may have missed out on the best DB in the CFL last season in Winston Rose, and they would be wise to inquire about him. Part of an incredible defense that helped the Blue Bombers won the CFL Grey Cup in 2019, Rose has always been known as a playmaker and put that on full display last season.
Not only does he have a knack to always be around the ball with his 58 tackles, but his nine interceptions ranked tops in the CFL last season as teams continued to throw his way. In just three short seasons, Rose has racked up 14 career picks with all 14 coming the past two years. He also returned his first interception for a touchdown last season, putting his speed and agility on full display. This is a player I would love the Bears to inquire about as a potential long-term fixture in their defense.
Chris Streveler (QB Winnipeg): The final player we will look at today is that of QB Chris Streveler. I know what your thinking; the Bears don't need another quarterback, especially when you have two quarterbacks battling it out for the starting job this season. However, Streveler is unlike anything the Bears have had in the past and offers an incredible change of pace that some teams may have a difficult time defending.
When you look at his passing stats through his first two years in the CFL, Streveler has thrown for just under 2700 yards with 19 touchdowns and 19 interceptions. That is all from a reserve role, although he has made several starts in critical moments. The passing game is not where he makes his money, however, as his legs are far more valuable at this stage in the game. To date, Streveler has racked up 1167 yards and 22 scores on the ground, making him the true definition of a dual-threat QB.
Should he someone join the Bears offense, Matt Nagy and his staff could design a lot of wrinkles that could make him successful. With players like Cohen, Cordarrelle Patterson, Javon Wims, and others Chicago could have special packages designed for Streveler and that group of players to throw defenses off guard completely. While this is this something that won't last long term, giving the Bears other offensive weapons never hurt.
Tomorrow we will look at Saskatchewan, Calgary, and Toronto and dive into some of their FA options.
Upgrade Your Account
Unlock premium boards and exclusive features (e.g. ad-free) by upgrading your account today.
Upgrade Now