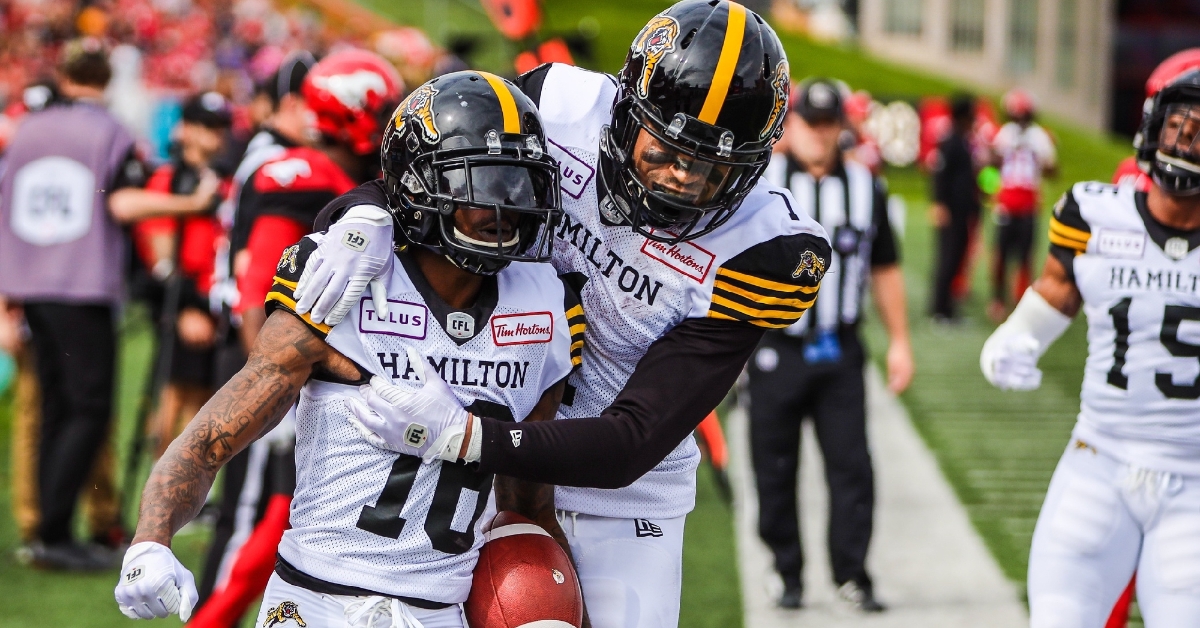 | | |
| --- | --- |
| Will more CFL stars be coming to Chicago? Part III | |
---
We have reached part three of the CFL free agent series as we look at some players the Bears should kick the tires on for the remaining three teams. Today is all about Hamilton, Montreal, and Ottawa, as these are the final three teams remaining to cover.
BRANDON BANKS (WR Hamilton): We begin with a player who isn't a free agent, but teams should be on the phone with his agent trying to lure him to the NFL. Nicknamed 'Speedy B,' for a reason, Brandon Banks is the true definition of a playmaker as he is a nightmare for coaches across the CFL.
The former Kansas State receiver spent his first three professional seasons seeing limited action with the Redskins where he had 11 catches for just 35 yards to go with one score. He added a return touchdown with Washington also, but it wasn't until he reached the CFL where he finally began to take off. Since joining the Tiger-Cats in 2013, Banks has provided the instant offense as he reminds me a lot like Percy Harvin as someone who can do anything on the field.
His 378 receptions for 5204 yards is a good place to start as he has also hauled in 42 receiving touchdowns to his name. His playmaking and versatility also show up in the running game where he has collected five career rushing touchdowns, but it is in the special team's category where he gives teams fits.
His 13 career return touchdowns are the most in CFL history, and teams cringe as soon as he touches the ball off a punt or kickoff. With Cordarrelle Patterson giving teams fits in the kickoff department, adding a guy like Banks to the Bears roster and putting him at the PR position would make things very interesting. If anything, the Bears would be getting a much better-starting field position as teams would start kicking the ball away from Banks. This is one player that needs to return to the NFL, and the Bears should be all over him if he does.
JAMAAL WESTERMAN (DL Hamilton): At 35 years old, the Tiger-Cats lineman doesn't have much mileage left on the tires. However, if he wants to pursue the NFL game, this would be the time to do so. His stats are not going to wow you as he picked up just 29 tackles, but three of those tackles were in the form of sacks.
Since coming to the league in 2015, Westerman has logged 34 career sacks, but 17 of those came in his first year back in 2015. Since that season, his numbers have gone down as his age has gone up, and playing time is going down. Very undersized at 249 lbs, I almost think a move to LB could preserve his career a few more seasons should that be something he is open to doing.
JEREMIAH JOHNSON (RB Montreal): If the Bears are strictly looking for a change of pace running back, or someone they can use on third down, then Johnson is undoubtedly worth looking at. With the CFL known as a passing league, finding a productive running back is hard to find, but when you have one, it's wise to hold onto them.
For Johnson, he didn't have a typical standout season, rushing for just 532 yards and one score, but those yards came on only 89 carries meaning he was averaging nearly six yards a clip. That is an impressive average no matter what league you play in, and those numbers are sure to go down if he does attempt to latch on to an NFL roster. At 5-9 210 LBS. Johnson is a bowling ball of a running back that could help Chicago in short yard situations as they try to be more productive on offense this year.
WILLIAM STANBACK (RB Montreal): The primary running back for the Alouettes, Stanback is everything you are looking for in more when playing running back in a pass-happy league. Not only is he a bruising 233 LBS standing at 6-0, but Stanback provides good size for his speed and is a load to bring down in the open field.
Stanback was part of some rare company last season as he surpassed the 1000-yard barrier previous year by rushing for 1048 yards and five scores all while averaging an impressive 6.1 yards per carry. As mentioned with his teammate Johnson from above, he is surely not going to average that type of yards per carry in the NFL, but he is a great change of pace back that could do damage at the next level.
From a size aspect, I would compare him similar to Marshawn Lynch, but obviously not as skilled or as polished. I think a practice squad deal for him could be a wise choice to see if you have a diamond in the rough worth developing long term.
RICHIE LEONE (K Ottawa): I know it is rare to highlight Kickers or Punters as players for teams to look at, but I do like Leone as an option for the Bears. Unlike other players on this list, Leone has re-signed with Ottawa, pending the 2020 season. However, if that season doesn't happen, he could be allowed to pursue other opportunities.
It is no secret that the Bears specialty teams have plagued them in the past, especially at kicker. While Leone is not a kicker and is a punter, it makes bringing him in less likely as Pat O'Donnell has done a phenomenal job during his tenure with Chicago. Competition can be a good thing, and Leone's numbers don't lie.
Not only was he a busy man punting the ball 132 times, which is about double what anyone in the NFL ever does, but his 48.4 yard per punt average would also have ranked him in the top three in the NFL while his long of 77 is impressive alone. With that kind of leg in terms of punting, it would be interesting to see whether he could transform himself into a placekicker.
Upgrade Your Account
Unlock premium boards and exclusive features (e.g. ad-free) by upgrading your account today.
Upgrade Now