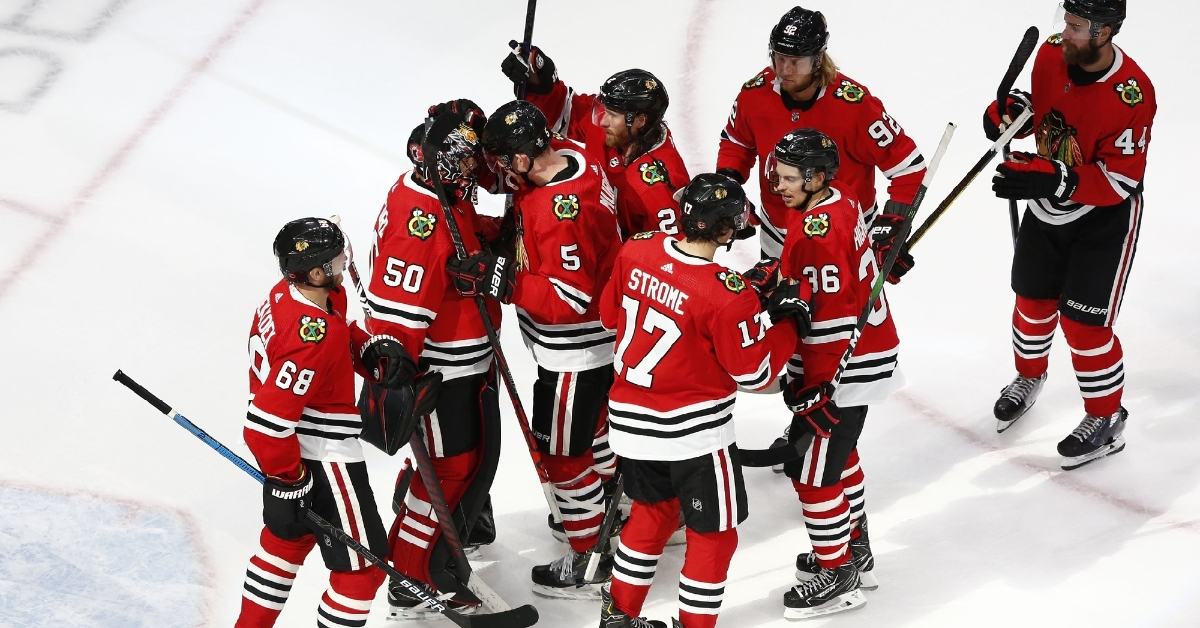 | | |
| --- | --- |
| New-look defense to bring Blackhawks toughness in 2021 | |
---
The Chicago Blackhawks had an interesting season last season. Despite being one of the worst teams in the Western Conference, they qualified to head north of the border to participate in the expanded postseason. Once there, the Blackhawks were impressive in upsetting Edmonton in the first round and going toe to toe with Vegas before bowing out.
It was a positive ending to what otherwise was a rough season for Chicago. Hoping some of that momentum transfers over to this season, the Blackhawks will look like a much different team next year as they go through a mini rebuild. That all started by not retaining Corey Crawford and finished when the team parted ways with Brandon Saad. Now the Blackhawks are hoping their new toughness attitude makes them a difficult matchup to face.
Once those moves were made, it was clear the Blackhawks were entering a rebuild mode and had sights in a different direction. Granted, this may not be as extensive of a rebuild that brought in Patrick Kane, Saad, and Jonathan Toews in the past, but the Blackhawks feel the team needs to get better in many areas.
When GM Stan Bowman led Crawford walk, it was to give others a chance. The same can be said when it comes to Saad, who was dealt to Colorado instead of re-signing. Both of those players played huge roles on the 2013 and 2015 Stanley cup teams, so they will be embraced by this franchise forever. All was not lost in those departures, as the Blackhawks did receive some nice pieces for Saad.
Nikita Zadorov and Anton Lindholm are now in Chicago as the two defensemen look to shore up a defense that allowed 3.06 goals per game, which ranked 16th in the NHL with Calgary. Both players bring versatility to the Blackhawks defense, making them harder to play against this season.
What about a replacement for Crawford? While it's unknown who the new goalie will be, the Blackhawks do have several options to consider. Right now, it looks like Malcolm Subban will enter this season as the starter after being acquired from the Golden Knights in February. He then signed a two-year contract extension in October, so the Blackhawks appear to be committing to him.
Along with those additions, look for forwards Mattias Janmark and Lucas Wallmark to play important roles this season. The 27-year-old Janmark helped the Stars reach the Stanley Cup last season and registered 21 points (6 g 15 A) in the process. He was also third among Stars skaters in shorthand minutes, meaning he will be a huge special teams' factor.
Wallmark is just 25 and has been signed to a one-year deal. Splitting time with Florida and Carolina a season ago, Wallmark is starting to hit his stride offensively as he tallied 12 goals and 23 assists. If he can come close to doing that again, the Blackhawks will have a valuable weapon coming off the bench.
With arrivals comes departures, and Crawford and Saad were the two biggest. However, they are not the only ones who have new homes this season. Olli Maatta, Drake Caggiula, and Slater Koekkoek have now moved on, making those two defensemen additions much more critical. Maatta and Koekkoek were on the defensive side of things last season and played prominent roles during the postseason. Maatta is now in Los Angeles, while Caggiula and Koekkoek are still awaiting new homes.
Like most teams going through a rebuild, the long-term success hinges on the Blackhawks prospects as they are the future of this team. 21-year-old defenseman Ian Mitchell may be the best of them all and is on the cusp of reaching the NHL. After scoring 32 points (10 G 22A) in 36 games for the University of Denver last season, Mitchell and the Blackhawks agreed to a three-year entry-level deal. He will be a focal point of the defense sooner rather than later.
Offensively, the Blackhawks have another weapon waiting in the wings in 21-year-old MacKenzie Entwistle. Much like when Kane and Toews were coming through the system, Entwistle has all the tools to be a threat offensively. In 56 games with Rockford last year, the kid racked up 26 points, including 11 goals and 15 assists. At 6-3 and 184 pounds, Entwistle is just starting to come into his own and should see lots of playing time in the postseason.
While the Blackhawks appear set to turn things over to Subban in goal, they will need a backup to spare him some games. Look no further than Kevin Lankinen, who was also in Rockford last season. Now 25, Lankinen had mixed results this past season, going 8-10-2 with a 3.03 GAA. He also had a saver percentage of near 91% across 21 games. He will compete with Subban and look for Collin Delia to see time as that trio will look to do what Crawford has done for so long.
The Blackhawks are not the same team that won the Stanly Cup five years ago, but that doesn't mean they are not good. They have some pieces left from that team, and should the resign Dylan Strome, who I feel is a must, it will make them that much stronger. Chicago gave Strome a qualifying offer, but now it is time to lock him up long term.
He has excellent chemistry with everyone on the roster, especially Kane and Alex DeBrincat. Both of them are the main threats offensively. Dominik Kubalik and Toews should give the Blackhawks great line depth across the first two units, making them a decent offensive team. It will come down to the goaltending and defense this season. Should Chicago continue to improve, they should be in the running to compete for the postseason this year and finish with around 65-70 points depending on season length.