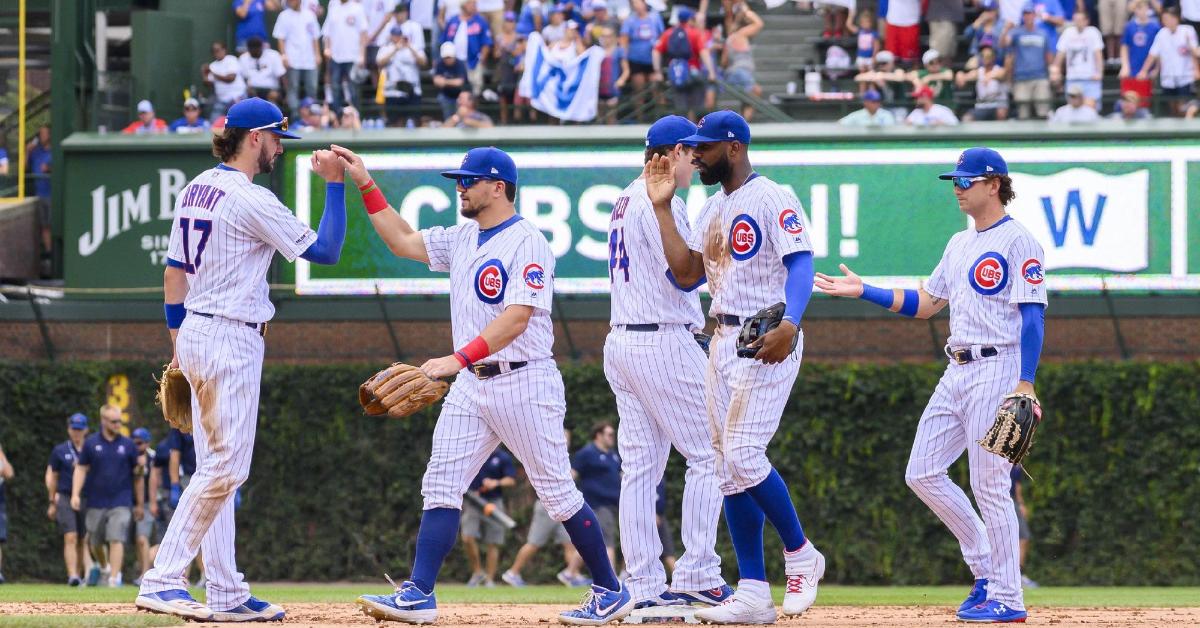 | | |
| --- | --- |
| Chicago Cubs 2020 schedule released | |
---
| | | |
| --- | --- | --- |
| Monday, July 6, 2020, 7:11 PM | | |
CHICAGO – Major League Baseball and the Chicago Cubs today announced the club's 2020 60-Game regular season schedule. The Cubs will open their 60-Game season on Friday, July 24 at 6:10 p.m. against the Milwaukee Brewers at Wrigley Field.
The Cubs will play 40 games covering 12 series (six at home, six on the road) against the National League Central Division and 20 games covering eight series (four at home, four on the road) against the American League Central Division. The regular season is scheduled to conclude on Sunday, September 27 at the Chicago White Sox.
In addition, the Cubs are scheduled to play three exhibition games leading into the regular season. The Cubs will host the Chicago White Sox at Wrigley Field on Sunday, July 19 at 7:05 p.m.; will play at the Chicago White Sox on Monday, July 20 at 7:10 p.m.; and will host the Minnesota Twins on Wednesday, July 22 at 6:05 p.m.
All games are broadcast on Marquee Sports Network, unless selected as a national exclusive telecast, 670 The Score and Cubs.com. Please note dates, times and broadcasts are subject to change. Visit Cubs.com for the most up-to-date information on the 2020 60-Game Chicago Cubs Schedule.
18 days until @Cubs baseball is BACK@WContreras40 // @javy23baez pic.twitter.com/uQ7hpruzht

— Ryan Lane (@designs_rl) July 6, 2020
The sprint starts now! pic.twitter.com/P5bTZvLooc

— Marquee Sports Network (@WatchMarquee) July 6, 2020
Check out the full Cubs 2020 schedule:
Friday 7/24 vs. Milwaukee 6:10 PM
Saturday 7/25 vs. Milwaukee 12:05 PM
Sunday 7/26 vs. Milwaukee 1:20 PM
Monday 7/27 @ Cincinnati 5:40 PM
Tuesday 7/28 @ Cincinnati 5:40 PM
Wednesday 7/29 @ Cincinnati 5:40 PM
Thursday 7/30 @ Cincinnati 5:10 PM
Friday 7/31 vs. Pittsburgh 7:15 PM
Saturday 8/1 vs. Pittsburgh 7:15 PM
Sunday 8/2 vs. Pittsburgh 1:20 PM
Monday 8/3 vs. Kansas City 7:15 PM
Tuesday 8/4 vs. Kansas City 7:15 PM
Wednesday 8/5 @ Kansas City 7:05 PM
Thursday 8/6 @ Kansas City 6:15 PM
Friday 8/7 @ St. Louis 7:15 PM
Saturday 8/8 @ St. Louis 7:15 PM
Sunday 8/9 @ St. Louis 6:08 PM
Monday 8/10 OFF
Tuesday 8/11 @ Cleveland 6:10 PM
Wednesday 8/12 @ Cleveland 5:10 PM
Thursday 8/13 vs. Milwaukee 3:05 PM
Friday 8/14 vs. Milwaukee 7:15 PM
Saturday 8/15 vs. Milwaukee 7:15 PM
Sunday 8/16 vs. Milwaukee 1:20 PM
Monday 8/17 vs. St. Louis 7:15 PM
Tuesday 8/18 vs. St. Louis 7:15 PM
Wednesday 8/19 vs. St. Louis 7:15 PM
Thursday 8/20 OFF
Friday 8/21 vs. White Sox 7:15 PM
Saturday 8/22 vs. White Sox 7:15 PM
Sunday 8/23 vs. White Sox 1:20 PM
Monday 8/24 @ Detroit 6:10 PM
Tuesday 8/25 @ Detroit 6:10 PM
Wednesday 8/26 @ Detroit 6:10 PM
Thursday 8/27 OFF
Friday 8/28 @ Cincinnati 6:10 PM
Saturday 8/29 @ Cincinnati 5:10 PM
Sunday 8/30 @ Cincinnati 12:10 PM
Monday 8/31 OFF
Tuesday 9/1 @ Pittsburgh 6:05 PM
Wednesday 9/2 @ Pittsburgh 6:05 PM
Thursday 9/3 @ Pittsburgh 12:35 PM
Friday 9/4 vs. St. Louis 7:15 PM
Saturday 9/5 vs. St. Louis 7:15 PM
Sunday 9/6 vs. St. Louis 6:08 PM
Monday 9/7 vs. St. Louis 7:15 PM
Tuesday 9/8 vs. Cincinnati 7:15 PM
Wednesday 9/9 vs. Cincinnati 7:15 PM
Thursday 9/10 vs. Cincinnati 7:15 PM
Friday 9/11 @ Milwaukee 7:10 PM
Saturday 9/12 @ Milwaukee 6:10 PM
Sunday 9/13 @ Milwaukee 1:10 PM
Monday 9/14 OFF
Tuesday 9/15 vs. Cleveland 7:15 PM
Wednesday 9/16 vs. Cleveland 7:15 PM
Thursday 9/17 OFF
Friday 9/18 vs. Minnesota 7:15 PM
Saturday 9/19 vs. Minnesota 7:15 PM
Sunday 9/20 vs. Minnesota 1:20 PM
Monday 9/21 @ Pittsburgh 6:05 PM
Tuesday 9/22 @ Pittsburgh 6:05 PM
Wednesday 9/23 @ Pittsburgh 6:05 PM
Thursday 9/24 @ Pittsburgh 6:05 PM
Friday 9/25 @ White Sox 7:10 PM
Saturday 9/26 @ White Sox 6:10 PM
Sunday 9/27 @ White Sox 2:10 PM
Brewers-Cubs games on Aug. 14-15 (Friday-Saturday) at Wrigley scheduled for 7:15 p.m. starts, according to Brewers schedule.

— Mark Gonzales (@MDGonzales) July 6, 2020
Cubs season opener vs. Brewers 6:10 p.m. start. Season finale at White Sox 2:05 p.m. start.

— Mark Gonzales (@MDGonzales) July 6, 2020
Jackie Robinson Day observed on Aug. 28, Robert Clemente Day on Sept. 9.

— Mark Gonzales (@MDGonzales) July 6, 2020
White Sox-Cubs on Aug. 21-22 (Friday-Saturday) at Wrigley 7:15 p.m., Sunday 1:20 p.m.

— Mark Gonzales (@MDGonzales) July 6, 2020
Historian Ed Hartig confirms this is first time Cubs will play home season with no Friday day games

— Mark Gonzales (@MDGonzales) July 6, 2020
Cubs/Cards face off twice on Sunday night baseball

— Jesse Rogers (@JesseRogersESPN) July 6, 2020
Cubs at STL, Sunday, Aug. 9 6:08 p.m. start.

— Mark Gonzales (@MDGonzales) July 6, 2020
St. Louis vs. Cubs at Wrigley on Sunday, Sept. 6 6:08 start, Sept. 7 (Labor Day) 3:10 p.m.

— Mark Gonzales (@MDGonzales) July 6, 2020
Strap in for @Brewers @Cubs for Opening Day 2.0 July 24th. pic.twitter.com/kIHKyDW0JA

— Jeff Levering (@JLevering4) July 6, 2020
Here's the 2020 Cubs slate with times included... pic.twitter.com/r8RcHO8xOA

— Jordan Bastian (@MLBastian) July 6, 2020
The experts have put the final touches on our 2020 schedule. pic.twitter.com/e9xaU6LxF8

— Chicago Cubs (@Cubs) July 6, 2020