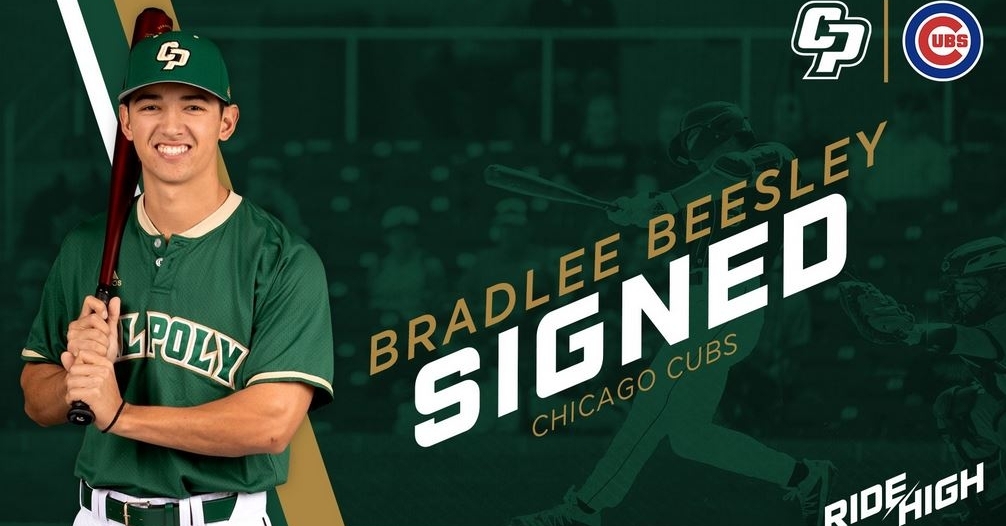 | | |
| --- | --- |
| Cubs sign talented outfielder to undrafted free agent contract | |
---
| | | |
| --- | --- | --- |
| Monday, June 15, 2020, 11:21 AM | | |
SAN LUIS OBISPO, Calif. -- Cal Poly senior outfielder Bradlee Beesley signed an undrafted free agent contract with the Chicago Cubs on Sunday morning.
A graduate of San Leandro High School and a business administration major with a concentration in real estate finance at Cal Poly, Beesley hit .286 in four seasons with the Mustangs, including a .305 mark as a freshman en route to second-team All-Big West Conference honors as a utility player and freshman All-American honors from Collegiate Baseball.
With the minor leagues on hold for now with the possibility of being shut down for the summer, Beesley likely will have to wait until next March to find out his first professional assignment.
The Cubs have a pair of rookie teams in the Arizona League while their Short-A team is in Eugene (Ore.) of the Northwest League. The South Bend Cubs of the Midwest League are Chicago's Long-A team.
"Things are up in the air," said Beesley. "We'll just have to wait and see. Let's go!"
Beesley's 45 career doubles is tied for No. 9 all-time at Cal Poly while his 711 at-bats is No. 4. Beesley also started 179 games, No. 2 in Cal Poly's Division I record book behind Jimmy Allen (212).
In his freshman season in 2017, Beesley started 53 games, 24 at third base, eight each at second base, right field and designated hitter, four starts at shortstop and one in left field. He was the Mustangs' right fielder in 2018, playing all 57 games with 56 starts, and started 54 games in center field last year as a junior.
His senior season was cut short after 16 games due to the coronavirus pandemic. Beesley hit .262 with four doubles, a triple and nine RBIs with no errors in 44 chances in center field.
Beesley was named the Mustangs' Scott Kidd Rookie of the Year in 2017 and earned the Jason Maas Award as Cal Poly's team captain in 2019.
He played two summer seasons in the Cape Cod League for Yarmouth-Dennis, hitting .368 in 2018 and .280 in 2019.
Beesley was ranked No. 6 among all undrafted free agent position players by Alex Caravan on Twitter with his college WAR average of 8.78. WAR (Wins Above Replacement Level) attempts to summarize the entirety of a player's contribution (fielding, baserunning, batting, or pitching) in one catch-all number and is calculated using Batting Runs Above Replacement plus Positional Adjustment plus Base-Running Runs plus Fielding Runs divided by Runs Per Win.
Kyle Glaser of Baseball America tweeted that Beesley "is the top undrafted free agent signing so far. A speedy athlete who makes a lot of contact and can play all three outfield positions."
The 2020 Major League Baseball First-Year Player Draft was held earlier this week and was limited to five rounds because of the pandemic. Cal Poly junior right-hander Taylor Dollard was selected in the final round by the Seattle Mariners on Thursday.
Clubs were not allowed to contact draft-eligible free agents until Sunday morning and cannot offer more than $20,000 but can sign an unlimited number of free agents.
Congratulations to Bradlee Beesley for signing a free agent contract with the @Cubs! #RideHigh pic.twitter.com/IAFgq6RMMT

— Cal Poly Baseball (@calpolystangs) June 14, 2020
The Chicago #Cubs have signed Bradlee Beesley from Cal Poly. Welcome to the Cubs, @Bradleelow! pic.twitter.com/34fR8EgDpg

— Cubs Zone ™? (@CubsZone) June 14, 2020
The top NDFA signing so far is Cubs OF Bradlee Beesley (No. 429 on the BA 500). Four year starter at Cal Poly, hit two years in a row on the Cape, speedy athlete who makes a lot of contact and can play all three outfield positions. https://t.co/xezdXBZ9A0

— Kyle Glaser (@KyleAGlaser) June 14, 2020
The Cubs lead MLB today with 9 UDFA signings. A recap, in case we've hit today's stopping point:

IF: Matt Mervis, Scott McKeon

OF: Bradlee Beesley, Jacob Wetzel

RHP: Angel Gonzalez, Graham Lawson, Ben Leeper, Bailey Reid (and maybe Mervis)

LHP: Scott Kobos

— Cubs Prospects - Bryan Smith (@cubprospects) June 15, 2020