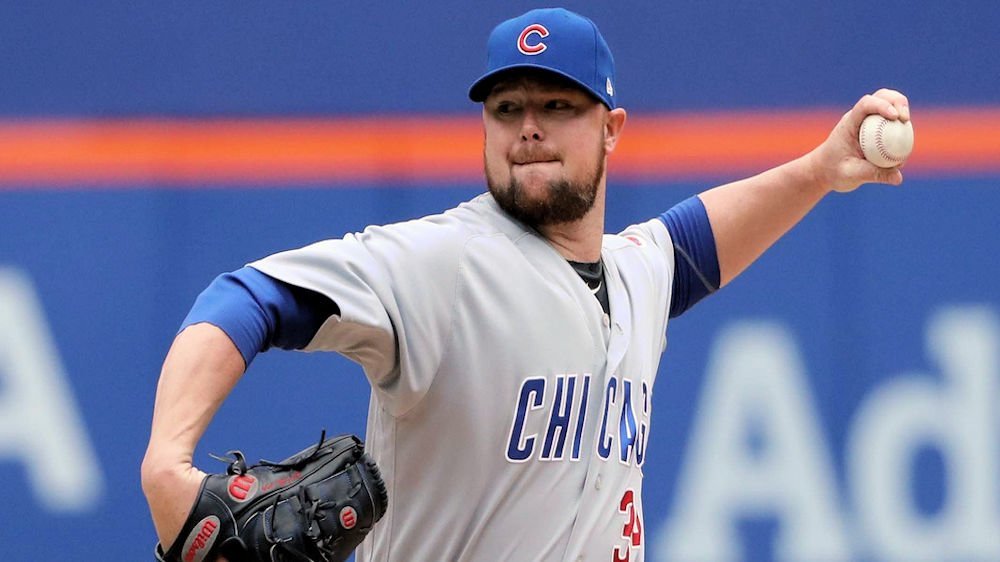 | | |
| --- | --- |
| Jon Lester blasts MLB's Rob Manfred: "That's somebody who's never played our game" | |
---
| | | |
| --- | --- | --- |
| Tuesday, February 18, 2020, 3:25 PM | | |
"A piece of metal" is what major league commissioner Rob Manfred referenced the coveted World Series Trophy in a recent interview with ESPN.
Those choices of words have irked many around baseball including veteran Cubs pitcher Jon Lester who fired back at the commissioner.
"That's that's somebody who's never played our game," Lester told reporters Tuesday. "You play for a reason. You play for that piece of metal. I'm very proud of the three that I have. If that's the way he feels, he needs to take his name off the trophy, you know?"
Lester understands that players work their entire career to try to reach that pinnacle of winning a title.
"I'm sure that hurt a lot of guys when they saw that, especially guys that haven't won it that have been striving for years to get it. I'm sure if Adam Dunn heard that, he played one playoff game his whole career, he'd probably be pretty upset. It's a very, very special thing that he brought down quite significantly."
Boom. Mic drop. The win goes to Lester over Manfred by KO.
Lester on Manfred calling WS trophy "piece of metal:"
"To me that's that's somebody who's never played our game. We play for a reason. You play for that piece of metal. I'm very proud of the three that I have. If that's the way he feels he needs to take his name off the trophy."

— Gordon Wittenmyer (@GDubCub) February 18, 2020
Lester on Manfred: "If that's the way he feels, then he needs to take his name off the trophy. That's the first thing when people walk into my house who have never been in my house – I take them to where my trophies are. I'm proud of them, a lot of years, a lot of hard work."

— Patrick Mooney (@PJ_Mooney) February 18, 2020
Unrelated note: Lester said he's against robo umps, saying he likes the "human element" and even misses managers arguing with umps and Lou Piniella throwing bases. "Is that right? No. But it's been part fo the game for 100 years. ...There's no interaction with anybody anymore."

— Gordon Wittenmyer (@GDubCub) February 18, 2020