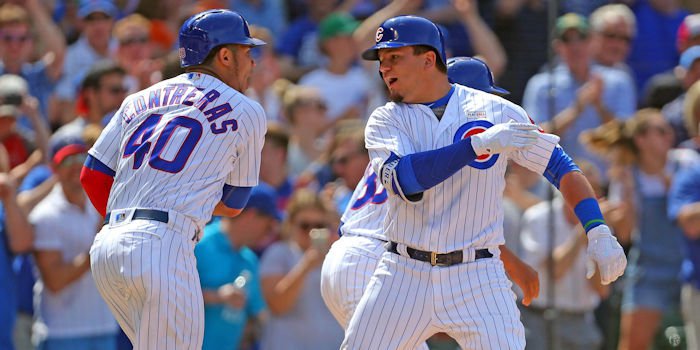 | | |
| --- | --- |
| Commentary: Don't trade Kyle Schwarber | |
---
| | | |
| --- | --- | --- |
| Wednesday, January 3, 2018, 3:05 PM | | |
Should Kyle Schwarber stay or should he go?
The Cubs 24-year-old outfielder and designated hitter was drafted in 2014 and has played in 200 total games. In 2017 he played 129 regular season games along with seven postseason starts. His 2017 hitting numbers include an average of .211, OBP of .315, SLG .467, and OPS of .782.
From a visual perspective Schwarber at times was outright awful and spent time in the minors to work on his swing for the first half of the season. His overall season has been considered a disappointment by most. Hitting needs to be Schwarber's strong suit if he wants to keep his job as a Cub. His outfield defense has been called into question due to his performance as well. His weight appears to be a contributing factor to his defensive performance, but Schwarber has been believed to lose weight this offseason.
Schwarber had decided to lose weight in this offseason as part of a crucial step to take a role as a more prominent player. If this weight loss is real, it can mean many good things for Schwarber's potential as a player in MLB. The lighter Schwaber is, the more natural he can move and make plays for the Cubs if they are to keep him. This improvement on defense can only help his becoming an everyday starter for the Cubs. As far as his hitting it can just go up for Schwarber from last season's numbers. The weight might make a slight difference in his batting average but not enough to be of concern. Being lighter would also allow for Schwarber to be a faster baserunner turning a few groundball outs into singles and a few singles into extra-base hits. Schwarber as a player can only improve from last season especially if he is to lose weight.
The Cubs should keep Schwarber and not trade him to another team until they know the value of him as a player. If the weight loss is real, it can hold extreme value for his stock even if he stays as a designated hitter rather than a full-time starter. His hitting motion was improved in his minor league starts. He should be watched carefully but not be traded due to the potential value he could hold as a Cub this next season.