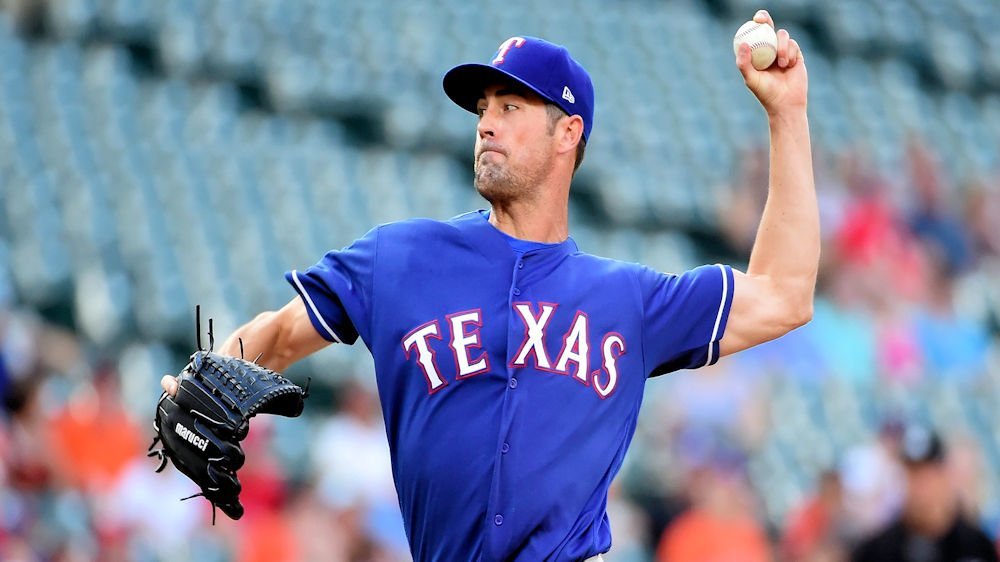 | | |
| --- | --- |
| REPORT: Cubs progressing in trade talks in acquiring four-time All-Star pitcher | |
---
| | | |
| --- | --- | --- |
| Thursday, July 26, 2018, 3:23 PM | | |
The Chicago Cubs are looking for pitching for the stretch run of the regular season and hopefully for a deep run in the playoffs.
Each day, more and more pitchers are traded away as the Cubs have stayed put and not have traded away any of their valuable roster pieces on their 25-man roster or any of their top-tier talent in the minor leagues.
However, MLB Network's Joel Sherman is reporting that the Cubs are making progress in trade talks with the Rangers with former All-Star Cole Hamels.
"Hearing Cubs are making inroads to try to land Cole Hamels from the Rangers," Sherman posted. "Between rest of salary this year plus buyout on 2019 option, Hamels owed roughly $14.2M. Hear that if deal with Cubs goes thru they will pick up about $4M and give up secondary prospects. But NO deal is in place yet, Cubs just more involved than other suitors."
Hamels has a guaranteed salary of $22.5 million this season ($7.98 million left to pay) and a salary of $20 million with a $6 million buyout in 2019. The Cubs might be interested in picking up a majority of that salary if they don't have to trade away anyone off the 25-man roster or any high-level prospects. Hamels has a 20-team no-trade clause but the Cubs are not on that list.
The 34-year old has had a rough season with a 5-9 record with a 4.72 ERA and 1.37 WHIP. He has been pretty awful in his last seven starts with a 2-3 record and 6.69 ERA. However, if he is healthy, he could be a guy that could eat some innings and possibly give them some decent veteran starts down the stretch and even in the playoffs.
For his career, he has a 152-111 record with an impressive 3.43 ERA and 2341 strikeouts.
He was drafted by the Phillies in the first round (17th overall) in the 2002 MLB Draft.
Sources confirm #Cubs' pursuit of #Rangers' Hamels, as first reported by @Joelsherman1. Along with low acquisition cost, this would be CHC's rationale:

Hamels at home this season: 6.41 ERA, 16 HRs, 59 IP.

Hamels on road: 2.93 ERA, 7 HRs, 55.1 IP.

— Ken Rosenthal (@Ken_Rosenthal) July 26, 2018
The #Cubs are among several teams talking to the #Rangers about Cole Hamels. Despite his woeful last 5 starts, teams believe he will be energized in middle of pennant race ala Justin Verlander of a year ago, who cleared waivers before leading #Astros to World Series

— Bob Nightengale (@BNightengale) July 26, 2018
For Cole Hamels, a deal to Cubs now could pay off big-time in the fall, beyond another possible run through October. He'd be going to the NL; to a pitchers' park; and out of the Rangers' park, where he has a 6.41 ERA this season. He has a 2.93 ERA in road games. FA in the fall.

— Buster Olney (@Buster_ESPN) July 26, 2018