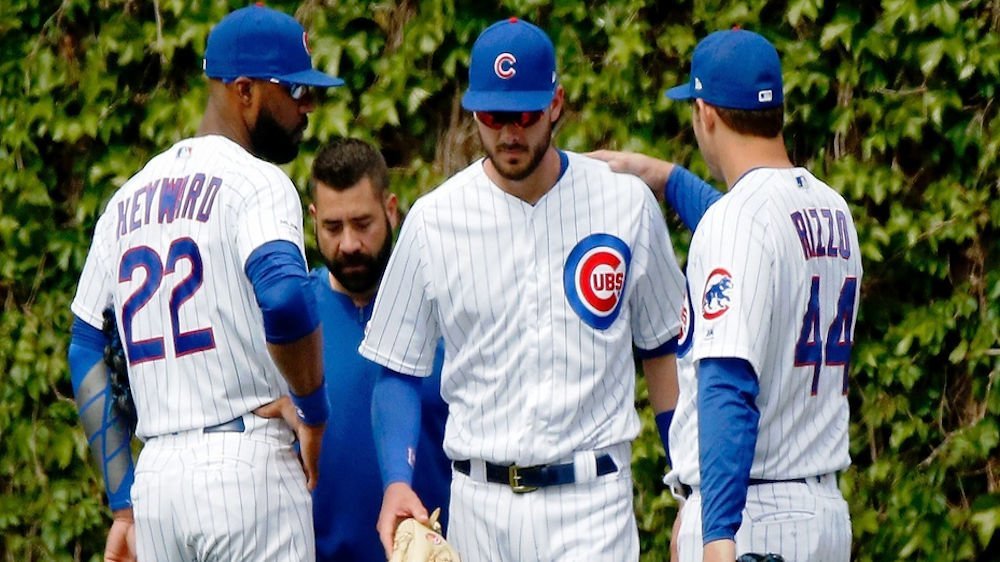 | | |
| --- | --- |
| Cubs news and notes: KB's injury, Julianna Zobrist's message, standings, more | |
---
| | | |
| --- | --- | --- |
| Monday, May 27, 2019, 7:48 AM | | |
Next Game: Today, 1:10 PM CDT: Cubs @ Astros. RHP Gerrit Cole (4-5, 4.11 ERA) vs LHP Cole Hamels (4-0, 3.38 ERA).
CUBS NEWS AND NOTES:
Sunday's Game Recap: In the rubber game of this three-game set, Chicago sent lefty, Jose Quintana (4-3, 3.30 ERA) to the mound, while Cincinnati countered with righty, Tanner Roark (3-3, 3.51 ERA). The Cubs were hoping to avoid embarrassment by not dropping a second straight series to the last place Reds, but that didn't happen.
Rather than to bore you with sentence after sentence of how Cincinnati dismantled Q and the Cubs, let me do this in some bullet points. (1) Quintana sets a new personal worst by giving up 12 hits in a single outing, including four consecutive singles to start the game. (2) Carl Edwards Jr. starts his day with a wild-pitch which scores a run (charged to Quintana), then gives up another run before he's through. (3) Tim Collins makes his return debut and allows two hits and an earned run in 1.1 IP. (4) By the ninth, Joe Maddon has given up and puts Victor Caratini on the mound; he also gives up a dinger. Damage report: 10 runs, 17 hits, one home run, two unearned runs, and Kris Bryant was hurt after colliding with Jason Heyward in right-center field.
Cubs Highlights (unfortunately, this will be brief): Willson Contreras hit a solo homer in the sixth (his 12th of the season) and at least saves the embarrassment of a shutout; Javier Baez hit a solo shot in the eighth (his 13th of the season). That, my friends, is the end of the highlights. Final score: Reds-10; Cubs-2.

The Cubs now have less than 7 hours to prepare for battle in Houston.
Road-trip: The Cubs got all dressed up in basketball gear for their themed road trip to Houston according to the following video.
Ball is life. pic.twitter.com/kQcluW0xE1

— Chicago Cubs (@Cubs) May 27, 2019
Cubs/Astros Probable Pitchers: TUESDAY: LHP Jon Lester (3-3, 2.68 ERA) vs RHP Corbin Martin (1-1, ERA). WEDNESDAY: RHP Kyle Hendricks (4-4, 3.34 ERA). LHP Wade Miley (4-2, 3.51 ERA).
Kris Bryant: There were some tense moments yesterday, after Kris Bryant and Jason Heyward collided in the seventh inning while each was attempting to catch a fly ball. Bryant walked off the field, under his own power, while holding his head, with the Cubs trainer following closely in toe. No immediate report was available; however, Bryant did fly to Houston with the team, but he does remain under observation.
Carl Edwards Jr: I don't know what Maddon is thinking about Edwards anymore, The Cubs were down 5-0 when Edwards took over for Quintana in the fifth, but that was still a very winnable game. With the offense being an issue for the Cubs yesterday, there's no reason that Edwards should have stayed in after launching a wild-pitch that scored a run, which was followed by a walk and single. Edwards then took the mound to start the sixth inning.
Edwards had shown improvement when he first returned from Iowa, but he's become, at least in my humble, but somewhat informed opinion, a liability that can not- and should not- be trusted in situations like that. I'd certainly hope that Maddon hadn't already thrown in the towel in the sixth inning, but who knows anymore?
For the record, Edwards has made a total of 9 appearances since returning from Iowa. In that time the Cubs have posted a 4-5 record for games in which Edwards has appeared. If you count every game this season that CJ has pitched in, the Cubs have a record of 4-9.
Jim Adduci: Remember the name Jim Adduci from spring training? Adduci played outfield and first base for the Cubs and did pretty well. According to ESPN's Jesse Rogers, the Cubs will most likely send a pitcher down to Iowa, before the start of the Houston series, and he hears that Jim Adduci may get a call-up. According to Rogers, he thinks Tim Collins may get optioned, but I believe there are better choices.
Joe Maddon's already thrown away the tape from this weekend's series against the Reds.

What concerns do you have, as the #Cubs head to Houston to play tomorrow?

— Cubs Talk (@NBCSCubs) May 26, 2019
Iron Man Gary Pressy: Move over Cal Ripken. Your 2,632 consecutive games were truly something to behold, but Wrigley Field organist, Gary Pressy, has surpassed you. As of yesterday, Pressy has now played the organ in 2,633 consecutive home games at Wrigley. (You know me and numbers…. That works out to 32.5 seasons without missing a game.) Congrats, Gary.
Cut4 pays homage to the Cubs: Cut4 always has social media alerts anytime a position players pitches, but yesterday, they recognized not only the Cubs and Victor Caratini, but also the song "Go Cubs Go." Pretty creative.
Hey Chicago, whaddaya say, you've got a.....

(•_•)
<) )?POSITION
/ \

\(•_•)
( (> PLAYER
/ \

(•_•)
<) )> PITCHING
/ \

today. pic.twitter.com/RwW5xb0get

— Cut4 (@Cut4) May 26, 2019
Zobrist news There's no way to avoid it: The Zobrist's divorce will be talked about on social media and in the sporting-news world, despite Ben's desire to remain a very private person who doesn't want the media circus.
As reported Sunday by CubsHQ.com, Julianna Zobrist took to her Instagram with a message to her "fans." In part, the passage reads, Hi. I am still here. Somewhat in the mire, but I am still here. Over these last two weeks, I have watched so many of you quietly enter the marshland with me. I can see you, sitting beside me, waist deep in the water and bog. I can feel you, in a silence like art, honoring the most intimate spaces of our pain and heartbreak without shame…."
I understand the desire to want to speak out, but I think this was a little too much and definitely over the top. This reads much like something that may appear in the teaser for a tell-all book that she may write one day. Make no mistake, I wish the fastest healing and closure possible for the Zobrists, but I don't think involving millions of social-media groupies is going to help that process.
Condolences: I don't usually stray from the Cubs or baseball in my column, but I'd be remiss not to extend condolences to the family and friends of NFL legend, Bart Starr, who passed away yesterday in Birmingham, Alabama. Starr had been dealing with declining health issues since suffering a stroke in 2014. He was 85. Starr led the Green Bay Packers to five NFL Championships, including wins in Super Bowl I and II. In addition to being a Pro Football Hall of Famer, Starr was also an MVP, 4x Pro Bowler and 1x All-Pro, in addition to his Championship and Super Bowl accomplishments. Packer or not, he was the kind of man who was good for the game.
Cub Birthdays: Celebrating yesterday, was Ben Zobrist (38).
NL CENTRAL SCHEDULE (May 26 – June 1, 2019)
(Wins are in green, losses in red)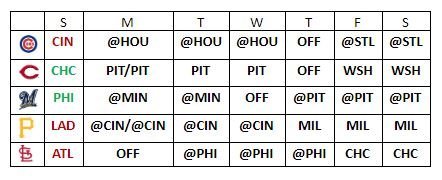 NL CENTRAL SCOREBOARD/STANDINGS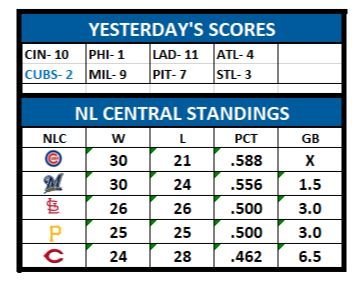 Tags: Chicago Sports Baseball
,
,
Cole Hamels
,
Jose Quintana
,
Victor Caratini
,
Jason Heyward
,
Willson Contreras
,
,
,
Kyle Hendricks
,
Jim Adduci
,
Ben Zobrist
,
Joe Maddon