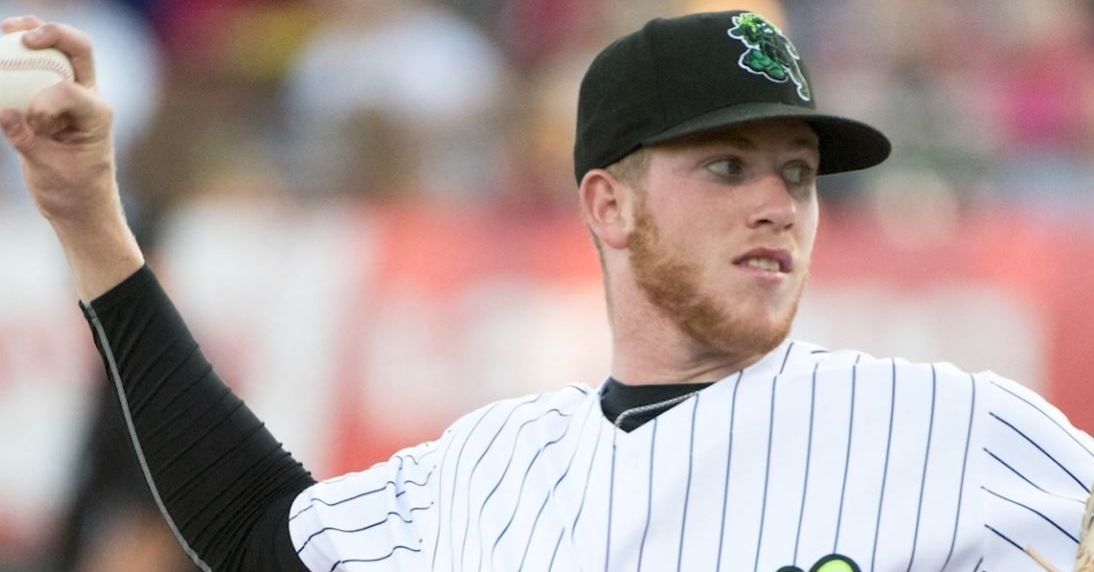 | | |
| --- | --- |
| Cubs Prospect Focus: Kohl Franklin | |
---
| | | |
| --- | --- | --- |
| Friday, January 27, 2023, 9:00 AM | | |
As the Chicago Cubs have continued to remake their farm system over the past three seasons, you have seen plenty of changes. Not only have guys like Chris Clarke moved on due to the Rule 5 draft, but several other new faces and moving parts have made this a top-five system again.
While the 2023 rankings have yet to be out, look for more things to change this summer, as the Cubs have one of the deepest, if not the deepest overall, system in the game. With so much movement in terms of the prospects, some guys have fallen victim to that as they are on the verge of falling out of the top 30.
That doesn't necessarily mean they are no longer good, but more so a clear indication of how much better this system is and the overall talent they have. One guy finding this out firsthand is right-handed pitcher Kohl Franklin, who must have a big year in 2023.
The 2018 sixth-round pick was once a top 10 talent as he checked in as high as No. 7 in the system. Then came the COVID season in 2020, when he didn't pitch, followed by an injury-plagued 2021 that saw him go nearly two years without throwing an inning. He did return to the mound in 2022, but things were rough, and he has now fallen to No. 29 on the Cubs top 30 prospect list.
If anyone could use a bounce-back year, it would be him, as he has the stuff and opportunity to make a move back into the top 15. From the moment he was drafted, you could see the potential in him, although the 2018 summer was a struggle. Franklin went 0-1 that summer with a 6.53 ERA in eight innings while walking six and striking out eight.
2019 was a different story, as Franklin established himself as a legitimate prospect in the Cubs system. Across 11 starts that season, Franklin was limited to just 42 innings, but 42 impressive innings nonetheless. His record may have been 1-3, but with a 2.68 ERA, he did his part on the mound. He also had 19 walks and 52 strikeouts that season, and the Cubs had enormous hopes for him going forward.
Expecting to break out in 2020, Franklin had to settle for instructional league work due to COVID and then injured his shoulder during spring workouts in 2021, which sidelined him that entire year. Franklin returned to the mound in South Bend last season and had to shake off plenty of rust from his two-year absence.
Franklin made 23 starts for the season, but only threw 69 innings, which was a career-high. His 3-7 record was not ideal, nor was his 6.88 ERA. That is what happens when you have so much time away from the mound, as Franklin had to relearn how to pitch on the fly. Towards the second half of the season, Franklin started to look like the Franklin of old and finished the season with 41BB and 75K. He will be looking to build on his final five starts this season, as he posted a 2.25 ERA over those last five starts in 2022.
The nephew of former all-star closer Ryan Franklin, the former Oklahoma prep star, signed directly out of high school for 450K. Standing at 6-4 and checking in at 195 pounds, Franklin has the ideal body you like in a pitcher and has seen his frame fill out in recent years. Take a look at his fastball velocity since coming into the league.
After averaging around 88 MPH in 2017, Franklin saw his heater jump to 93 MPH in 2018 and 96 MPH in 2019. A lot of that has to do with gaining strength on your body, and the Cubs feel he can still add more strength to his frame, which will come in handy. As of now, Franklin consistently hits 95-96 with that fastball, but has been averaging 97-99 MPH at times.
To go with that fastball, Franklin features a pair of secondary off-speed offerings, his best being an 82 MPH fading change. Throw in his 78 MPH knuckle Curve, which to me, is his best secondary pitch, and he will be a nightmare to face once he can stay healthy and iron out the command problems.
Franklin has the athleticism to repeat his delivery and fill the strike zone. He uses his size and high three-quarter arm slot to create a downhill plane on his pitches, and club officials praise his maturity and competitiveness. He has the ingredients to become a mid-rotation starter but must prove he can handle the workload. The 2023 season will indicate if he can handle the workload, as his innings should increase significantly.