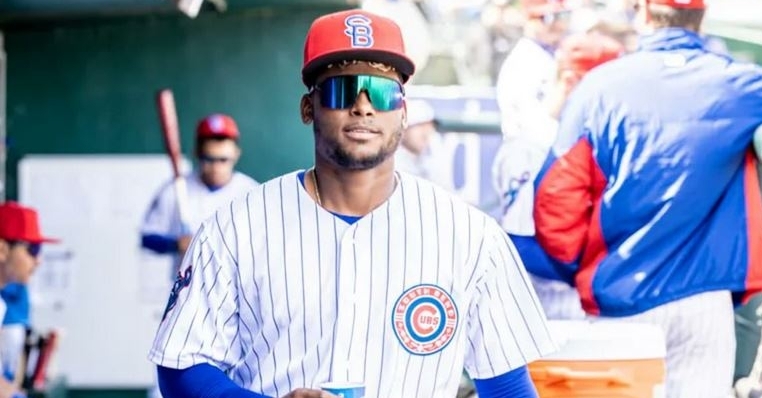 | | |
| --- | --- |
| Cubs Prospect Profile: Alexander Canario | |
---
As we inch closer to the 2024 MLB season, there will be a lot of roster turnover for the Chicago Cubs. Most of that turnover will happen at the MLB level, but there will also be some minor league turnover, especially in the trade market. The Cubs have made it abundantly that they want to improve their roster via free agency and the trade market.
In order to improve via the trade, some of their top prospects will have to be sent out, and Alexander Canario is one of the more commonly talked about names. The second part of the Kris Bryant trade along with Caleb Kilian, Canario was once the No. 8 prospect in the Cubs system, but now checks in at No. 14. Had he not suffered his gruesome injury last winter that kept him out half of the year, he very easily could still be in the top 10 as he has as much, if not more power than anyone in the organization.
Signed as an international free agent by the Giants in 2016, Canario was just a teenager then and has now grown into his body much more. He may only be listed at 5-11 and 165 pounds, but when you see him in person, he seems much bigger, and at 23 years old, there is still plenty of time for him to fill out that body even more. Initially signed for just 60K, it took Canario a long time to get to the States as he didn't come stateside until 2019 but didn't reach full-season ball until 2021.
During his time in the rookie leagues, Canario showed plenty of potential as his average never dipped below .250 and was as high as .318. After hitting nine homers and driving in 64 in his first two seasons, Canario broke out in 2019 when he combined to hit 16 homers with 54 RBIs across two different short-season teams. That was good enough for the Giants to give him a shot at full-season ball, and all he did was produce at an elite level.
Across 107 games in 2021 with the Cubs and Giants system, Canario struggled a bit, hitting a career-worst .230 with 43 walks and 125 strikeouts. He did show a bit more speed with 21 steals, but with a career-high 18 homers and 57 RBIs, you could see the power was still improving. Then came the 2022 season, where Canario not only put himself on the map but became one of the best pure power hitters in the Cubs system and all of minor league baseball.
In 125 games, Canario saw his average improve to .250, which was huge, while also taking 59 walks and stealing a career-high 23 bases. His strikeouts also increased dramatically to 157, but with an organizational-best 37 homers and 97 RBIs, it was clear that the Cubs won the Bryant trade. Expected to compete for a big-league spot in 2023, Canario suffered a horrendous leg injury in winter ball that saw him miss the rest of the season and the first half of 2023.
When he returned, many people were hoping for minimal production, but it is safe to say he produced way more than he thought he would. Canario played 53 games this past season and held his own with a career-best .273 average in terms of full-season ball. The 25BB/64K was an issue, as were the two stolen bases, but given the severity of his injury, no one expected him to steal a ton of bases.
Granted, he got off to a slow start power-wise this summer, Canario turned it on late in the season with AAA, finished with nine homers and 47 RBIs, and was the Cubs hottest hitter in August. That led to a late-season call-up, which saw Canario reach the majors for the first time. Despite getting just 17 at-bats in six games, Canario produced, hitting .294 with one homer and six RBIs, with that homer coming as a Grand Slam. The question is, will he be around long enough to earn more time with the Cubs MLB team?
Canario has always been known for his strong hands and lightning-quick bat, which is the main reason he can generate the power he does. Teams quickly took notice of his raw power in 2021 during Giants camp, but that power was on full display in 2022 as he was the hitter that teams feared the most. Canario has always been a very aggressive and pull-happy hitter, which is why his strikeout and swing-and-miss rates have been high.
He has gotten better over the past two seasons, but he still needs to work on that to take his game even further. He has also seen his walk rate increase from 7% to 15%, showing that he is learning the strike zone much better. As mentioned earlier, Canario is listed at just 165 pounds, but he is closer to 215 pounds now as he has put on tons of muscle to round out his frame.
Despite that, he remains very athletic for his size, and with an entire offseason under his belt and healthy again, he could become a 20-plus stolen base guy next season. With Pete Crow-Armstrong the best defensive OF in the Cubs system, Canario's days in CF could be over, as his strong arm makes him an ideal candidate for RF. Should that not work out, you always have the DH position, as the Cubs will do what they need to do to find room in the lineup for him should he stick around.