| | |
| --- | --- |
| Offense stalls as Cubs fall to D-backs | |
---
| | | |
| --- | --- | --- |
| Saturday, May 14, 2022, 9:27 AM | | |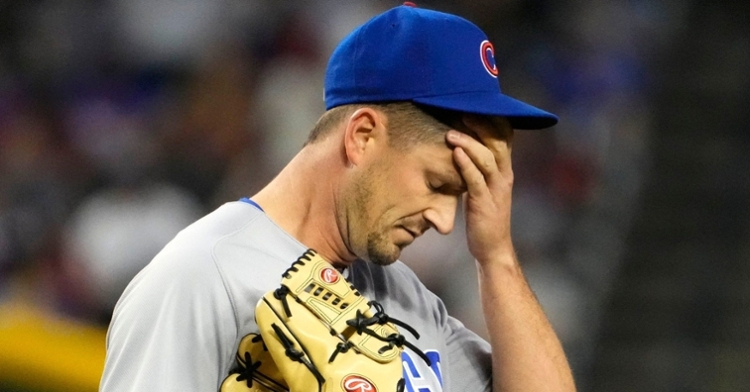 PHOENIX - When the 2022 MLB season got underway, many people expected the Arizona Diamondbacks (18-15) to be one of the worst teams in the league. Here we are, roughly 20% of the way through the season, and the Diamondbacks are sitting above .500 and have won 12 of their last 16. They have done that behind a pitching staff that ranks second only behind the Dodgers as things have gotten off to a better start than they could have imagined.
On the other hand, the Chicago Cubs (11-20) got off to a great start and have since cooled off completely. Playing at their home away from home in Arizona and with seven meetings across the next two weeks, these teams will be very familiar with each other as the Cubs have a golden opportunity to win some much-needed games.
In a matchup that paired offseason acquisition Drew Smyly against former teammate Zach Davies, the Cubs offense came out firing as they pushed across three runs early. Typically that would be enough for Smyly, who gave the Cubs six innings of work, allowing four runs on 10 hits to go with four punchouts. While the four runs are not what you want to see, one bad inning did Smyly in and ultimately sealed his fate as Arizona takes game one 4-3.
With Davies on the roster last season, the Cubs had a real good look at him and had to endure his worst season as a pro together. This season has been much different as Davies went 5 2/3 innings allowing three runs to keep his ERA in the 3.5 range. All the runs he allowed came in one inning as it was Three's Company in the third inning.
Unlike most of their games, the bottom of the order ignited the offense in the third, with Jason Heyward leading things off with a double and then moving to third on the Jonathan Villar bunt single. Filling in for Nico Hoerner is Ilderamo Vargas, who cashed in a huge RBI triple to give the Cubs a 2-0 lead. Rafael Ortega followed that up with a sacrifice fly pushing the lead to 3-0.
With a comfortable lead in hand and knowing how consistent he has been all season, you had to like Smyly's chance to pick up the win. Instead, a tight strike zone started to fluster Smyly on the mound, which led to some big-time mistakes. The first of those mistakes came against Cooper Hummel as his triple set the Diamondbacks offense up.
On the verge of getting out of the inning without allowing a run, the Diamondbacks managed to pull even using a nice two-out rally to get things done. What started with a Ketel Marte double was followed by a Christian Walker Single and then Pavin Smith double, and just like that, we were back to even.
One inning later saw Josh Rojas lead things off with a walk before coming home to score on a wild pitch as the Diamondbacks were now in front 4-3. You had to feel for Smyly in this one, as he has been the Cubs most consistent starter this season and yet is sitting at 1-4 record-wise.
Following that big third inning that saw the Cubs grab the lead, their offense went ice cold as the baserunners they had typically came via the walk. If you are not putting runners on base, you will not score, which has been a consistent problem all season long.
With Robert Gsellman, Conor Menez, and Chris Martin doing their thing in relief, it is time for the offense to make some noise. With Ian Kennedy working the eighth, the Cubs began to rally as this was their best scoring chance since that third inning. A two-out error allowed Willson Contreras to reach base and extended the inning before walks to Ian Happ and Patrick Wisdom loaded them up.
Needing a huge hit and with Alfonso Rivas at the plate, Kennedy managed to induce a lazy flyout as the com empty. That was the beginning of the end for Chicago as Mark Melancon picked up the save, going through the Cubs order with ease. The Cubs had five hits in the game, with all five coming from the bottom of the order. Frank Schwindel led the way with two hits and has looked much better since being recalled.

Tags: Chicago Sports Baseball
,
Zach Davies
,
Jason Heyward
,
Jonathan Villar
,
Nico Hoerner
,
Rafael Ortega
,
Willson Contreras
,
Ian Happ
,
Patrick Wisdom
,
Alfonso Rivas
,
Frank Schwindel