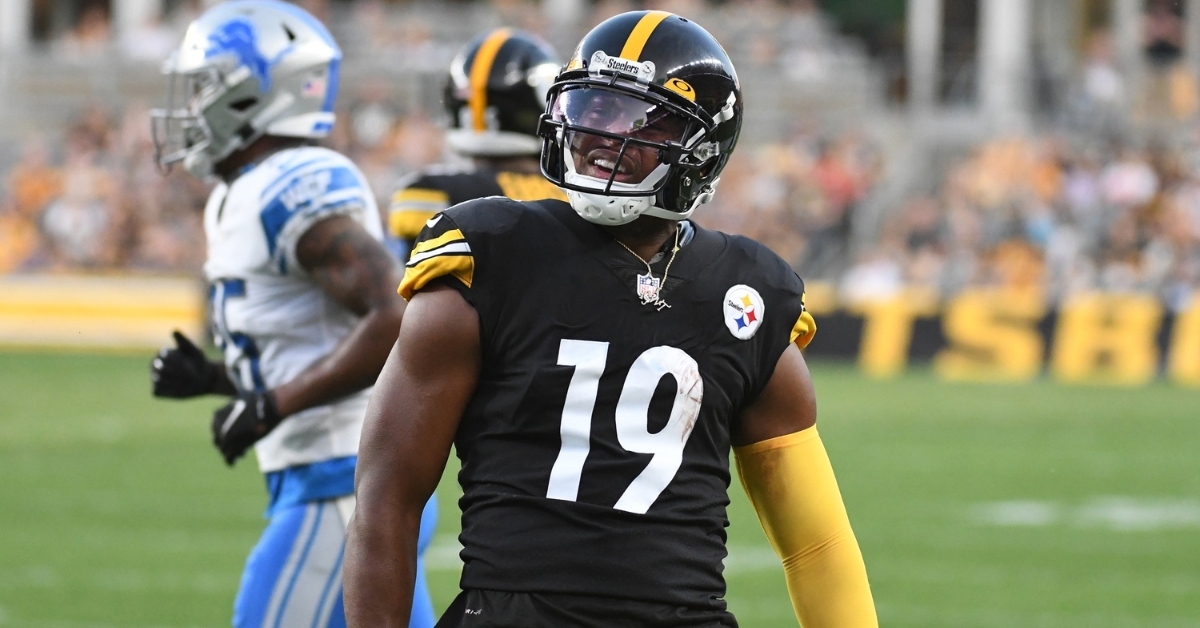 | | |
| --- | --- |
| Bears Free Agent Target: JuJu Smith-Schuster | |
---
| | | |
| --- | --- | --- |
| Saturday, January 28, 2023, 5:00 PM | | |
One of the many areas of need for this Chicago Bears team is on the offensive side of the ball, where the WR position needs to be addressed. Ryan Poles and his staff tried to address that area last season, but signed a bunch of players to one-year deals, with most of them not paying off.
For this team to take that next step as an offense, they can't be doing that, and they need to not only address the WR position again, but come away with a big splash. Unlike last season which saw the likes of Davonte Adams and several other WRs seeking a trade, most of the big-name receivers have been signed to an extension.
That waters down the potential free agent pool this year, but that isn't to say there won't be some good names out there. Chicago desperately needs a No. 1 WR this offseason, and they have the money to get one. However, when you look at the upcoming free agents, it is tough to point out who is a No. 1 as most of the top free agents are No. 2 at best.
Regardless, look for the Bears to be in on a lot of WR talk, and JuJu Smith-Schuster could be one of those guys. The former second-round pick out of USC in 2017, Smith-Schuster has been in the league for a while despite being just 26 years old. That is hard to fathom when you think about it, as it shows how young he was when he was drafted.
After spending his first five years with the Steelers, Smith-Schuster signed a one-year eight million dollar deal with the Chiefs last offseason and performed very well with Patrick Mahomes. He finished the season with 933 yards receiving on 78 catches and brought in three TD passes. Those may not be No. 1 numbers, but outstanding numbers nonetheless, which is what the Bears would be banking on if they signed him.
Going back to his days in Pittsburgh, Smith-Schuster was a No. 1 WR, and the numbers can back that up. A part from his injury-plagued 2021 that limited him to five games and a rough showing in 2019, Smith-Schuster averaged nearly 1000 yards a season while bringing in close to seven scores a year.
His best season came in 2018 when he had 1426 yards on 111 catches while adding seven scores. His career high in touchdowns was nine in 2020, so you can see the production he brings to the table. Once the Steelers brought in Dionte Johnson, among others, Smith-Schuster saw his production take a hit, but not to the point where it was concerning.
In the right situation, this guy has a ton of great football ahead of him, and Chicago could be the right situation. You also have to look at Chase Claypool returning to the Windy City next season and having Smith-Schuster and Claypool reunited after spending a few seasons in Pittsburgh together.
When they were on the field together, both were productive guys capable of giving you 1000 yards, but Claypool took off with Smith-Schuster. After what fans witnessed after acquiring Claypool last season, any improvement would be a significant upgrade for 2023, but I have a hard time believing he can get back to his Steeler numbers without help.
That help could come from a former teammate with a great relationship with Claypool. Smith-Schuster often challenged Claypool in practice and during games and demanded the best out of him on the field. Should he do that again, the Bears' offense would benefit as they would see the version of Claypool that everyone has been waiting to see.
As great of an addition as this would be for Chicago, it will cost a lot as he should be able to land somewhere between 10-12 million a season for at least four years. The Bears have the money to afford that, but may only be willing to go that far if he is guaranteed to be a No. 1 next year.
I also expect the Chiefs to make him an offer to try and retain him. Either way, this is just one of the many names I expect the Bears to be linked to this offseason.