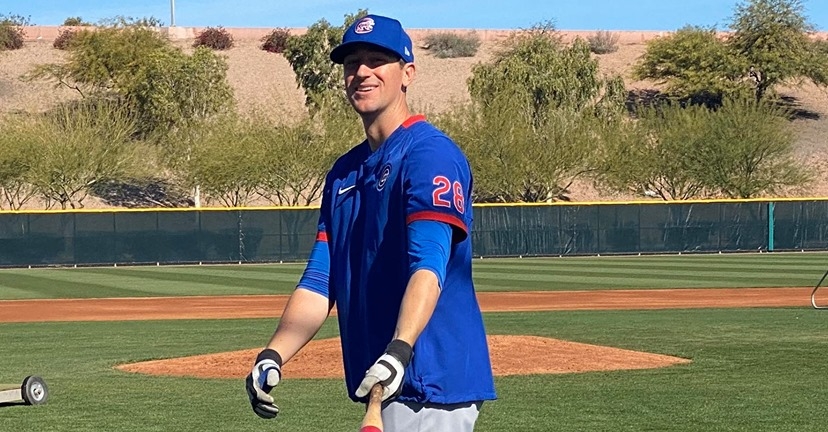 | | |
| --- | --- |
| 2020 Season Projections: Hendricks, Lester, Darvish, Q, more | |
---
| | | |
| --- | --- | --- |
| Monday, March 23, 2020, 11:11 AM | | |
Once again, the most significant question mark surrounding the Cubs is how their starting pitching will pan out this season. Last year, things went about as expected at times as age caught up to a few of their arms, while inconsistency was the theme much of the season.
With no exact date on when baseball will resume play this season, it is more important now than ever before that not only are pitchers ready to go, but ready to perform consistently. The current break MLB is experiencing is nothing like they have before, as there is no real plan as to how to attack what is going on.
This isn't the typical three-four month off-season theses players have where they have specific workouts put in place and know when to turn it on. This instead is a waiting game of not knowing what is going to happen one day to the next and trying to stay in shape during the process. I expect a lot of struggles from most teams this season, and this is what I look for in the Cubs staff this year.
Kyle Hendricks: Earlier this month, before MLB suspended play, David Ross announced that the opening day starter would come down to Kyle Hendricks or Yu Darvish. While Darvish may have had the better season last year, Hendricks has been a model of consistency since he has been here, and I feel he has earned the opening day start.
Hendricks isn't your typical No. 1 as he flirts with 88MPH on his heater but knows how to work the corners to keep hitters off balance. Add in his devastating Straight Change, and you can see why he has had so much success thus far in his career. There is only one Greg Maddux, but Hendricks is as close to Maddux as we have seen in some time.
Projection: 17 starts, 8-6 3.35 ERA, 22BB and 91K.
Hendricks knows what he is as a pitcher and indeed uses that to his advantage. We like to talk about velocity all the time, but Hendricks defies the norm by using control to his advantage and giving hitters fits. Despite not being able to blow hitters away, he still manages to get the outs he needs by inducing soft contact and tons of ground ball outs.
Yu Darvish: The best pitcher on the staff last season at least for the second half was Yu Darvish, as he becomes one of the best in the game over the final three months. That appears to be what the Cubs are seeing so far this season as it finally appears Darvish is pitching the way everyone expected him to throw since giving him that big contract before 2018.
In a rotation that lacks overall velocity, Darvish certainly isn't one of them as he consistently sits around 95 with his heater, but can top out at 97. He also features not one, not two, not three, but five or six secondary pitches that will keep hitters guessing all game long. If Darvish can command all his pitches like he did the second half of last season, there are not too many times where you will able to knock him around. Let's see that hold true this season.
Projection 17 starts, 10-4 2.97 ERA, 20BB and 114K.
Darvish may not be the teams NO. 1, but I still think he is the ace the Cubs have been looking for. When you talk about power arms, that is precisely what Darvish is, and he continues to prove that even at 33 years old. Health is always a concern surrounding him, given his elbow and shoulder issues of the past, but when healthy, there are not many pitchers better. I had him penciled in as a CY young candidate this season, and I think he pitches like it this year.
Jon Lester: Perhaps the best free-agent contract in Cubs history was that of the horse, Jon Lester. Ever since arriving in Chicago in 2015, Lester has been nothing short of consistent while bringing a winning attitude to the clubhouse. Announced as the opening day starter every year but 2016, Lester's days as an ace are long gone, and he will most likely be the teams No. 3 this season.
Compare that to most staffs, and I would take him as my No. 3 over 25 other teams. The problem with Lester now is that his velocity has been on the decline for the past few seasons. That has forced him to reinvent himself as a starter, and we have seen mixed results. After Ross took him out of the opening day consideration this season, I think Lester knows that his days as a team's No. 1 are long gone.
Projection: 16 starts, 8-6 3.83 ERA, 32BB and 91K.
Lester is not the type of pitcher that will blow you away anymore, but he still knows how to get people out. He is at the stage in his career where he knows exactly what needs to be done and knows that adjusting will be a considerable part of his success. When Lester misses his spots, things are not pretty, but when he finds the target, he is still as dominant as ever. With two years left in Chicago, the Cubs are going to milk every drop from that left-handed arm.
Jose Quintana: Quintana has been a reliable starter in his three seasons with the Cubs, but certainly not what they were hoping to get after trading away Dylan Cease and Eloy Jimenez for him. Known as a guy with ace stuff, but lack of support on the South Side, Quintana has been as durable as they come, but his inability to remain consistent keeps him right around .500 every season.
There are times when he goes on a one month run where no one can hit him. Then there are times where he goes one month, and it is like batting practice. There is not an in-between, and that is the biggest problem. I had him listed as a trade candidate this July, but now the Cubs are hoping to get at least a more consistent showing from him in 2020.
Projection: 15 starts, 5-7 4.45 ERA, 43 BB and 97K.
My hopes of Quintana being a top of the rotation arm have gone out the window as he simply is not that guy. Yes, he brings you durability with terrific talent, but for some reason, the consistency has never been there. It is evident when you look at his 85 starts with the Cubs. Nearly half of those starts have been allowing three runs or less, while the other half is five runs or more. That is not what you want in a starter. This is a make or break year for him, and I just don't see too much good coming from it.
Tyler Chatwood: The biggest surprise of last year's staff was that of Tyler Chatwood. After a dismal first season in Chicago, Chatwood was moved to the bullpen, where it appeared that he figured things out. Now with Cole Hamels in Atlanta, Chatwood is the favorite to land the No. 5 spot in the rotation and rightfully so given the spring he had.
Make no mistake about it, Chatwood's stuff is electric and reminds me a lot of Jake Arrieta. The only problem is his inability to locate and command his pitches consistently. Arrieta was very similar when he was in Baltimore and when suddenly something clicked, and you know the rest. Chatwood has taken a similar path, and maybe his time in the bullpen last year was when things clicked. Look for him to have a solid season.
Projection: 13 starts, 5-5 3.95 ERA, 41 BB and 100K.
Chatwood has the stuff to be a front of the rotation guy, but the command will always be his biggest flaw. This year, Chatwood will see a bunch of starts, but will also see times when they skip him depending on how the season plays out. For the first time in his career, look for Chatwood to prove the doubters wrong and start showing his contract was worth the dollar amount he signed.