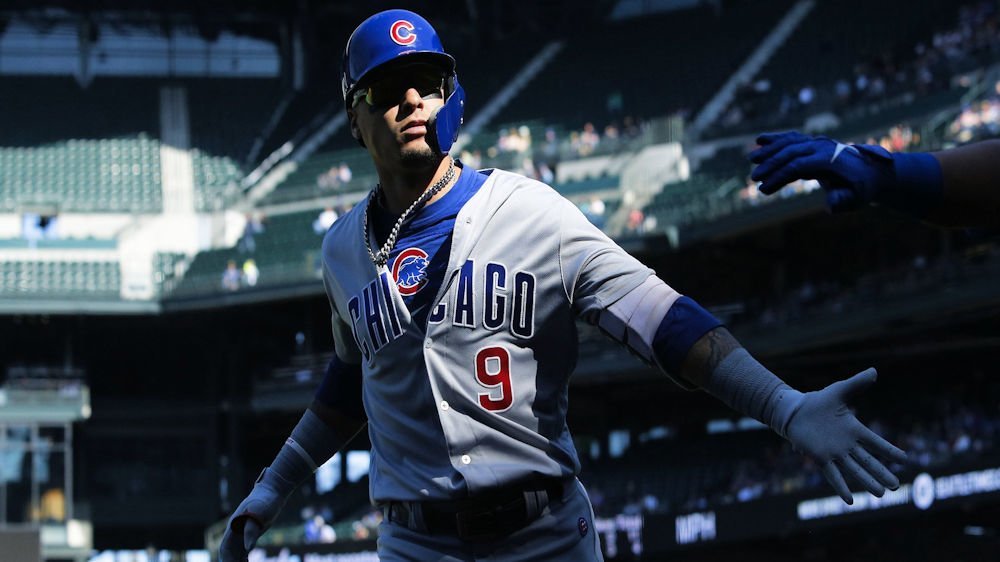 | | |
| --- | --- |
| 2020 Season Projections: Javy Baez and other shortstops | |
---
As we continue to go through the season projections by position, we shift to the left side of the infield, where we now discuss the shortstops. With just one regular on the MLB roster in Javy Baez, this will once again be a combined break down of both MLB and Minor League as the Projections will look drastically different than the ones earlier given the suspension of the start of 2020.
Javy Baez: No one would argue that Baez has been the MVP of this team the past three seasons, and that is evident by not only his numbers but the way the team looks when he is not in the lineup. Not only are you getting a guy who is going to give you 30 plus homers and near 100 RBI's every year with the bat, but his defense is supreme at multiple positions as he makes plays only some can dream about making.
If there are two flaws to his game, it would be the reckless approach at the plate where is willing to swing at any pitch thrown to him, and the other flaw would be putting too much trust in his arm to make a play knowing that eating the ball is better than an error. Either way, Javy is who Javy is, and that is what got him to the majors and what will continue to earn him MVP votes when healthy every season.
Projection: .278 average, 22 homers 75 RBI's.
These numbers would be way better had the season started on time, and without the certainty of when the season will start, they could change, but these numbers are based on a start date sometime before June. When in the lineup, Baez is a threat both at the plate on the bases as he can change a game with one swing or make something happen with his legs.
In the field, teams dread hitting the ball in his direction as he can make the near-impossible look routine creating frustration for coaches in the opposing dugout. Whether you love his style of play like I do, or hate it given how careless and reckless it is at times, Baez has been the MVP of this team the past few seasons and will continue to be that if healthy. His ability is off the charts, and no one and I mean no one can take any pitch thrown his way and hit it out of the part. That is the most frustrating thing when watching him. Pitchers know they don't have to throw strikes, and Baez still makes them pay. Imagine if he had a better eye what he would do.
Zack Short: Perhaps the surest handed shortstop in the system is that of AAA shortstop Zack Short who saw some time with the big-league roster during spring. Short is undoubtedly not going to wow you with the bat, but his surehandedness on defense makes him a must to put on the field to make your defense better overall.
Last season, Short couldn't shake the injury bug as he struggled to find a consistent rhythm at the plate. Even when healthy, he has yet to break a 265 average in any season, making him just an average hitter at best. Will this be the year the bat finally catches up to his defense?
Projection: .257 average, 8 homers 41 RBI's.
Playing in AAA, especially the Pacific Coast League, will always help your power numbers, but that doesn't do much if the average doesn't follow. Short must continue to improve his overall approach at the plate this season, but I look for him to do just that if he stays healthy. Having him in the system is a good idea in terms of a depth piece, but don't look for him to be a long-term starter for this organization.
Andy Weber: Losing Clayton Daniel to the Dodgers is not only a loss for the South Bend Cubs but the Cubs system in general as he was an outstanding hitting SS prospect. Enter Andy Weber as the starter for South Bend this season and one to watch in 2020.
Through just two professional seasons since being drafted in the fifth round back in 2018, Weber has proven to be a success every stop he's made, including a very successful season for South Bend last year. Not only did he play in a team-best 127 games, but Weber delivered both at the plate and in the field. His 275 average was a strong showing for a first-time full-season player, while his three homers and 59 RBI's shows there is some power potential there once he learns the strike zone a bit better.
Along with Weber ranking near the top of the South Bend team in both RBI's an average, you find him as the team leader in doubles as he connected for 36 of those last year, making him a very dangerous gap to gap hitter. Ideally, I would love the power numbers to come up, but there is no shame continuing to do what he did last season long term.
Projection: .284 average, 2 homers, 29 RBI's.
Again, the decrease in numbers is mainly reflected off the delayed start to the season as we don't know when the season will officially start if at all. If it does, expect Weber to pick up where he left off last season as the hitting will certainly continue. Weber will never hit for power, but his style of play reminds me a lot like Ryan Theriot, who was a very solid player for the Cubs during his time here. If that is the type of game the Cubs get out of Weber long term, consider it a blessing.
Pedro Martinez: If this name sounds familiar, you may be thinking of the former Montréal Expos and Boston Red Sox pitcher. However, this version of Pedro Martinez has no relation and is just scratching the surface of what could be a breakthrough shortstop for the Cubs system.
Signed out of Venezuela as an international free agent, Martinez is just 19 years old and will be in his third season of professional ball with a shot to make South Bend this season. What we have seen during his time with the Dominican Cubs rookie team, Arizona Rookie, and Eugene has been nothing short of impressive as he has the makings of being a long-term fixture down the road.
Not only did he hold his own at Eugene with a 265 average, but he has managed to hit a 310 through two professional seasons with four homers and 49 RBI's. His 50 walks and 89 strikeouts are not concerning at all because he makes contact often, leading to reaching base plenty of times. Once there, his legs become another threat as he has swiped 50 bases thus far, making him dangerous in that category as well. I am very intrigued to see how he would handle full-season ball and once his body fills out.
Projection: .281 average, 3 homers 23 RBI's, 15 steals.
Martinez will start the year at Eugene, but he won't stay there too long as he is too good to hold back much longer. The Cubs certainly have a potential star in the making here, and if you are unfamiliar with him now, get used to the name because you should be hearing it for a long time. At not even 20 years old, his ability to put the bat on the ball is scary good, which has scouts convinced that it will continue long term. That could lead him to be considered a leadoff hitter soon as he could be the long-term answer after Javy leaves.
Luis Verdugo: Last but certainly not least we come to Luis Verdugo, who is starting to create plenty of buzz of his own. Not only is he just 19 years old himself, but Verdugo improved so much during his second rookie ball season for Arizona Cubs 2, that he is almost a guarantee to be at Eugene to open the season this year. After hitting just a 193 in his first season in 2018, Verdugo not only improved but so much so that I was surprised to see him in Arizona all year.
His walk rate went up slightly, while his strikeout rate went down. His power numbers went from four homers to five homers and 20 RBI's to 38 RBI's, while his average went from 293 to 305 in just six more games played from 2018 to 2019. You heard me right, that is a 112-point increase in average from one season to the next, and there is no reason that shouldn't continue.
Projection: .271, 2 homers 21 RBI's.
This year will be an exciting year for Verdugo, as I do expect him to open the season in Eugene. The only problem is that Martinez will be the team's SS upon arrival, so Verdugo may have to try other positions if he wants to be in the lineup. Regardless, Martinez won't be in Eugene all season, which then gives Verdugo their everyday SS job, which is when he will shine. I don't expect an increase in average this season, but 270 plus in your first season outside of rookie ball is impressive.
Before, it was Baez and Kris Bryant as the Cubs top infield prospects. Then it became Hoerner. I believe the Martinez and Verdugo combo will be the names we here for the next three to five seasons until they reach the MLB level.
Upgrade Your Account
Unlock premium boards and exclusive features (e.g. ad-free) by upgrading your account today.
Upgrade Now