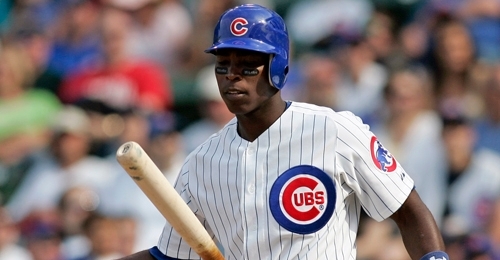 | | |
| --- | --- |
| Alfonso Soriano to the Hall of Fame? | |
---
| | | |
| --- | --- | --- |
| Thursday, November 21, 2019, 11:11 AM | | |
Major league baseball recently unveiled the ballot for 2020 MLB Hall of Fame voting. While there appear to be some shoe-ins like Derek Jeter, as well as various other players who will track a large percentage of votes — there is an intriguing former Cub on the list who deserves a look.
Now I am not referring to former Cub Sammy Sosa, but rather a different Dominican born slugger: Alfonso Soriano.
Soriano spent seven years of his 16-year career with the Chicago Cubs and was one of the Cubs' bright spots during a time where they continually lost. Not to mention, Soriano also played a significant role on the 2007-2008 Cubs teams that won over 100 games.
Whether he was batting leadoff or hitting cleanup, Soriano added thump to any lineup. Soriano clubbed his way into the elusive 400 homer club, tallying 412 in his career.
From 2002-2013 (his second full season to his last full season), Soriano hit 20 or more home runs. In 2002, he led the American League in runs, hits and stolen bases and was named to his first of six straight all-star appearances, one of those all-star games he was named the game's MVP.
Of those six straight seasons, 2006 was especially good to Alfonso. He hit 41 doubles, 46 home runs and stole 40 bases — becoming one of the only players ever to have a 40-40-40 seasons. That led to a big pay-day in Chicago.
Soriano spent the next seven years of his MLB career with the Cubs. Soriano hit .264 on the Northside with 181 homers, 526 RBIs, 70 steals, almost 500 runs scored, and nearly 1,000 hits.
While flying under the radar in terms of Hall of Fame consideration, Soriano's numbers match up with some of the best to play the game — even the ones with plaques.
For a player to finish his career with over 2,000 hits and 400 home runs is one thing — but to also have over 100 runs scored, be 19 doubles short of 500 and just 11 steals shy of 300 in his career, and have a solid .270 career batting average, Hall of Fame should be a consideration for the Dominican born slugger.
Like most players, his game was not perfect. Soriano suffered various leg injuries throughout his career and was moved from the middle infield to the outfield during his career — and was criticized for his outfield play.
The injuries in Chicago led to a downfall in steals, but his power never faltered. Soriano had an unorthodox crotch in the righties batters box, a high leg kick, and an absurdly long and heavy bat that led to over 400 trips around the bases.
I am not saying Soriano should be a first-ballot hall of fame, but he certainly deserves some consideration and a few votes.
Let's see where Soriano stacks up against some other notable Hall of Famers.
Soriano: .270/.319/.500 with 2095 hits, 412 HR, 1,159 RBI, and 289 steals (16 years)
Andre Dawson: .279/.323/.482 with 2774 hits, 438 HR, 1,591 RBI, and 314 steals (21 years)
Duke Snider: .295/.380/.540 with 2116 hits, 407 HR, 1,333 RBI and 99 steals (18 years)
Al Kaline: .297/.376/.480 with 3007 hits, 399 HR, 1,582 RBI, and 137 steals (22 years)
Jim Rice: .298/.352/.502 with 2452 hits, 382 HR, 1,451 RBI, and 58 steals (16 years)
Dear voters, take a look at former cub Alfonso Soriano — he had a better career than you think.