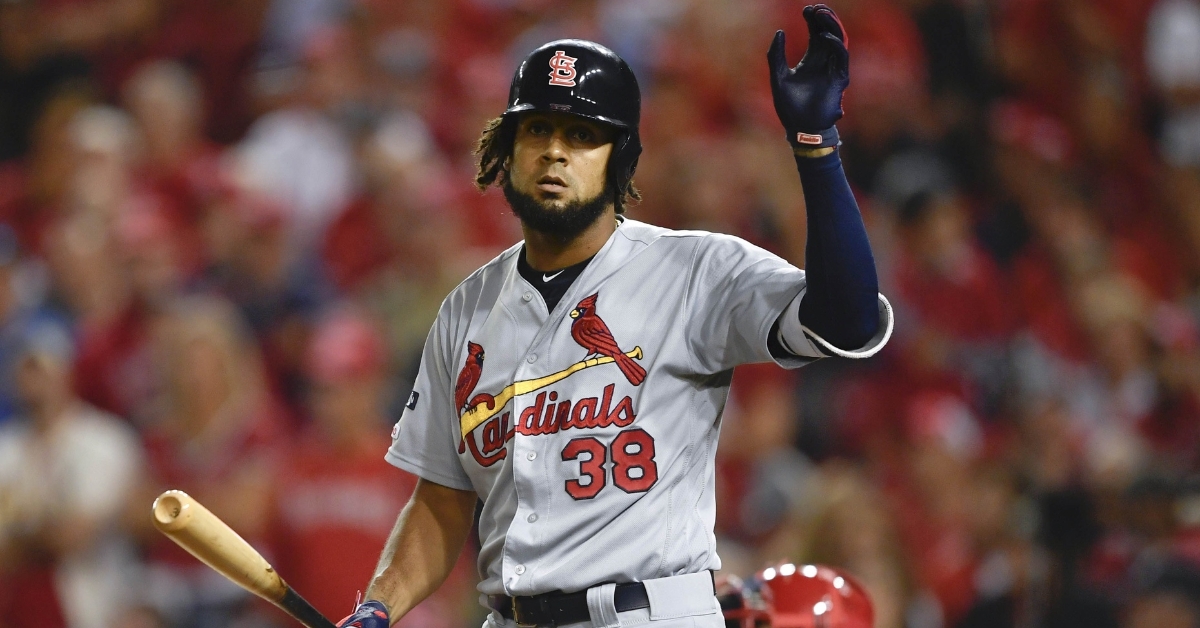 | | |
| --- | --- |
| Analyzing Cubs trade deadline moves | |
---
Another trade deadline has come and gone for the MLB and the Cubs to make moves to aid or rebuild their team. This season is especially odd as the trade deadline comes just a little over halfway through this 60 game season.
As has been the case for the past group of deadlines, the Cubs needed bullpen help. And has also been the case for the last near-decade, the Cubs were not quiet at the deadline.
Theo Epstein and the Cubs had made it known that their targets at the deadline were based primarily around lefties. They wanted lefties out of the bullpen who can get outs, and they wanted to target hitters who can aid the Cubs' left-handed hitting problem and hit lefties.
So let's take a look at the acquisitions the Cubs made at this year's trade deadline.
OF/DH Jose Martinez from Rays
Early in the week, the Cubs acquired former Cardinal and lefty masher Jose Martinez from Tampa Bay for cash considerations and two players to be named later.
Martinez is off to a bit of a slow start this season, homering twice in 24 games this year. But his track record is a solid one. In his career, Martinez is a career .319 hitter, with a slugging percentage of .554. The ability to hit lefties was the leading factor for the Cubs to acquire him — but his history as an NL Central hitter with St. Louis and his proven track record in that organization and within the division made him an attractive piece to acquire.
OF Cameron Maybin from Tigers for INF Zack Short
As the clock was ticking and the deadline nearing, the Cubs pulled off a last-minute trade with the Tigers for outfielder Cameron Maybin. Maybin had been a target for the Cubs for a couple of weeks. The outfielder is strong at all three outfield positions and has speed that would be useful for the Cubs.
Not to mention, Maybin is extremely active in the community as a philanthropist and a strong black voice in the Players' Alliance as well.
This season has not been especially kind to Maybin, the 14 year veteran now with his 10th team, as he has played in just 14 games this year and been battling injury. He is a frequent stolen base guy and is also a career .250 hitter against lefties — not especially useful, but an expected upgrade from Albert Almora as the Cubs' 4/5th outfielder.
LHP Andrew Chafin from Diamondbacks
The Cubs' main target was relief pitching, particularly from the left side at the deadline. They delivered on that wish by acquiring Andrew Chafin from Arizona for cash considerations or a player to be named later. Chafin is currently on the shelf with a sprained finger, and when he has been on the field this year, he has struggled a bit, with an 8.10 ERA in 6.2 innings.
The track record is attractive for the Cubs, though. Chafin has posted a sub 4.00 ERA in three straight seasons and has a strong strikeout to walk rate even this year.
LHP Josh Osich from Red Sox
Just after the Cubs' acquired one lefty, they doubled dipped and acquired Josh Osich from Boston for a player to be named later or cash considerations.
Osich has bounced around for his six-year career this far. He has been serviceable but not spectacular in his career. Still, the Cubs hope his high groundball rate and ability to strike out batters will translate into solid contribution in the pen as the season continues. So far this year, though, Osich is 1-1 with an ERA of 5.74.
What these moves mean for the Cubs
The bottom line of the trade deadline is an attempt to get better, and it is evident that the Cubs did just that. For the bullpen, these moves likely mean Kyle Ryan will have some company in the bullpen in terms of lefties, and David Ross will have some more flexibility in late innings when trying to mix and match potential lefty-righty splits.
With Tyler Chatwood headed to the injured list for an unknown amount of time and some new lefties in the pen, that should lead to Jose Quintana finding his way back into the Cubs' starting rotation. Roster wise, Chatwood being put on the shelf makes room for Osich or Chafin to join the team. It will be Osich for now, as Chafin is injured.
As for the offensive moves, Maybin likely replaces Almora as the team's fifth outfielder, and Almora will be sent down to the Cubs' alternate training site in South Bend.
Martinez will likely take the place of Ian Miller as an extra position player, but for now, Martinez joins the Cubs, and pitcher Casey Sadler has been designated for assignment.
Steven Souza and Kris Bryant have also been activated off of the injured list to rejoin the team this week.
ROSTER UPDATE OVER THE LAST TWO DAYS
Kris Bryant off the IL
Steven Souza off the IL
Tyler Chatwood to the IL
Andrew Chafin to the IL
Cameron Maybin joins team
Jose Martinez joins team
Josh Osich joins team
Albert Almora optioned to training site
Adbert Alzolay optioned to training site
Casey Sadler designated for assignment
Josh Phegley designated for assignment
Hernan Perez designated for assignment
Ian Miller designated for assignment

Tags: Chicago Sports Baseball
,
Albert Almora
,
Kyle Ryan
,
David Ross
,
Tyler Chatwood
,
Jose Quintana
,
Ian Miller
,
Casey Sadler
,
Kris Bryant
,
Adbert Alzolay
,
Hernan Perez
,
Theo Epstein