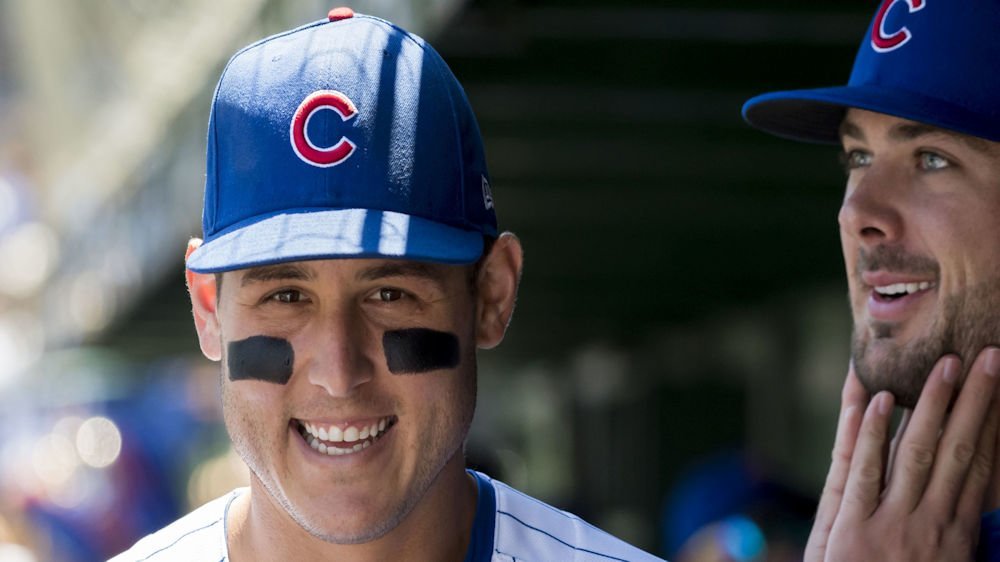 | | |
| --- | --- |
| Anthony Rizzo discusses pandemic life and MLB's plan | |
---
| | | |
| --- | --- | --- |
| Sunday, April 19, 2020, 8:22 AM | | |
In a subscription-based article in the Athletic, Ken Rosenthal interviewed Anthony Rizzo. A large part of the conversation centered around the pandemic, and Rizzo's efforts to provide meals to frontline workers.
Rizz's foundation generally focuses on pediatric cancer patients, with Anthony having been one himself. Rizz says with everything that's going on as the result of COVID-19, he felt almost obligated to help those struggling to provide care to coronavirus patients. Through the efforts of the Anthony Rizzo Family Foundation, approximately 3,500 meals have now been delivered to hospital staff members in Florida and the Chicago area.
Thank you to our friends @chicagobetter for donating 150 meals from @nickswilmette to the staff at Vista Medical. Today alone, we supplied 450 meals to healthcare workers on the front lines at four different hospitals in IL and FL. pic.twitter.com/h1dM3LoYYC

— A. Rizzo Foundation (@RizzoFoundation) April 17, 2020
How does Rizz feel about not playing baseball at this point? "It's been a rollercoaster. It's nice to be home and to be able to enjoy the house. You have moments where you're going crazy, and you want to be playing baseball because that's what we're supposed to do. Overall, I have a really positive mindset about it. But there are definitely times where it's just like, "Man, this sucks." I'd rather be grinding like I usually do in April."
Anthony Rizzo unplugged, talking about how his foundation is helping front-line workers, whether the Arizona plan can work and the #Cubs' future. Q-and-A: https://t.co/V7drJcziNv

— Ken Rosenthal (@Ken_Rosenthal) April 17, 2020
Rizzo says each day of his life still features cardio of some sort and a workout which lasts between an hour and 90 minutes. The rest of his day is filled with the dwindling list of household chores, filming "thank you" and motivational videos for those who donate (he makes five or six of those per week). Bike rides, scooter rides, and the swimming pool are what fills the rest of the time spent bored.
Although he is staying in shape, you know that he'd rather be playing. But not under any set of circumstances. MLB seems to favor their "Arizona Plan," but it doesn't sound like Rizzo is so sure that's going to get past the MLBPA.
"I think you're going to have a hard time telling grown men with established lives to stay in a hotel and not be with their families. You're going to tell Kris Bryant that he's not going to see his baby (born April 7) for 4 1/2 months?" Nobody said the plan wasn't without some sacrifice and flaws.
When asked if the quarantine of players would be much shorter – six weeks or so – Rizzo seemed to be more in tune.
"Six weeks, I think that can work. It's just the logistics of it. Hotel workers and grounds crew and cameramen. It can be pulled off. I think it could. But health and salaries, how do you work through all that? They can't pay us full pay, right? Then playing into November, December, you're jeopardizing getting ready for next season. I want to play. But we don't want to jeopardize two years of baseball. That's the hard part."
The players, MLB and the union will have to settle on what salaries would look like. Players have been paid a small stipend of just $1,100.00 per week during the shutdown. Is it fair that they don't earn their contractual salaries? No, but sometimes life isn't fair. I'm all about players earning the money they do, but I also understand things from a business standpoint.
This virus certainly wasn't through any fault of Anthony Rizzo, Kris Bryant, or others, nor, however, was it the fault of Tom Ricketts or other team owners. Whether voluntary or not, MLB is in a state of flux. An extended break that isn't much of a vacation, but downtime, nonetheless. It seems that the only fair solution is to prorate salaries on a per-game basis, but that does nothing for the fact that each player's career has now grown a little – or in the case of guys like Jon Lester, a lot shorter due to age.
Rizzo continued, "If we go to Arizona, being around the guys is fine. It's just making sure everyone is healthy all the time. From what I've read, if someone gets it, they'll just be sent home and quarantined and monitored — there will be extra guys (substitutes). But if your superstars in the league get it — if Javy Báez gets it, if Mike Trout gets it — that's not going to be good for the sport. And God forbid someone catches a bad strain of it. You have to make sure it's safe. That's my first and foremost thought about it.
But we all want to play. I talk to our guys every day. We want to be playing baseball. It's great being home. But it's a lot better being in the clubhouse and playing baseball."
The multiple protests now occurring in numerous states certainly isn't helping matters any. In order to have baseball, the spread of this virus must be quelled. Even if 90% of these people protesting don't give a damn about the sport, their actions are going to spark a second wave of sickness. I get it. You're bored. You know what? I'm bored too. My wife is bored, and my kid is bored. Deal with it.
I give it a week and we'll be bombarded with stories about how all these idiots have tested positive. I would say it's Darwinism, but they are going to take a lot of responsible people down with them. https://t.co/hzPWa3TGUA

— Brad Robinson (@bradrobinson8) April 18, 2020
People are acting out of frustration. This whole situation transcends baseball, but that doesn't mean that I don't want my sport back in my world. In case they haven't noticed, this virus will take your life. It doesn't help matters that we have to be "grounded" to our homes, only to then receive a check and a message from the government, stating, "Go out and fix the economy." I'm certainly doing my part to abide by the stay-at-home order, as I still haven't seen the $2,900.00 check we're supposed to receive. Oh well, in time… maybe.
I digress.
In case you're wondering, Rizzo's doctors all say that he is healthy, and has no added risk of catching the virus due to his history of cancer. I couldn't agree more with his philosophy: This has to be done safely. But I really believe they can (and will) do it.
For now, please stay home and stay safe. This thing won't last forever; it can't.