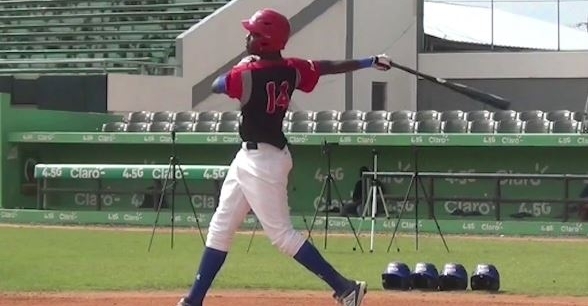 | | |
| --- | --- |
| Breaking down MLB.com's Top 30 International Prospects (Part 2) | |
---
| | | |
| --- | --- | --- |
| Thursday, May 7, 2020, 1:43 PM | | |
As we started breaking down the top International prospects in this year's class, we noticed that it was very shortstop heavy in part one, a pleasant surprise than the norm. For those of you keeping tabs, part two is once again shortstop heavy as four of the five prospects in this installment are listed as shortstops at least at this point.
#25 ARIEL ALMONTE (OF Sanchez, D.R.): The first outfielder to land on the list is that of 16-year-old Ariel Almonte from the D.R. At 6-1 170 pounds, Almonte already has a good base in place that will only get better as he fills out. What separates him from most prospects in this class is that he can flat out hit the ball, and scouts have taken notice of that early and often.
The teenager is a bat-first prospect who is better at hitting than the defensive side of things right now. That is why he has been used as a corner outfielder, allowing his lack of defense to be put on the back burner. While he is a plus hitter now, the power hasn't shown up, but that will happen over time if he continues to develop at the rate he has.
He is a pull first hitter who uses left-centerfield a ton, but he does display power to all fields. Not only does he do a great job recognizing pitches, but he has an advanced strike zone because of that for his age, making him a tough out every time he steps in the box. A high contact rate, excellent walk rate, and ability to drive the ball to the gaps are all part of his game, which pegs me to think he will be a corner outfield piece long term. As of now, the Reds are the frontrunners to get him, which affects the Cubs in terms they play in the same division.
#24 FRAN ALDUEY (S.S. San Pedro De Macoris, D.R.): Getting back to the S.S. class, and you will find another stud prospect in Fran Alduey. Small at just 5-11 and 150 lbs, Alduey is a very athletic shortstop with tons of upside, which will have teams not afraid to take a chance on him. A switch hitter that provides a short uppercut swing, Alduey has a good feel of the strike zone and is more of a line-drive hitter as opposed to raw power prospect.
He has a knack for not only squaring up the ball but driving it to all fields equally, proving to scouts that he can be a complete hitter. Defensively, Alduey shows quick reaction time with a plus arm, but his footwork at times feels complacent. Fix the footwork, and he will be great defensively. The Indians are the front runners to sign him right now.
Should Francisco Lindor not be retained, I would think the Cubs make a run at Lindor, especially if Baez isn't around in two years.
#23 MANUEL BELTRE (SS Invivienda, D.R.): The Dominican Republic is not only rich in talent this year, but rich with shortstop talent and Manuel Beltre is another one of those players. Tallying over 200 at-bats during the past calendar year, Beltre maybe not only the most experienced hitter in this year's class but the most advanced and complete hitter.
The experience factor is undoubtedly on his side as he has logged 74 more at-bats than his next closest in the class. After beginning his pro career in 2014 in the D.R., Beltre has moved on to play travel ball stateside in Florida. Not only has he played on the Cal Ripken Circuit, but also the Perfect Game Circuit while showcasing his stuff on other U14 and U15 D.R. tournament teams in the past.
Although a shortstop by trade, where he plays in the minor leagues, is up in the air. He has the range, quickness and strong arm that you look for in a shortstop, but also has the transferability you like to see out of a second baseman and the arm of a third baseman. Outside of his experience, scouts love his dedication to the game and have praised his work ethic for getting better.
Toronto is poised to add him to their roster as they can use him in several different spots.
#22 ANGEL GENAO (SS Castillo, D.R.): Like a lot of shortstops in this year's class, Genao is small but also a switch hitter, which earns him a plus grade from the start. Once a thing of rarity, switch-hitting is becoming much more popular as more young kids are taking that up and sticking with it. From a hitting standpoint, Genao isn't going to be at the top right now, but from a talent standpoint, he is one of the best if not the best in the class.
At 15, he is one of the youngest prospects this year and has shown consistent ability to make hard contact and hit in competitive games. While he has a lot of developing in his body still to do, many feel he will stay at S.S. long term once he does fully develop. Genao is touted as one of the most talented shortstops this season for a variety of reasons.
On the defensive side, he provides you with soft hands, solid footwork, and an average arm that projects to be above average with more strength added. He also shows great instincts in the field with range and consistent polish on defense. Offensively, Genao gives scouts a loose and smooth swing while using all fields equally. He has a feel for the strike zone right now, but like most young kids his age, he needs to work on discipline to become better.
While the Indians are listed as the favorites to land him right now, should they land Alduey listed earlier, that could change their plans to get Genao. That would leave teams like the Cubs and anyone else hoping for future infield help the chance to pounce on him and steal him away.
#21 DIEGO VELAZQUEZ (S.S. Maracay, Venezuela): Getting away from the D.R., the country of Venezuela seems to have some strong shortstop talent of their own and Velazquez is one of them. While most of the prospects we have dug into so far are bat first, Velazquez is the opposite as he is a glove-first prospect right now.
While his defense stands out on tape right now, he is athletically gifted enough, so his hitting isn't far behind. That is scary when you see how good he is already defensively where if his offense catches up, he could skyrocket on this list. Not only does he have the athletic ability right now, but he flashes a great arm and is a plus defender at what many view as the most premium position on the infield.
His soft hands, quick footwork and impressive instincts for the game are things you can't coach as he plays under control and very rarely makes mistakes. While a switch hitter by trade, Velazquez is better from the left side, but will still give you consistent hard contact from both sides. Not only does he know the strike zone, but he has the reputation of working the count, which is excellent at his age.
Velazquez trains with a former Cub in Ronny Cedeno, so if he learned anything from him, we should expect great defense. Cedeno was never a great hitter with the bat but did play good defense when given a shot. The Giants know that Brandon Crawford won't be around much longer, so no surprise they are turning their attention to him as their possible shortstop of the future.