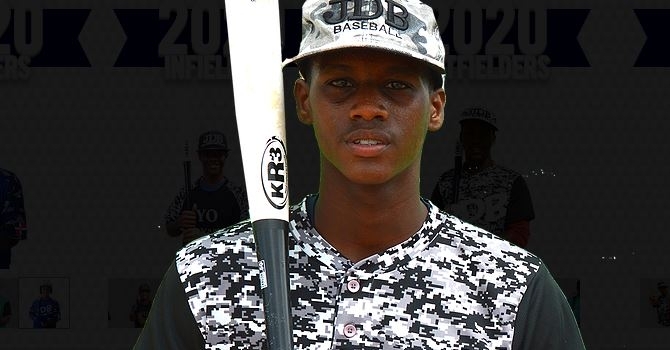 | | |
| --- | --- |
| Breaking down MLB.com's Top 30 International Prospects (Part 4) | |
---
We are at the midway point in the International Prospect series as we are flying through the teens and almost at the top 10. This is the time when you start to see the cream of the crop among the International players as these are the ones to be coveted by multiple teams. While most of these players will need years of seasoning before reaching the big-league level, they still have the talent to reach the bigs sooner rather than later.
#15 JHONNY PIRON (OF, Hainan, DR): Known for Shortstops in this year's class, Piron is a nice change of pace for the DR as he shoots up the list as the top-ranked OF to this point. At 6-1 165 pounds, Piron is a decent size for a 16-year-old, but still has a lot of filling out to do. As of now, Speed and Power are his most promising traits as that combination makes him one of the most highly coveted prospects in this class.
Looking at him from a physical standpoint and you see a wiry, athletic player with a body to fill into. From the hitting side of things, not only does Piron show solid swing mechanics already, but he is spraying line drives across the outfield as his overall hitting abilities may be ahead of his power stroke to this point. He is going to develop more power over time, but as of now, he is a doubles hitter who has an excellent feel for the zone.
Right now, Piron has primarily been a centerfielder, and he does have the tools to stay there over time. However, he is versatile enough to move to a corner spot if needed. Due to his fantastic work ethic and high baseball IQ, Piron wants to stay in center and will do whatever it takes to do so. Tampa Bay is one of a few teams in on him, but at this point, they are the favorites.
#14 DANNY DE ANDRADE (SS, Valencia, Venezuela): Another highly-touted shortstop in this year's class is Danny De Andrade from Venezuela. The big and athletic teenager has been training in the Dominican Republic the past few years and is projected to make an impact stateside within the next couple of seasons.
Why would someone ranked 14th be projected to make an impact so soon? Well for starters, De Andrade is tall and lean but is projected to be a middle of the order hitter like Javy Baez. Although a shortstop right now, given his size, don't be surprised to see him move to third sooner rather than later as that may be the best position for his overall skillset.
No matter where you put him in the field, he has a chance to be an above-average defender due to playing under control and allowing the game to come to him. At that plate is where he is drawing Baez comparison mainly because of his elite bat speed and the ability to use the entire field with authority. He has shown flashes of power already, but that will only get better once he fills out his frame a bit more. Right now, the Twins appear to be the golden ticket for him as they could have a substantial international haul this season.
#13 CRISTIAN SANTANA (SS, Azua. DR): If you like a player in the mold of Jhonny Peralta, then Cristian Santana is your man. The 16-year-old shortstop prospect is already drawing comparisons to the former big leaguer Peralta as evaluators believe he is on pace to be that type of player with the potential to be even better.
Although he could be a five-tool player, he is going to have plus tools across the board even if some are better than others. Right now, his advanced approach in the box in the box is what stands out as that has been extremely impressive for a kid his age. Not only that, his pitch recognition and the ability to not only distinguish, but to put the bat on breaking balls gives him a leg up on other prospects to this point.
In the field, Peralta already shows an average to above-average arm, but his throwing accuracy needs to be improved. Mix that with his internal clock and knowing when to get rid of the ball, and you have someone who displays youth at times. He is not going to be a flashy defender in the field, but he will be reliable and steady, which can be equally as good. Not a speedy baserunner by any means, Santana did improve speed-wise over the past year, and evaluators think he could move fast through any system, especially if the Tigers do indeed pick him up.
#12 PEDRO PINEDA (OF, Santo Domingo, D.R.): When we think of Dominican born players in the MLB, outfield certainly comes to mind as there have been a ton of successful Dominican born outfielders in MLB history. Pineda is hoping to be the next one in a long line of those players.
Not only is he athletic with broad shoulders, but he has a collection of some of the best tools in this year's class, so it is easy to see why people described him as explosive to this point. Is he raw? Yes, but has the potential to offer plus tools, especially from a hitting side of things where he has been praised for strong hands and elite bat speed.
Like most prospects his age, there are some swing and miss factors in his game, but that is a work in progress and is certainly not uncommon for teens. For now, he does have some loft in his swing, which could be why hits the ball hard to all fields and has very little trouble driving it over the fence. Add in the ability to be an above-average baserunner, and you have a great offensive player.
The field is where it will ultimately define his career as he can shine at either one of the corner outfield spots. Yes, he has shown the ability to play comfortably in center, but that is not his strong suit as he is learning to contain his arm strength while still showing a strong and accurate arm. Not only is Pineda a student to the game of baseball, but he is learning to speak English to better communicate with American born coaches. I have heard the Cubs around his name in the past, but those talks appear to be over as the A's are in the lead for his services.
#11 DANIEL VASQUEZ (SS, Villa Mella, D.R.): The final prospect we are covering today is once again another shortstop in Daniel Vasquez of the DR The long and lean Vasquez, has lots of room to grow into his body and is built similar to the likes of Fernando Tatis Jr. If he continues to develop at a similar pace, there is a chance, he could be the same type of player that Tatis Jr. is, which is scary.
Some scouts have even compared him to a young Manny Machado as he projects to be an everyday shortstop in the MLB with plus hitting abilities and potential to hit for more power over time. Specifically speaking, look for him to be a 280-290 hitter with consistent 15-20 home run seasons if not higher. With his hitting ability he could easily land at the top of the order, but for now, projects to be a middle of the lineup bat.
At this stage in the game defensively, not only does he show good hands but has a plus arm and range, which projects him to be an elite defender. He seems like a natural in the field, and that is a huge plus when it comes to the ss position. He will be highly coveted come the international period, but right now, if the Royals don't sign him, I would be surprised.