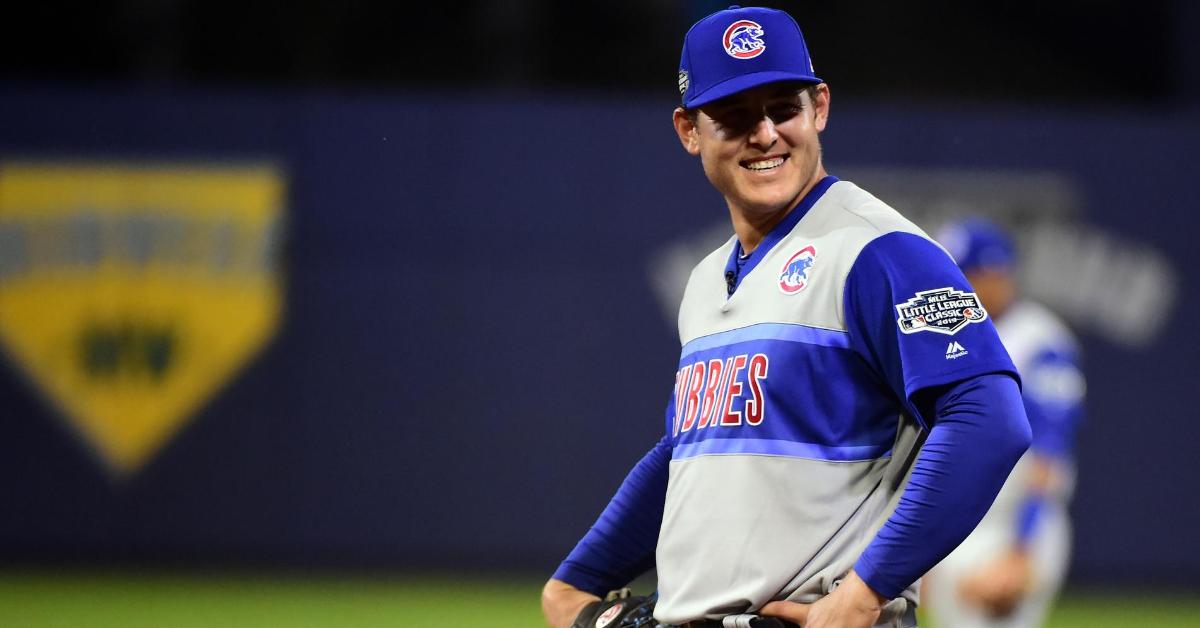 | | |
| --- | --- |
| Chicago Cubs lineup projections for 2020 | |
---
It's official. There will be baseball in 2020. But it may not look like baseball has looked in the past. One of the things that baseball in 2020 entails is the universal DH coming to the sport league-wide this year.
While the season may only be 60 games, the game will be a lot different in the national league. For the Cubs, and rookie manager David Ross, managing a more extensive roster in a shorter season might be easier considering there is an extra spot in the lineup to use.
The obvious answer for designated hitter appears to be Kyle Schwarber, the slugging lefty who has been trying to transition into an outfielder for years. When looking at the stats and analytics, Schwarber is an average outfielder — although his reputation states otherwise.
David Ross has said that he expects Schwarber to be the designated hitter, but not all of the time. The new manager expressed his confidence in Schwarber as an outfielder. But with an expanded roster, there are numerous options that David Ross could use when writing out the Chicago Cubs lineup daily.
Ross could play matchups if he chose too. He could alternate based on righty vs. lefty, and he could try to get the youngster Nico Hoerner at-bats. He could platoon at various positions. Ross could also learn from his predecessor Joe Maddon and move players around the diamond or the lineup even.
However, Ross has made it fairly clear he would like to have Kris Bryant bat leadoff, followed by Anthony Rizzo and Javier Baez. It also seems likely that that trio will be followed by Kyle Scharber and Willson Contreras if continuing on a righty-lefty pace.
This is how I believe the lineup will look on a day-to-day basis for the Cubs in 2020.
Lineup vs. right-handed pitcher
Kris Bryant 3B
Anthony Rizzo 1B
Javier Baez SS
Kyle Shwarber LF
Willson Contreras C
Jason Kipnis 2B
Ian Happ CF
Bench:
Nico Hoerner
Albert Almora Jr.
Steven Souza Jr.
PJ Higgins
Josh Phegley
I decided to have Caratini as the DH, considering he hits right-handers very well. Last season Caratini hit .266 with 11 home runs and 34 RBIs. Ten of those dingers came against right-handed pitchers. The fact of the matter is, as a catcher, Caratini will likely be starting once every five days when Yu Darvish pitches — but his bat could be beneficial in a shortened season, which is why I selected him as the DH in this lineup.
The other option would've been Schwarber as the DH and Albert Almora Jr. or Steven Souza in left field — and I would much rather have Caratini's bat in the lineup. I decided to have Happ in centerfield because he also hits righties reasonably well.
Lineup vs. left-handed pitcher:
Kris Bryant LF
Anthony Rizzo 1B
Javier Baez SS
Kyle Schwarber DH
Willson Contreras C
David Bote 3B
Steven Souza Jr. RF
Albert Almora Jr. CF
Nico Hoerner 2B
Bench:
Victor Caratini
Jason Heyward
Jason Kipniss
Ian Happ
Daniel Descalso
PJ Higgins
Josh Phegley
Ian Miller
My decisions here are a little more clear. Against a left-handed pitcher, I wanted to stack the lineup with right-handed hitters — many of which have been known to have more success against lefties or easing them into the major leagues by having them only face lefties. I gave the second base spot to Hoerner here, although he might not have been up during a full season, the Cubs have nothing to lose during a shortened season.
With Hoerner manning the second base spot, I needed to find somewhere for David Bote. While Bote could have been the designated hitter, I decided to privatize defense in this lineup, leaving Schwarber as the odd-man-out to be designated hitter. With Bote then playing third, his natural position, Bryant would be forced to play left. Right field would then go to Souza Jr., a traditional lefty killer, one of the Cubs' new acquisitions trying to bounce back from an injury. Center would belong to Almora, who is expected to be platooning center field with Ian Happ — as both were lighting it up during Spring Training before the original shut down.
In both lineups, speedster Ian Miller is left off the starting 10, as is Daniel Descalso — who has been in a slump since early last season. The rest of the hitters include PJ Higgins and Josh Phegley as extra catchers during the shortened season.
It is still unknown which of those players will make the team out of camp and spring training 2.0, but these are the players who have been selected to the summer camp at Wrigley Field.
But as it comes down to designated hitter, Ross could go a multitude of directions. If Kris Bryant or Javier Baez or Anthony Rizzo need a day off, they could be designated hitter instead of taking the whole day. Willson Contreras could be DH to give Caratini a chance to catch more innings. David Bote or Albert Almora Jr. or Ian Happ could handle the DH spot if they strike a hot streak, and there is no spot for them on the field.

Tags: Chicago Sports Baseball
,
David Ross
,
Kyle Schwarber
,
,
Kris Bryant
,
Anthony Rizzo
,
Willson Contreras
,
Victor Caratini
,
Jason Heyward
,
Ian Happ
,
David Bote
,
Albert Almora
,
Daniel Descalso
,
Ian Miller
,
Yu Darvish
,
Joe Maddon