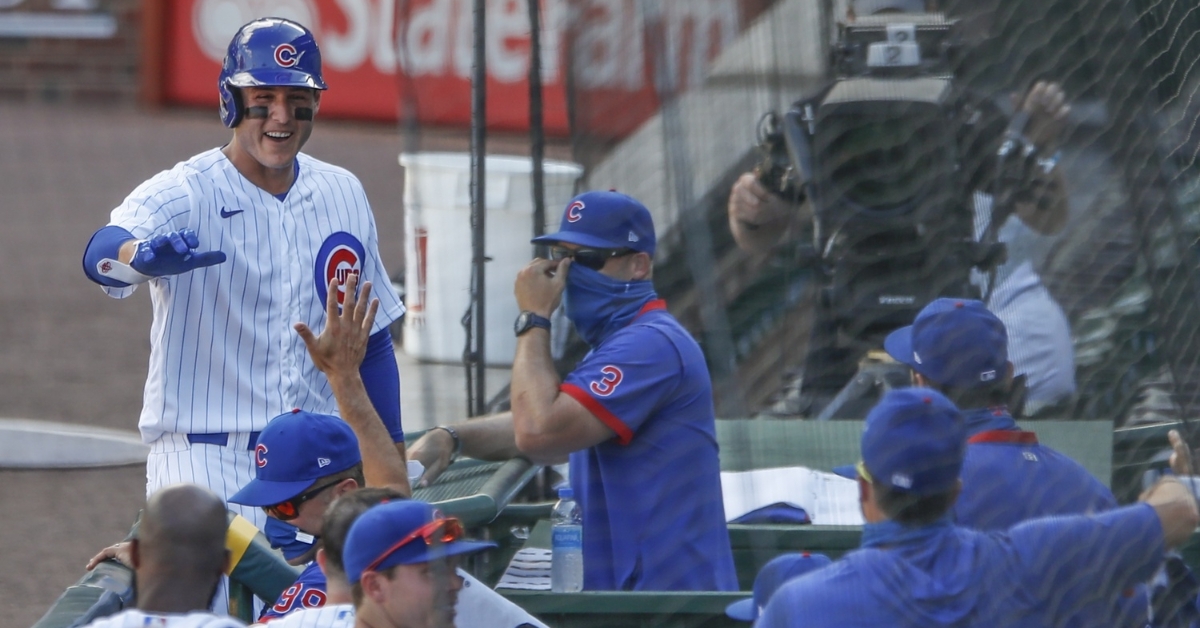 | | |
| --- | --- |
| Commentary: Cubs picture-perfect behind Chatwood, strong offense | |
---
| | | |
| --- | --- | --- |
| Monday, July 27, 2020, 9:12 AM | | |
The Cubs escaped their first series, winning two out of the three games against Milwaukee. With three games under their belts, the season is now 5% played already.
Yesterday's game was – by far – the best they've played to date. Before we look at Chatty's gem with a near-perfect offense and defense behind him, let's look back at the first pair of games.
No one can deny Kyle Hendricks complete game shutout on Friday, but the Cubs' offense was sort of slow in that one, netting only three runs, all of which came from home runs. In the third, Ian Happ smashed a two-run dinger, then in the eighth, Anthony Rizzo belted one over the right-field wall, doing so from one knee.
Consider yourself...

schooled. ???? (??: @PitchingNinja) pic.twitter.com/SCA5RmWqeb

— Cubs Talk (@NBCSCubs) July 24, 2020
Cheers to @ihapp_1!@BinnysBev pic.twitter.com/zgGE1FDsFu

— Chicago Cubs (@Cubs) July 24, 2020
Saturday afternoon's game wasn't quite as pretty. Yu Darvish had a rough outing, the Cubs offense was spotty, and the Brewers? They were on their game.
Tempers heated up as Javier Baez was beaned. Rizzo was plunked on Friday, then Omar Narvaez got nailed twice on Saturday.
Javier Báez is not in the mood for this.

(Via @MLBONFOX)pic.twitter.com/X3eTqnOMw5

— Yahoo Sports MLB (@MLByahoosports) July 25, 2020
The jawing started, leading to both teams exiting their dugouts, though cooler heads prevailed. There are new stiff suspensions and fines for fighting in the COVID-19 Era, and both sides were able to let things go.
After the 3rd inning, things got a little heated as the Cubs and Brewers had some words to say from their dugouts. pic.twitter.com/IdkGwzt7Mr

— FOX Sports: MLB (@MLBONFOX) July 25, 2020
If it wasn't enough that things weren't exactly going right for Chicago, this little defensive faux pas led to the Brewers scoring a run.
Don't see that everyday...

The Cubs had the @Brewers caught in a pickle, but they escaped! pic.twitter.com/KFRA7VnKpe

— FOX Sports: MLB (@MLBONFOX) July 25, 2020
Ironically, two years ago, the Cubs had nearly the same goof while playing the Brewers. Also involved in that rundown was Lorenzo Cain – the same guy who orchestrated everyone's baserunning in this fiasco.
For the most part, the Cubs' bullpen looked atrocious, which eventually became an 8-3 win by Milwaukee.
Now for yesterday's game. Before I get started, I need to show a little love for Brewers' announcers, Craig Coshun, Bill Schroeder, and Brian Anderson. Now that I live in the Northwoods of Wisconsin, Fox Sports Wisconsin is on my local channel list via YouTube TV. Great that I never get blackouts on Cubs games, as FSW airs the Cubs/Brewers, while my MLB TV airs the rest of the Cubs games.
The trio called a very neutral game, often complimenting the Cubs. They described Hendricks outing as " a real gem," while sympathizing with Kris Bryant for being 0 for 13. As Bryant took the box, one announcer remarked, "Kris needs to take some pitches. You can't always swing your out of these things. Right now, Christian Yelich is having the same problem." They were all extremely professional, which makes for a great game when you're tuning in to see their opposition. Kudos.
Heey @CraigCoshun - I'm a lifelong Cubs fan now living in Northern Wisconsin. I wanted to thank all of you for a very fair and impartial broadcast today. You guys were all very complimentary of the Cubs. Great coverage!

— Ken Allison (@KenAllison18) July 26, 2020
OK, so back to Tyler Chatwood. Even though I predicted it a few months ago, I was surprised to see David Ross start Chatwood in the three-spot, while dropping Jon Lester to the #4 position. Chatty didn't disappoint.
He hurled six innings, allowing just one earned run on three hits and a pair of walks. One of those walks was BS, as the umped called ball-four on a pitch that was clearly in the strike zone. Chatty also managed to rake eight strikeouts, just one short of what Kyle Hendricks raked in on Friday.
Despite a pitch count in the mid-80's, Chatwood did appear as though he was starting to fade some in the sixth. With a steady stream of lefties coming to the plate, David Ross figured he'd had enough.
Then there was some spectacular defense. Despite Kris Bryant's woes at the plate, KB turned in a great defensive game, making several key plays with laser precision on his throws. Ian Happ crashed into the wall in center (back first), but came down with the ball.
.@ihapp_1 bangs into the outfield bricks & makes the play! pic.twitter.com/JMbNoPcJeA

— Marquee Sports Network (@WatchMarquee) July 26, 2020
After some switching, Albert Almora Jr. got his shot at playing center, also coming down from the ivy with a ball that should've been a double.
Next, the offense was golden. Yes, there were a few dingers hit, but opportunity hitting netted the Cubs some runs. Eight Cubs got hits yesterday, with Ian Happ, Nico Hoerner, and Willson Contreras getting two each. Javy, Kyle Schwarber, Jason Heyward, and Josh Phegley all managed to work a walk, leaving the Cubs an additional four base runners.
Cubs pass the first test today in opportunity hitting: Heyward knocks in Schwarber with an RBI groundout.

— Tony Andracki (@TonyAndracki23) July 26, 2020
Contreras, Happ, and Rizzo set off the fireworks with no-doubters, adding to the beat-down they were handing to Milwaukee.
How soon did you know?@BinnysBev pic.twitter.com/ffdWW5bhPl

— Chicago Cubs (@Cubs) July 26, 2020
.@ihapp_1's 2nd homer of the series! pic.twitter.com/2TsXCTN3nk

— Chicago Cubs (@Cubs) July 26, 2020
Tony's turn!#TeamRizzo pic.twitter.com/0iwwOsLdHY

— Chicago Cubs (@Cubs) July 26, 2020
When all was said and done, the Cubs batted 11 for 35 (.314) as a team and went 3 for 9 (.333) with RISP.
Pitching, defense, station to station hitting, and a little power sprinkled in. That's how you win ballgames.

Tags: Chicago Sports Baseball
,
Kyle Hendricks
,
Ian Happ
,
Anthony Rizzo
,
Yu Darvish
,
Kris Bryant
,
Tyler Chatwood
,
David Ross
,
Jon Lester
,
Albert Almora
,
,
Willson Contreras
,
Kyle Schwarber
,
Jason Heyward