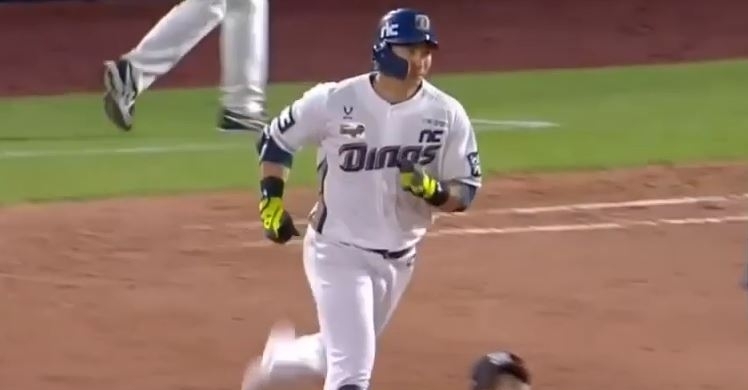 | | |
| --- | --- |
| Commentary: Cubs should pounce on top Korean slugger | |
---
| | | |
| --- | --- | --- |
| Sunday, December 20, 2020, 8:53 AM | | |
I got to be honest with you; when it comes to foreign free agents looking to move stateside, I don't know very much about them. Often it takes a bit more digging than usual, even to find a little bit of information. Fortunately, after MLB delayed their season in 2020, the KBO took center stage. Hence, fans had an opportunity to see their baseball style, but some of the players who could ultimately get posted for an MLB team.
One of those players I had the opportunity to watch on TV a lot last spring, and that is NC Dino's slugger Sung-Bum Na who has now been posted for the MLB. Na is an intriguing option for the Cubs who could ultimately land in left field, or at the very worst, a DH position should the NL bring that back. It has been a long time since this team has had so many options for different positions, but the Cubs have been showing a bit more interest in both the Korean and Japanese markets lately.
Unlike years in the past where the Cubs may look at one player from overseas, this could be a year where they target multiple players as each one of the KBO and NPB stars does fit a Cubs need. 25-year-old contact righty Ha-Seong-Kim has been mentioned from the KBO already, as has Japanese Utility man Hiruki Nishikawa, but what about Na.
Much older than the other two at 31 going on 32, Na is an entirely different type of player and is considered the second-best KBO free agent to post. Na has long been a superstar in the KBO, and unlike many of the other KBO hitters that are about contact and average, Na is all about power as he is the premier power hitter of that circuit.
Na has played his entire career with the NC Dinos, which started back in 2013. After hitting just .243 in 104 games as a rookie, Na has never been under .300 since. The lowest his average has been since 2014 has been .309, and we have seen him as high as .347 in 2017. After the delayed start this season, Na managed to play in 130 games, hitting .324 in the process.
I understand the KBO is a much more hitter-friendly league, but Na is all about power and isn't afraid to put that on display. Take away his rookie season of 14 homers and his injury-riddled four-homer season in 2019, and you find a guy who has topped 22 homers every season. Oddly enough, his career-high came this past season where he belted 34 bombs, four more than his previous career-high. Along with tons of homers come tons of RBIs as Na surpassed 100 RBIs for the fourth time in his career with 112 this season. His career-high was back in 2015 when he drove in 135, showing that he is a big-time run producer.
Typically, when you have high homer/ run-producing batters, high strikeout totals tend to follow. At least, that is how things are stateside. Na doesn't fall into that category as he is a much better overall hitter than people give him credit for. Granted, with a strikeout percentage of roughly 21%, that is above average for KBO standards but below average for MLB. His walk rate is below average, around 8.7% but has hit nearly 12% on two occasions.
Even with a below-average walk rate and above-average strikeout rate in the KBO, Na still manages to post OBP's above .370 every season with the occasional season above .400. That is miles better than anyone on the Cubs roster, and should he post somewhere in the .350-.360 range at the MLB, that certainly helps.
Losing Kyle Schwarber will be a massive blow for this team, especially if they don't find a way to bring him back or add a power-hitting lefty. Signing a guy like Na could undoubtedly help fill that void for a fraction of a price. Not only is Na a power-hitting lefty like Schwarber, but he is also just a good hitter and knows what to do at the plate. He takes his walks, hits for power, doesn't strike out a ton, hits for average, and has shown the ability to steal some bases on rare occasions.
The problem with KBO hitters or foreign-born hitters, for that matter, has always been their adjustment process to the MLB. I would say 95% of the time; they never live up to their KBO numbers as the MLB is much more difficult. I expect Na to fall into that same category, but not to the degree of some. Lots of teams are going to target this guy because he has proven to be one of the best overall hitters in the KBO for years.
This isn't someone who is having a breakout season and is now wanting to be posted. We are talking about a guy who has now played eight professional seasons and continues to deliver at impressive rates. Given his age, teams will be cautious about the type of contract they give him, but for a relatively low price, which is expected, it would be hard not to take a swing on him for a few years.
While some scouts are skeptical of what he can do in the MLB, Na is someone that would be hard to pass up. Sure, he blew out his knee in 2019, which put off his posting for an entire season, but he showed he was healthy again last year. No one would expect him to come stateside, hit .330, and crush 30 homers immediately.
Even if the Cubs were to get a .270-275 average with 20-25 homers and 80 RBI that is a suitable replacement for Schwarber, who was never going to hit for a high average. While losing some power will be hard to replace, adding more complete hitters could make this team better long-term.