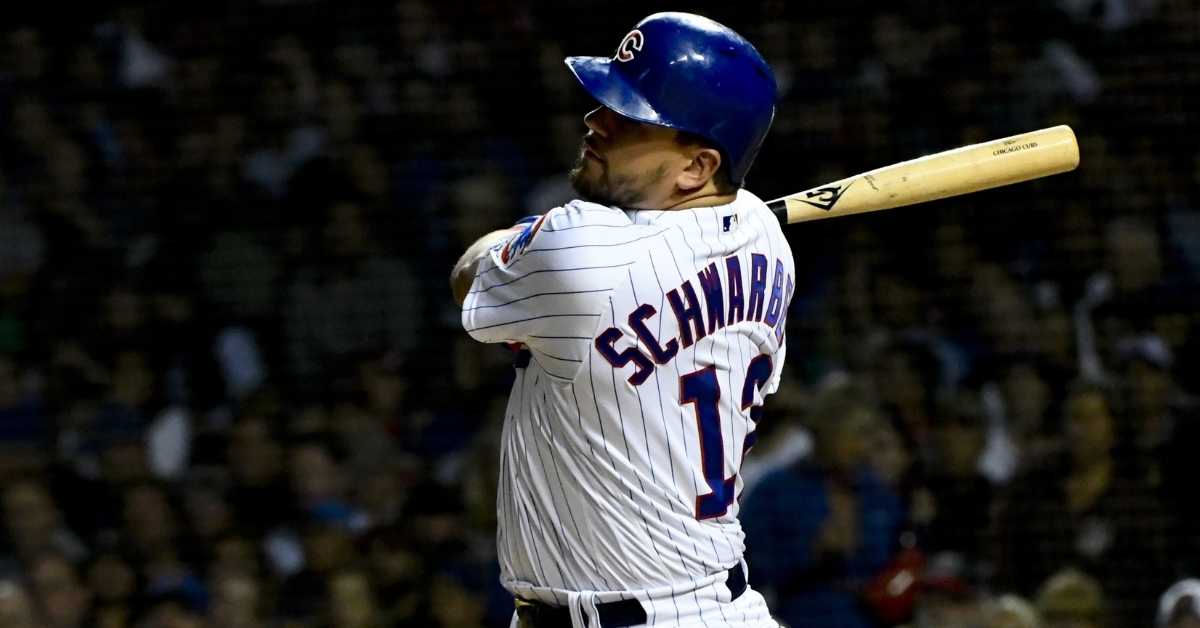 | | |
| --- | --- |
| Commentary: Kyle Schwarber for Miguel Andujar makes no sense | |
---
Four years ago, the Cubs and Yankees completed a trade in which Aroldis Chapman came to Chicago for three players, including Gleybar Torres. That trade proved to be the changing point in Cubs history as it helped the Cubs end their 108-year world series drought.
Since then, Chapman has returned to the Yankees, and Torres has turned into a budding star, which has allowed the Yankees to quickly become a force to be reckoned with in the AL once again. With the Yankees back in the World Series hunt and the Cubs taking a step back this past season, would the two teams be in line for another trade that could alter the team's direction once again?
Well, if you look at some rumors swirling around, then you would see that a Kyle Schwarber for Miguel Andujar rumor is out there mostly by the New York media. We know the Cubs are going to entertain plenty of trade ideas this offseason, but they must be creative in some of those instances too. With that being said, would this deal make sense for both teams to entertain?
With Gio Urshela taking over third base last season while Andujar rehabbed from surgery, the Yankees have made it clear that Andujar could be on the move. As the Kris Bryant to Cubs long term uncertainty remains in full effect, this would be a trade that could work as Andujar would come to Chicago to play third, which could move Bryant to left in place of Schwarber.
Why this deal would make sense for the Yankees, is for the sole purpose that Urshela played at such a high level for the Yankees last season. That makes Andujar expendable this offseason. New York has also expressed a serious desire to find a left-handed hitting power bat, which is where you could insert Schwarber, who could inevitably become the DH for that team.
A year ago, Andujar was a budding star, and his stock couldn't have been much higher. 23 years old at the time, Andujar posted a .297 average with a 16% strikeout rate and a 36% hard contact rate. He was regarded as one of the better offensive projects among prospects at that point, and it appeared that those projections were coming full circle.
After breaking out in 2018, 2019 happened, which was a season Andujar wants to forget. Not only did he lose his spot to Urshela, but Andujar suffered a right labrum injury, which not only affected his season but ended his year in May following a season-ending surgery. What he will be going forward is now a serious question as he may have to make some adjustments to compensate for that shoulder injury.
That injury situation, although a completely different part of the body, sounds a lot like Schwarber, who had to adjust in his own right to compensate for his knee. It took Schwarber a little while to get back to his old self, which could be what Andujar is in line for himself.
One of the biggest issues I have with this deal is the defensive metrics of things. Schwarber, like it or not, has gotten better at LF every season and will continue to improve. Andujar, on the other hand, is rated as one of the worst fielding third basemen in baseball, and it is unclear as to how he would be able to transition to the outfield should that not be his long-term position. That is what makes Bryant an important piece should this deal get done as he can play great defense at third and solid defense in left.
So, with his lack of defensive skills at third and possibly taking a little while to recover from that injury, that brings the question of why would this trade work for the Cubs or why would they think about making the deal in the first place.
Well, the main reason why it makes sense is the money aspect of things as they would be swapping out one of their higher salary arbitration contracts for a player who has four years left of cost-controlled years in Andujar. We all know the Cubs are trying to clear some payroll, so that is a major bonus. The Cubs may also be convinced that if Andujar can come back to his old self, that he provides a higher offensive ceiling than Schwarber and offers a better hard contact rate.
However, there is a risk element that goes with trading any player, and this deal would be no exception. The major downside is the defensive ability of Andujar as he has yet to show he can play adequate defense anywhere. I am not saying Schwarber is a gold glover, but he has put the work in to get much better in the field.
Another risk is that the Cubs would be trading away a left-handed bat that had 38 homers last season, leaving Rizzo as the only true left-handed power hitter in the lineup. Yes, Ian Happ has power from the left side, but he isn't in the lineup every day.
Perhaps the biggest risk involving this deal is the post-surgery risk of his injury. Let's say he struggles to come back to form or struggles to adjust from that injury. Not only would the Cubs lose a proven hitter in Schwarber, but then the Cubs could be stuck with Andujar for four seasons of lousy production. That is not ideal for a team that still believes they can win now.
The biggest reason I would be hesitant on this deal is given what Schwarber did last season. It may have taken longer than the Cubs expected, but Schwarber finally delivered the way Theo and company expected him to. By parting ways with him now, you may be letting him go with two years remaining, which could turn into a pair of career years for him. The guy he was during the second half last season is the guy the Cubs feel he can be long term, which could be a nasty thing to give up.
With the negatives outweighing the positives, I still get in theory why the Cubs would entice this deal. Looking at the farm system, the Cubs don't have an impactful bat coming through the system as Nico Hoerner is more of a contact driven bat instead of power. Andujar would at least give the Cubs a power bat even though he still may be a project.