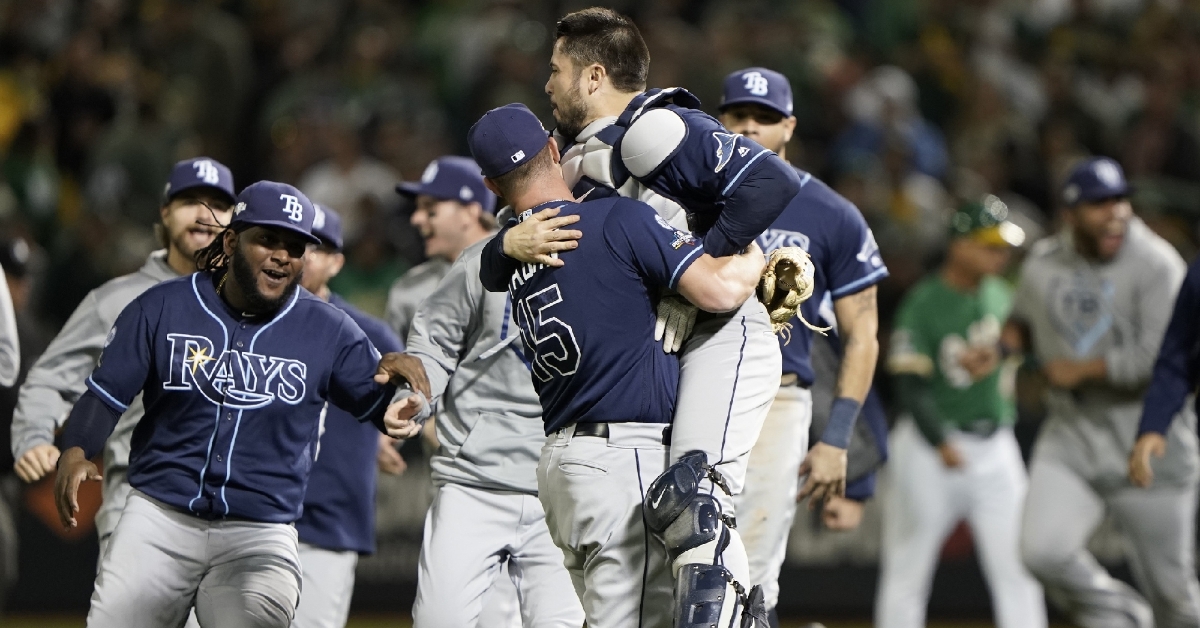 | | |
| --- | --- |
| Commentary: Should Cubs become more like the Rays? | |
---
One of the best things about baseball is the fact that there is no salary cap. Large market teams such as the New York Yankees, Boston Red Sox, Los Angeles Dodgers, and Chicago Cubs can seemingly go after whomever they want as their pockets seem to be endless. The only issue they run into is surpassing a luxury tax penalty, which most of them do at some point.
However, when is not having a salary cap a bad thing for the game? Sometimes I feel that when you have no cap and allow big market teams to spend like crazy, it ruins the integrity of the game. It gives fans the perception that you can buy championships instead of draft, develop, and own them. Even with the big market teams ruling the free-agent markets, organizations like the Tampa Bay Rays continue to get done with a payroll less than 50 million and just put together a 96-win season and a wildcard victory.
With the Cubs missing the playoffs for the first time since 2015, despite having one of the biggest payrolls, it got me thinking, should the Cubs become more like the Rays in terms of developing a team? I know I will get some heat on this, and I am not saying trade everyone on the roster to grab a smaller payroll, but the reality is the Cubs have not done a great job developing their players, especially in the pitching market.
Let's be real. With Kris Bryant, Anthony Rizzo, Willson Contreras, Javy Baez, and Kyle Schwarber all hitting free agency within the next three years, it seems very unlikely that they will be able to maintain all these players. Even if the Cubs increase their payroll to the largest in the game, I find it highly unlikely that every single one of those players remains in Chicago as the Cubs would bring their payroll to near 300 million.
That brings me to the next question, at what point do you trade off some of your assets to retool your team? Theo has made it clear that no one on the Roster is safe this season as they are open to trading ideas for everyone. For them to part ways with Bryant, Rizzo, or Baez, the Cubs will need an offer so large that whoever deals with them will be gutting their system in the process. Although entertaining trade ideas for these players is a good idea, I wouldn't do it quite yet.
Fast forward to maybe next season if some of these players continue to struggle in specific areas then a trade would not be surprising to me at all. That may hurt the Cubs immediately but would benefit them in the long run as they would acquire many pieces that they could stash all over the system. Even if the Cubs do better, their team, in the long run, doesn't mean they will improve record-wise as it all comes down to developing players.
I asked the question earlier if the Cubs should become more like the Rays. What I mean by that is Chicago needs to find a way or hire someone that knows how to develop these players in the minors and bring them through the system. Unlike most teams, the Rays develop their players the same way from low A ball through the Minors. That gives the players five years of the same principles, which help them excel immediately in the bigs.
The Cubs, on the other hand, have a specific plan in place but don't have anyone who sits back to monitor that plan throughout the minor league system. That is why I believe Albert Almora, Ian Happ, Addison Russell have struggled in recent seasons. Yes, they were great hitters in the minors, but I feel like they were rushed to the bigs given the window the Cubs had to compete for a title. By rushing these players, their flaws were exposed much more frequently, and it hurt the development in their game. Instead of being given extra time to figure things out in the minors, they were exposed and were forced to struggle or ride the bench instead of seeing action on the field.
Let's jump back to the Rays and see where they are now compared to the Cubs. The Cubs have a payroll 170 million dollars more than the Rays, yet the Rays had 12 more wins. The Rays have one player on the roster making more than 10 million (Blake Snell) compared to the Cubs who have nearly half of their roster around the 7-12-million-dollar mark with Jon Lester, Yu Darvish and Jason Heyward making more than the entire Rays payroll.
So how does a team with a lesser financial tree put out a much better roster? The answer is as clear as day, and that is player development. Unlike big market teams, the Rays no, they won't be able to spend tons of money and are forced to retool their roster nearly every season. Sometimes it is minor moves that don't make a difference. Other times it is a mini rebuild that sets them back for a few years.
Whatever the instance, the Rays know that for them to continuously play at the level, they are now, they need to develop players in the system and not rush them along. Sure, landing high draft picks does help, but you also must be patient with these prospects, so you don't rush them along. That is something Tampa Bay has been good at.
They know precisely what they are as a franchise and have no problem being mediocre for a few seasons if the development process goes as planned.
Eventually, that process will pay off, and that leads to the success that they have had this year.
Following their 2016 world series title, the Cubs had hopes of becoming the next baseball dynasty with goals of multiple titles. Well, that is certainly not the case as the Dodgers have been the class of the NL for the last five years while the Cubs faded into the middle of the pack. That has been mainly due to other teams' ability to develop players at a better rate than the Cubs.
One of the big messages Theo preached about finding a new manager is a team first approach for the right man. If they do want a team-first approach, then they can't be afraid to hire someone with little experience if they know how to develop players properly. Yes, everyone wants the Cubs to make a big splash for the new manager, but what good will a Joe Girardi type manager be if the problems within this organization continue.
The Cubs have yet to develop a top arm in the system since Theo took over with only Dylan Cease, who was traded for Jose Quintana as a full-time starter. Brailyn Marquez may be the first starter in a while to come through the system, making a difference, but he is a long way from contributing at this level. Whom ever the Cubs hire, they need to find away to bring someone in who can oversee the minor league system to help the Cubs long term.
The Cubs are going to spend money every season, which the benefit of is being a big market team. However, what good is that money if you spend it on a big-league roster and fail to develop the future in the process. As much as I like the Bryce Harper's, Bryant's, Baez, and other big-time contracts, I would gladly sacrifice a 200-million-dollar contract for six players at 35-40 million-dollar deals if it means helping the team long term.
Watching the minor league system this season, and it seems like every level is trying to preach something different instead of developing them the same way. In AAA, Iowa knew about a different ball being used, so it was all about hitting the ball deep and less about moving runners over. Tennessee is a difficult league to hit in, so pitching took shape at that level.
Myrtle Beach and Eugene had their struggles most of the season, but it was South Bend that stood out the most to me. That was a team that knew how to develop players and was the epitome of baseball 101. With no real power threat on the roster, the Cubs did their damage by moving runners over on bunts, hitting away from the shift, taking walks, and just stringing hits together, taking what the opposition gave them.
Pitching, South Bend pitched more to contact than any other team in the Midwest League but still wound up with plenty of strikeouts as their pitchers generally threw twice as many strikes than balls. South Bend continued to get better as the season went on since they did the little things right, which is a lost art in baseball.
Whoever put the development process in place at South Bend should in charge of the whole developmental process for the Cubs entire organization. If that type of play could be preached for every team, you would see a major league team that not only could hit for power but knew how to be complete hitters also as they would have been developed the same way through each level.
Looking to the future of where this team is, and I can honestly say I don't know what direction they will go. I want them to spend money because we know how not spending this offseason worked for us this year. However, with spending money, I want it to be smart spending and not just going to get a guy because you can afford them.
Small market teams will never get the credit they deserve because of the payrolls they possess. The fact of the matter is they may be a better overall organization because they not only know how to scout but develop a system that can sustain constant change. If the Cubs want another title with this group of players, they need to take a more in-depth approach about who comes in this franchise and how to bring everyone up the same. Once they do that, things will all fall into place as the Cubs could turn into the 1990's Braves or Yankees, where it was postseason play every year.
Upgrade Your Account
Unlock premium boards and exclusive features (e.g. ad-free) by upgrading your account today.
Upgrade Now

Tags: Chicago Sports Baseball
,
,
Anthony Rizzo
,
Willson Contreras
,
Kyle Schwarber
,
,
Addison Russell
,
,
Yu Darvish
,
Jason Heyward
,
Jose Quintana
,
Brailyn Marquez