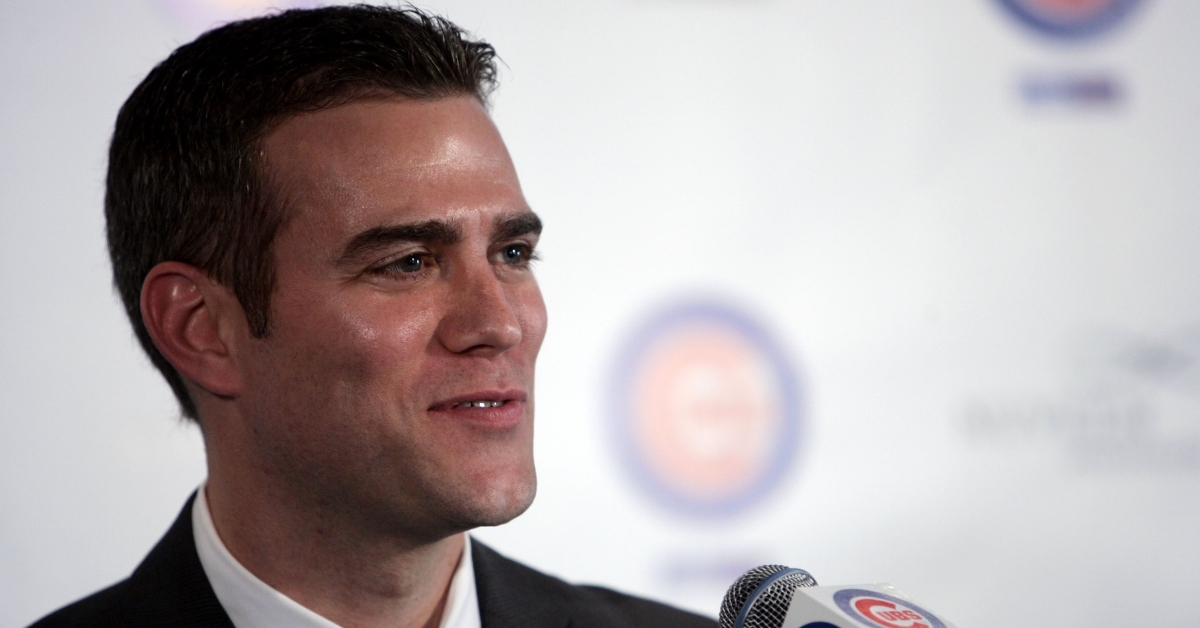 | | |
| --- | --- |
| Commentary: Thank You letter to Theo Epstein | |
---
| | | |
| --- | --- | --- |
| Tuesday, November 17, 2020, 8:00 PM | | |
Breaking news out of the Chicago Cubs organization on Tuesday is that Theo Epstein will be stepping down as president of baseball operations, and general manager Jed Hoyer will be taking over his duties after nine seasons.
If you took a look at the past nine years in Cubs history, these nine seasons would stack up better than any nine-season stretch in this organization's illustrious history.
The bottom line is this, Epstein came to an organization that was mocked for losing and constructed a roster and led a team to its first World Series championship in over 100 years.
This move may come as a shock to some, but his departure from the organization was inevitable. Epstein has well broadcasted his philosophy of staying at a place no longer than 10 years before a change is warranted — and Epstein is departing after nine seasons with the Cubs.
"I envision taking some time to pursue other pursuits, to spend with my family, and to do some things that have just been impossible when you're going to a ballpark every single day every summer for the last 29 years," Epstein told the media on Tuesday.
Early reports point to Epstein taking a year off from baseball, and not pursuing one of the attractive from office openings in New York with the Mets or Philadelphia with the Phillies — who are teams desperate to win and presents a challenge Epstein may be interested in tackling.
But this is not gonna be about what's next for Epstein, but rather a reflection of the last challenge he conquered — one we are very thankful for.
So Theo, thank you for:
* Having a plan that you stuck to and delivering the promise that your plan made.
* Acquiring Anthony Rizzo, this generation's new Mr. Cub.
* Drafting Kris Bryant, Kyle Schwarber, Albert Almora, and more who contributed to the World Series roster.
* Trading for numerous contributors to that World Series team like Addison Russell, Kyle Hendricks, Aroldis Chapman, Jake Arrietta, and more.
* Believing in those left in the organization when you took over, like Javier Baez and Willson Contreras.
* Not settling in the years that followed and continuing to be aggressive with trades for Nicholas Castellanos, Cole Hamels, and more.
* Hiring Joe Maddon and then David Ross to orchestrate your roster on the field.
* Committing to growing the Cubs' farm system and hiring the correct staffers to become a forward-thinking, technologically advanced organization for the future.
* Signing free agents that have made massive impacts on this team in Dexter Fowler, Ben Zobrist, Jason Heyward, Yu Darvish, and of course Jon Lester.
* Three division titles
* Three NLCS appearances
* Five playoff appearances
* The coveted World Series title after 108 year wait
Theo Epstein spraying Bill Murray with champagne after the Cubs won the 2016 World Series will always be a favorite memory. pic.twitter.com/iVUuIiGovW

— Cubs Insider (@realcubsinsider) November 17, 2020
It goes without saying that Epstein wasn't perfect. There have been numerous signings, draft picks, and trades that will not go down positively in Cubs history. In addition to that, many would argue that Epstein was too loyal to a core that had underperformed after winning that title.
But the bottom line is, Epstein, resurrected this organization and delivered on his promise — making the Chicago Cubs World Series Champions.
For that, Cubs fans and the city of Chicago are forever thankful for his efforts and contributions to the franchise and wish Theo the very best in whatever is next in his illustrious career.
"its just different here" - DOM &
theo epstein pic.twitter.com/tD8uneRB4Y

— DOM (@DOM_Frederic) November 17, 2020

Tags: Chicago Sports Baseball
,
Anthony Rizzo
,
Kris Bryant
,
Kyle Schwarber
,
Albert Almora
,
Addison Russell
,
Kyle Hendricks
,
Aroldis Chapman
,
Willson Contreras
,
Cole Hamels
,
David Ross
,
Dexter Fowler
,
Ben Zobrist
,
Jason Heyward
,
Yu Darvish
,
Jon Lester
,
Joe Maddon
,
Theo Epstein