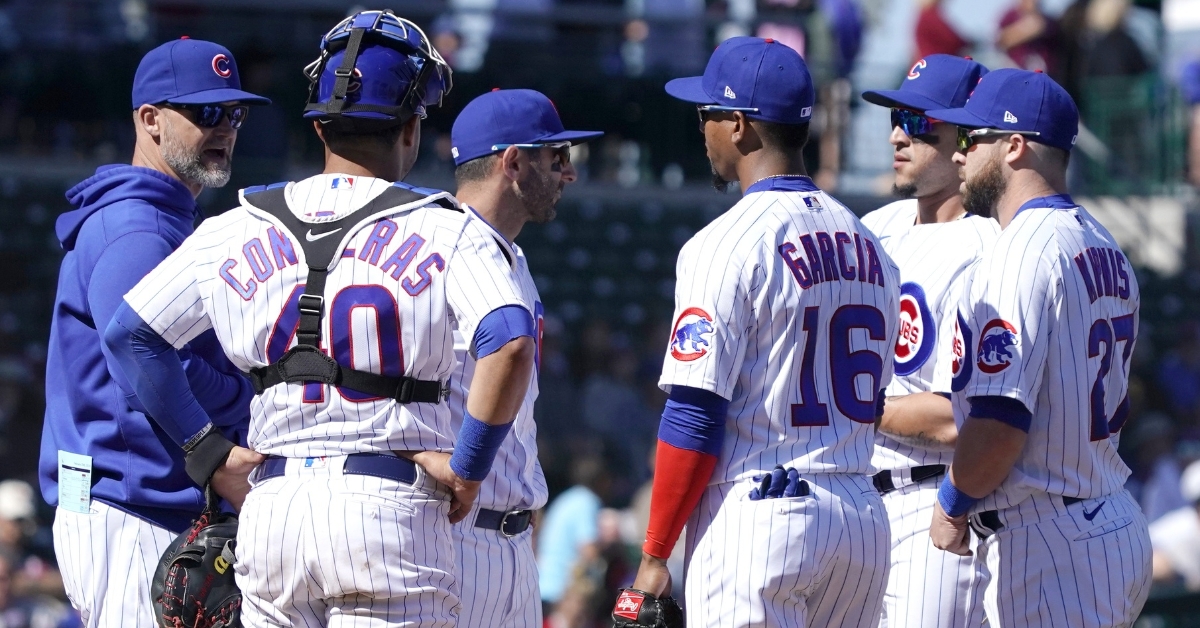 | | |
| --- | --- |
| Cubs News and Notes: COVID-19 test delays, Jose Quintana healing, Darvish deciding, more | |
---
CUBS NEWS AND NOTES
Next Game: Sunday, July 19 vs. White Sox. Game time 7:05 PM Central.
COVID-19 Delays: The Cubs are the latest victims of delays in the COVID-19 testing process that has wreaked havoc on MLB. Delays in receiving results kept Davis Ross and five other "Tier-1" individuals from practicing yesterday, as the team moves toward its first exhibition game against Milwaukee this Friday night.
"We've decided to do the prudent thing, so myself and the five others [did] not attend [yesterday] morning's workout," said Ross. "Out of an abundance of caution, we think it makes sense for the six of us to wait for clarity. Situations like this have not been a worrisome indicator of a positive test result to date."
The team eventually on Monday got the green light as all six tests (tier 1 individuals) came back negative.
Otherwise, it's business as usual at the Confines: pic.twitter.com/ny8mIV7fN8

— Mark Gonzales (@MDGonzales) July 13, 2020
Great attitude, Rossy, but the delays are causing more and more problems, couple with more and more players who have decided to opt-out. Sad that players have to take a leave of absence, but who could blame them?
The Cardinals just announced that pitcher Jordan Hicks has now opted-out, and they'll also be down another pitcher in John Brebbia, who's recovering from Tommy John. Yes, that'll give the Cubs an advantage – maybe – but wouldn't you rather see them win or lose based on true competition?
Other sightings from Wrigley yesterday included…
Craig Kimbrel wearing a mask while performing PFP drills: pic.twitter.com/xxYtFzMUf6

— Mark Gonzales (@MDGonzales) July 13, 2020
While Kimbrel's taking what he feels to be the necessary cautions, Anthony Rizzo seems to be throwing caution to the wind, while he was taking infield practice. Apparently, the backache has subsided.
No sign of Rizzo (back stiffness) in these fielding drills: pic.twitter.com/Dz9Nv1e0n7

— Mark Gonzales (@MDGonzales) July 13, 2020
Darvish on the fence: No, not the privacy fence that a neighbor sued Yu Darvish over in 2018, the fence as to whether or not he'd play this year. Darvish had concerns about the pandemic when baseball announced its return, as he has small kids at home. While attending the team's Zoom meeting on Sunday, Darvish appeared wearing a mask. He was pleased with the level of seriousness the Cubs were taking with the situation, adding, "I came here to make sure everybody was doing the right thing. And then I had it in my mind that, if they're not, I was ready to go home."
The last thing the Cubs need is for Yu to take a pass on this season, however, the last thing that Darvish needs is to contract the virus, while also possibly exposing his wife and children.
Darvish was then asked if he was still considering the opt-out. "Well, maybe," Darvish said. "But at this point, no. I don't think so."
As you'll recall, Darvish had a COVID-19 scare in April. It turned out to be the flu thankfully (who's ever thankful for a flu diagnosis?), but it was enough to put a scare into him and his family.
Q on the mend: According to Cubs' pitching coach, Tommy Hottovy, Jose Quintana is healing well after surgery to repair a lacerated nerve in the thumb on his throwing hand. According to Hottovy, Q is on track to begin throwing again soon.
Whether or not permanent nerve damage exists won't be know for some time, but it would appear as though the doctors have restored function. Q is currently in the last year of his seven-year/$46.5M deal, which the Cubs inherited from the White Sox three years ago yesterday. Happy anniversary, Q.
#OTD in 2017, the White Sox traded Jose Quintana for Eloy Jimenez, Dylan Cease, Matt Rose, and Bryant Flete. pic.twitter.com/Tx9u3lUYXy

— Sox On 35th (@SoxOn35th) July 13, 2020
On the downside, many fans were still livid with Theo Epstein for trading off Eloy Jimenez, Dylan Cease, Matt Rose, and Bryant Flete to acquire Quintana in 2017. As is always the case, the Cubs needed pitching help for their crusade, to attempt a repeat as World Series Champions during the 2017 campaign. A mission that fell short.
Q was impressive when he came to the Cubs. A guy who could grind away innings, while being mostly effective. He's had a couple of down years, however, a lot of which I attribute to Joe Maddon's management style. No less than three times in the 2019 season, Quintana was being roasted on the mound (once in Milwaukee), and Maddon hung him out to dry, as the bullpen was already exhausted and stretched thin with injuries.
With a little luck, maybe David Ross will take a different approach with Quintana once he's healed, and the stats can come back in line with where they should be. I have griped about this three-batter minimum since it was announced, but it may save bullpen arms, while soothing Rob Manfred's agenda for expediting pace of play.
Mark your calendars: Don't forget, they're back in action later this week!
Cubs will have three preseason exhibition games:

July 19 vs. White Sox 7:05 p.m. CT
July 20 at White Sox 7:10 p.m. CT
July 22 vs. Twins 6:05 p.m. CT

— Jordan Bastian (@MLBastian) July 6, 2020
Cubs' Birthdays: Celebrating yesterday was new Cubs' pitcher Casey Sadler, and ex-Cubs (32), Bill Caudill (64), Jack Aker (80); and posthumously, Don Bryant (79), Frank Hiller (100), Clarence "Footsie" Blair (120), Gene Packard (133), John O'Brien (154), and George Bradley (168).
¡Feliz cumpleaños a @sadler_squared!#Cachorros pic.twitter.com/vkGxhq1qpR

— Cachorros de Chicago (@cachorros) July 13, 2020
Baseball Quotes: "Cub fans stand up to sing "Take Me Out To The Ballgame." White Sox fans stand up when they're about to storm the field to tackle an umpire" – Richard Roeper
I led the league in go get 'em next times. -Bob Uecker pic.twitter.com/ZG1fWKoSVK

— Baseball Quotes (@BaseballQuotes1) July 9, 2020
Upgrade Your Account
Unlock premium boards and exclusive features (e.g. ad-free) by upgrading your account today.
Upgrade Now