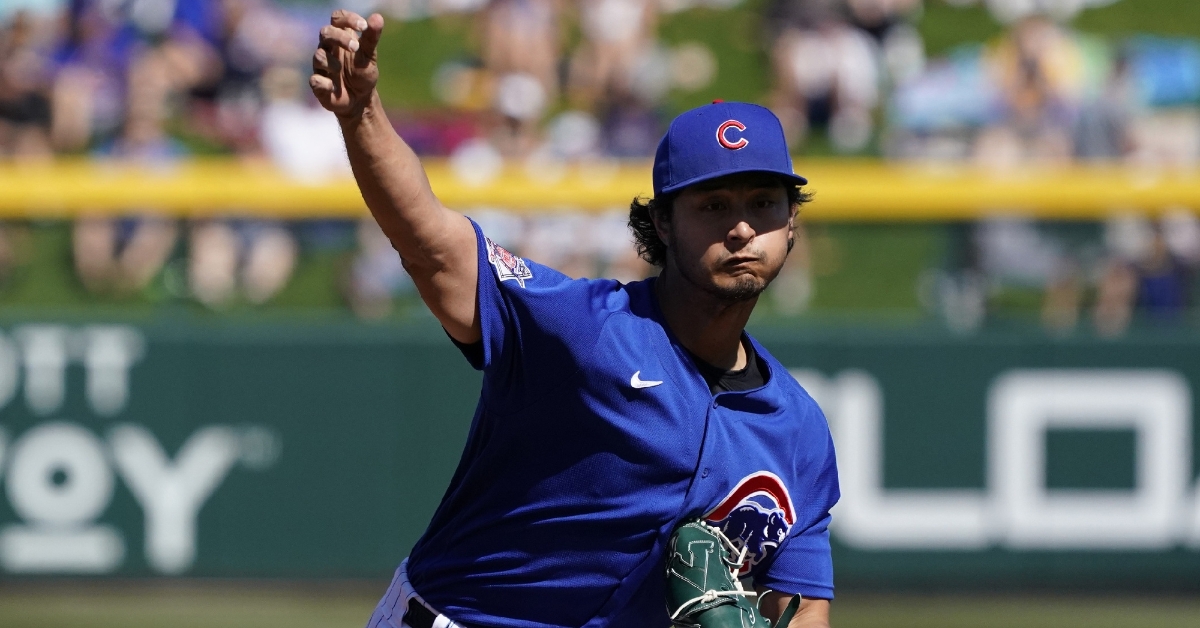 | | |
| --- | --- |
| Cubs News and Notes: Chicago shut out, Flu bug and Cubs, Epstein, Roster talk, more | |
---
CUBS NEWS AND NOTES
Next Game: Today: 2:05 PM: White Sox @ Cubs from Sloan Park. RHP Lucas Giolito vs Cubs TBD.
Opening Day: 20 days- Thursday, March 26, 2020: Cubs vs. Brewers (Miller Park).
Thursday's Game Recap: Yesterday afternoon the Cubs (5-7-1) returned to Sloan Park to host the Rangers, whose 8-4 record stood as second best in Cactus League play this spring.
This would become a bullpen game for the Cubs, starting with righty James Norwood facing off against Rangers' righty, Jonathan Hernandez.
With the sole exception of Ian Happ going 2 for 3, the Cubs had no highlights to speak of yesterday afternoon, suffering a 5-0 loss to the Rangers. The Rangers played with a split-squad, making the loss seem that much worse. Including the tie yesterday, the Cubs haven't produced a win in the last four games.
ICYMI: Rangers blank #Cubs: https://t.co/e3R2XqUyi1 pic.twitter.com/jgxsHs0tbR

— CubsHQ.com (@ChicagoCubsHQ) March 6, 2020
It shouldn't be long before David Ross starts making cuts, and more than a few pitchers will be on the chopping block. Consistently bad outings by Jason Adam, Rex Brothers, James Norwood, and others seem to have put Ross in a position where it's almost time to say goodbye so that those moving ahead can fine-tune.
Injuries/Illnesses: Trying to keep up with the Cubs' injuries and illnesses yesterday was tougher than tracking Kris Bryant trade rumors.
Yu Darvish was due to make his second start of the spring but became a late scratch, as he was reported to be down with flu-like symptoms.
Yesterday, a tweet from Yu Darvish was translated as follows: "I've been coughing since yesterday, and I didn't want to go into the clubhouse without permission in a situation where I couldn't say that there was no possibility of corona, so when I talked to the team first. I found out that there was no [???]. I'm in the hospital now. I pray that there should be no fever, and there is nothing."
Fortunately, tests came back negative.
Darvish says there's no fever and tests came back negative for the flu. As Ross said, scratching Yu today was precautionary, especially since a group of players/coaches have dealt with a bug throughout camp. https://t.co/jtQ8Uk5x6s

— Jordan Bastian (@MLBastian) March 5, 2020
Yu was last reported to be at home and resting. David Ross wants to see how he feels today, but if he's up to it, Darvish may get his three innings in
against the White Sox this afternoon.
Theo says Darvish's illness isn't expected to sideline him too long.

No firm schedule in place yet (have to see he feels tomorrow), but there is a chance Yu gets innings in Fri or Sat. Could be game or simulated setting.

— Jordan Bastian (@MLBastian) March 5, 2020
Theo Epstein: Theo talked to David Kaplan yesterday, and the question of extensions arose. Theo declined to comment on any talks "past, present or future," then said the reality was that they hadn't been able to come to terms with anybody other than Kyle Hendricks. Epstein also remarked, "They don't have to sign with us."
Baez updated his extension talks with the Cubs to the media Thursday.
"Hopefully, we get mine done. We're working on it."
Kyle Hendricks: "There's just a new energy in camp this year. Honestly, a lot of it has to do with David Ross. Just what he's brought already, his energy, his passion, his focus on the details. ... Guys have really been taking it to heart."
Also scratched for illness, was Jason Kipnis, who had been scheduled to start at second yesterday. Rizzo was scratched due to a blister. Although he wasn't scheduled to play, Albert Almora Jr. is also suffering from a scratchy throat.
Ross, on Darvish and Kipnis being out sick... pic.twitter.com/oF07TkCTWs

— Jordan Bastian (@MLBastian) March 5, 2020
ESPN's Jesse Rogers is also suffering from the bug.
Cubs' roster: Ian Happ and Albert Almora Jr. are both having fantastic spring training sessions so far. Add in Schwarber's power, Heyward's glove, Souza's MLB contract, and Ian Miller's speed, and you have just about the same log jam that you had last year.
Furthermore, Ben Zobrist is no longer a factor, Nicholas Castellanos is with the Reds, and David Ross says that Kris Bryant won't be playing all that much in the outfield.
The Cubs may be wise to keep Miller on the roster. They'll carry a 26th man this year, and with the maximum number of pitchers set at thirteen, the bullpen won't grow. If they choose to release Daniel Descalso, they'd undoubtedly pick up either Jason Kipnis, Carlos Asuaje, or Hernan Perez, and it would seem that the odds would be in Kipnis' favor.
There are only 20 days until Opening Night in Milwaukee, and Rossy will be faced with some tough choices.
Mic'd up with Steven Souza Jr.: Another Cubs player was mic'd up during a telecast.
When the mic is on, @SouzaJr puts in work. ?? pic.twitter.com/GRI3dqHlHq

— MLB (@MLB) March 5, 2020
Cubs coach "Cash Money": Will Venable shown with a giant Cub chain around his neck.
Presenting to you Will Venable. The @Cubs "Ca$h Money coach of the day" ?? pic.twitter.com/rhE1xigCB4

— Taylor McGregor (@Taylor_McGregor) March 5, 2020
Cubs' Birthdays Celebrating yesterday, was Kyle Schwarber (27)
Wishing a very happy birthday to @kschwarb12! pic.twitter.com/C2eh84LtV8

— Chicago Cubs (@Cubs) March 5, 2020
Baseball Quotes: "We didn't use any trash cans, everything we got we earned it. It's being real. You've got to earn it. We're coming to take it. You have to keep working hard to get what you want" -Tim Anderson
During his time at Arizona State, Barry Bonds was once caught using an "illegal" bat! ?? pic.twitter.com/ACruVnO9dg

— Baseball Quotes (@BaseballQuotes1) March 2, 2020
New Cubs t-shirts for sale:

Tags: Chicago Sports Baseball
,
James Norwood
,
Ian Happ
,
David Ross
,
Jason Adam
,
Rex Brothers
,
Kris Bryant
,
Yu Darvish
,
Kyle Hendricks
,
Albert Almora
,
Ian Miller
,
Ben Zobrist
,
Daniel Descalso
,
Carlos Asuaje
,
Hernan Perez
,
Kyle Schwarber
,
Theo Epstein