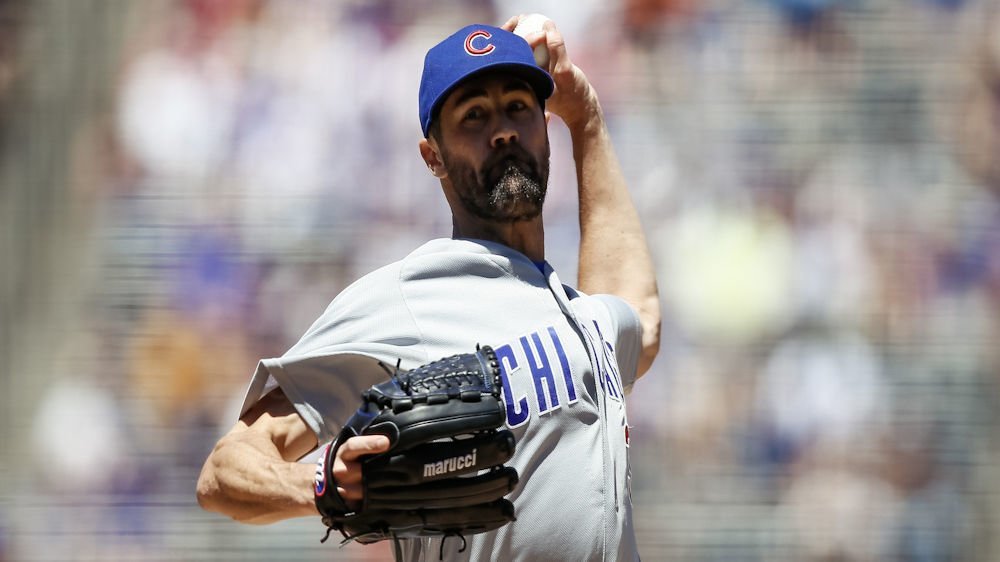 | | |
| --- | --- |
| Cubs News and Notes: Cole Hamels on free agency, Cubs donate 100K to Puerto Rico, more | |
---
| | | |
| --- | --- | --- |
| Monday, October 7, 2019, 7:20 PM | | |
MLB Postseason
NLDS
Sunday: Braves-3; St. Louis-1. Monday: Cardinals win 5-4 in 10 innings.
The Dodgers dismantled the Nationals by a final of 10-4 on Sunday, giving Los Angeles a 2-1 series lead, with Game-4 being played in Washington tonight at 5:40 PM Central.
ALDS
In the American League, the Rays stayed alive, beating Houston by a final of. Houston now leads that series 2-1.
The Yankees and Twins play tonight at 7:40 PM Central (from Minnesota). The Twins better get it right tonight, or they'll be going home as well.
"Baseball Is Us" ~ Great video narrated by Bryan Cranston!

(via @MLBNetwork) #MLB #ALDS #Postseasonpic.twitter.com/BQiC14h1Y3

— Baseball by BSmile (@BSmile) October 4, 2019
CUBS NEWS AND NOTES
Get ready: Interesting to think that the Cubs (and every other MLB team) have to have all expiring player contracts either retendered or non-tendered by three days after the final game of the World Series. The non-tenders get catapulted into free agency, which probably isn't the best place to be right now. At the earliest, the non-tender deadline could be October 29; at the latest, it would be November 2nd.
Hang in there, the days are dwindling down, and contracts will start being ironed out, making the picture a whole lot clearer, but even after that hurdle is cleared, the teams still need to worry about finding the solutions to what ailed them in 2019. Last year was boring, especially when the Cubs were barely involved, but I think this year promises at least a little more excitement; at least I hope it does.
Carlos Beltran: Don't figure this guy is in line for an interview with the Cubs however I could get behind this philosophy of his.
My goal is to win. It doesn't matter how I do. I want to do well, but I just want the team to win. -Carlos Beltran pic.twitter.com/wN8ufsyQkK

— Baseball Quotes (@BaseballQuotes1) October 7, 2019
Cole Hamels: The general consensus seems to be that Cole Hamels will not be part of the 2020 Cubs' roster. Thus it's time to start making his sales pitch to any and all other teams who may show some interest. "I let my teammates down, just because if I was at my best, I think the situation would be a lot different."
Hamels went on to say, "I obviously do very well at Wrigley. Hopefully, that's what they think about. Otherwise, I know the other teams in the division are going to think about it. If you have to come to Wrigley three different times, I don't pitch bad there…I know I do very well in the NL Central."
Cole Hamels looks ahead to his first foray into free agency: https://t.co/5du5trpLJz pic.twitter.com/45Grg2yIya

— MLB Trade Rumors (@mlbtraderumors) October 7, 2019
Cubs Charities helps PR Even two years after devastating hurricanes hit Puerto Rico, the island nation is still trying to rebuild. Javier Baez is very proactive in helping baseball in Puerto Rico and has donated a lot of money to help his cause. The Cubs have now stepped up with a large donation of their own. Kudos, Cubbies.
Happy to share that @cubs #CubsCharities has granted $100K to restore baseball fields across Puerto Rico. Thanks for stepping up to the plate along w/ @LISC_HQ, @MarcAnthony and Bad Bunny @sanbenito ???????? https://t.co/8JW5hWGp1s

— Javier Báez (@javy23baez) September 30, 2019
Scoring error? I'm not sure what took the scorekeeper so long, but for anybody who cares… I'm just curious what made the scorekeeper go back ten days later and change it. I'm not so sure Ozuna (who is about to enter free agency) appreciates the drop in his slash line, though.
Breaking Cubs news that only Salt (Kintzler) and David Bote will care about but sort of is appropriate considering the season: League changed a hit off of Kintzler by Marcell Ozuna on Sept. 27 to an error by Bote, the Cubs 118th of the season (3 behind the Pirates for most in NL)

— Jesse Rogers (@ESPNChiCubs) October 7, 2019
Oh the rumors… I've seen a lot of rhetoric from readers who are, what I perceive, to be very misguided. The rumors (or maybe wishing is a better word) continue about Willson Contreras for Mookie Betts. Mookie would be huge for the Cubs, but I don't think Contreras is who they'd trade, nor do I think Willy, alone, is strong enough to fetch Betts. I'd be shocked if the Cubs traded either Contreras or Caratini, though I must say, all the rumors about Contreras are a bit unnerving. I haven't seen a "Ken Rosenthal type" breathe anything of the sort, so until then, I'm assuming Willy stays.
I saw another one today (one of several) that suggested "Trade Bryant; sign Rendon." Not happening, well, at least the Rendon part. Rendon is expected to grab Harper-esque money $33M+ a year, though the expected term is shorter (5-6 years). Much like Betts, Rendon would be a huge boost to Chicago, but if you trade Bryant, it would be for pitching, not an almost equally ranked third baseman- that'd be… well, dumb.
The "trade Kris Bryant" rhetoric seems to be catching on, though, as I the more I fumble and stumble through social media, the more I read articles and comments about what the Cubs should do when they trade him.
Japan to offer slugger: Usually I put this in the Hot Stove section, but we all know the Cubs are looking for a guy who carry a big stick. Japan is about to post Yoshitomo Tsutsugo through the international posting system. Last year Japan's brightest star was Yusei Kikuchi, who landed with the Mariners.
MLB Trade Rumors says, "Tsutsugo has long been on the MLB radar. He has been among the most effective hitters in Japanese baseball since fully establishing himself at the nation's highest level in 2014. Since that time, Tsutsugo has devoured NPB pitching. In over four thousand career plate appearances, he's a .284/.382/.525 hitter with 205 long balls."
Cubs' Birthdays: Celebrating yesterday, were ex-Cubs José Cardenal (76), Morrie Steevens (79), and posthumously, Sammy Drake (85), Grady Hatton (97), Charles "Red" Adams (98), Frank Baumholtz (101), Chuck Klein (115), Fred Fussell (134), Ernie Ovitz (144), and Frank Donnelly (150).
Funky bday to the 'fro-tastic Jose Cardenal, perhaps the only person ever to look cool riding a penny farthing bicycle. #Cubs pic.twitter.com/KyFyDVb3Kw

— Dan Epstein (@BigHairPlasGras) October 7, 2019
Baseball Quotes: "I have observed that baseball is not unlike war, and when you get right down to it, we batters are the heavy artillery." -Ty Cobb
I guess I was never much in awe of anybody. I think you have to have that attitude if you're going to go far in this game. -Bob Gibson pic.twitter.com/pIGgZc2bMm

— Baseball Quotes (@BaseballQuotes1) October 6, 2019
MLB and the HOT STOVE
Phillies: It's been expected for some time that Phillies manager, Gabe Kapler, would be a free agent this winter, but as of today, Kapler is still employed. According to MLB Trade Rumors, Phillies owner, John Middleton, "could soon be arriving at a conclusion in regard to Kapler's future—or lack thereof."
White Sox: The Sox say that Castillo will return as their backstop, despite GM Rick Hahn saying that veteran leadership at the position is a must (this sounds familiar). The team hasn't ruled out carrying three catchers for the season, though I'd say the Chi-Sox have about as many concerns as their neighbors to the north do.