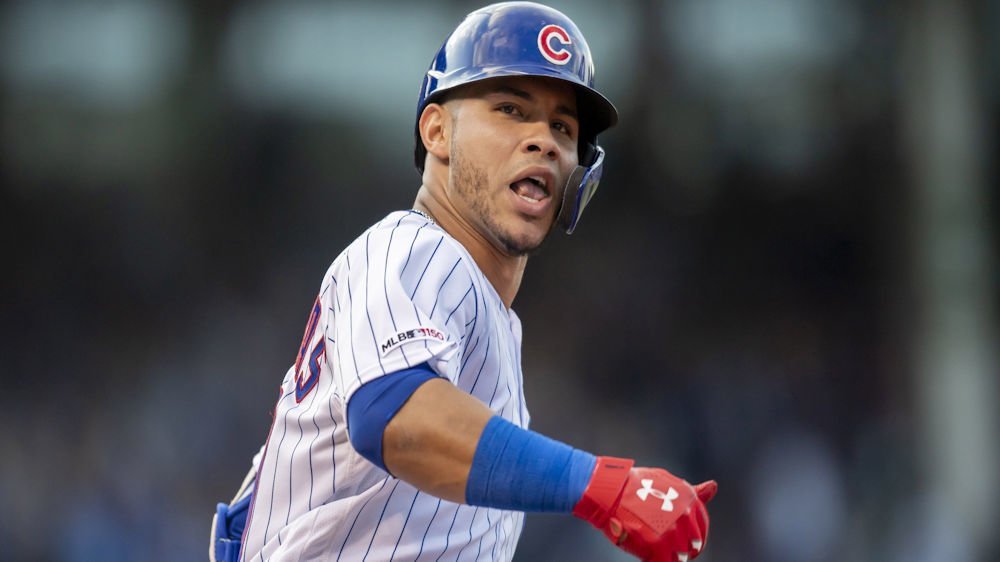 | | |
| --- | --- |
| Cubs News and Notes: Contreras stock rises, Cubs pursuing Merrifield, Hot Stove blazing | |
---
| | | |
| --- | --- | --- |
| Monday, November 25, 2019, 6:46 PM | | |
CUBS NEWS AND NOTES
Contreras' stock rises again: A few days ago, the White Sox managed to sign Yasmani Grandal, and now the Braves have signed former Rays' catcher, Travis d'Arnaud, making Wilson Contreras that much more valuable on the trade market. One thing that may aid in Willy staying in Chicago (at least temporarily) is that the Mariners are said to be shopping backstop, Omar Narvaez.
Many thought Contreras might have been a fit for Tampa, but now has reached a deal to re-sign free agent backstop, Mike Zunino, leaving Willy safe for the time being.
BREAKING: #Rays working to finalize deal to sign Zunino to 1-year contract for $4.5M, with 2021 option worth $4.5-5.25M. Clearly banking on offensive rebound from former #Mariners catcher. Announcement possible later today. More soon on tampabay dot com.

— Marc Topkin (@TBTimes_Rays) November 25, 2019
According to Jeff Passan (ESPN), "a deal may be close," though Passan does not mention any details, including the prospective suitor.
Can the Cubs snatch Merrifield? Once again rumors have surfaced that state the Cubs continue to show interest in Royals' 2B/OF, Whit Merrifield. In addition to providing great offense and solid defense at multiple positions, Merrifield is currently signed to a three-year/$15.25M deal.
KC's GM says it would take "a crazy offer" for them to trade Whit, so let's see just how nutty Theo can get.
Get ready: As teams prepare for the non-tender deadline, players are starting to be placed on outright waivers or released – Theo seems to like picking up these players, so no telling who may become a Cub over the next week. Sometimes Theo makes these things work; sometimes, he doesn't. Experiment pending: Jharel Cotton.
Maybe? Just another option for the Cubs who seem intent on signing a second baseman: Gold Glove 2B Yolmer Sanchez was placed on outright waivers by the White Sox today.
Vote Cubs! The balloting is underway for the 2019 All-MLB team. Plenty of Cubs' players on the ballot, though I'm a little upset that others didn't make it.
All-Stars and a Gold Glove winner. ?? Your #Cubs 2019 All-MLB Team nominees!

Vote daily through December 3: https://t.co/smWX7TyyRy pic.twitter.com/LxYLkErK7I

— Chicago Cubs (@Cubs) November 25, 2019
Cubs' Birthdays Celebrating yesterday were ex-Cubs Cleotha "Chico" Walker (61), John Pyecha (88), and posthumously, Randy Veres (54), Ben Wade (97), Jim Weaver (116), Frank "Jakie" May (124), Joe Vernon (130), Frank Corridon (139), and Ellsworth "Bert" Cunningham (154).
Baseball Quotes: "A good base stealer should make the whole infield jumpy. Whether you steal or not, you're changing the rhythm of the game. If the pitcher is concerned about you, he isn't concentrating enough on the batter." -Joe Morgan
Any time you think you have the game conquered, the game will turn around and punch you right in the nose. -Mike Schmidt pic.twitter.com/eRryrDprtc

— Baseball Quotes (@BaseballQuotes1) November 23, 2019
MLB and the Hot Stove
NL Central Hot Stove:
Cardinals: St. Louis has released RHP Dominic Leone.
Pirates: The Pirates are expected to name their new manager this week, with the choices seemingly down to Twins coach Derek Shelton and Rays coach Matt Quatraro.
The Pirates have also dealt RHP Dario Agrazal to the Tigers for cash.
Reds: The Reds seem to be even more serious about improving than they did last year, and last year was undoubtedly a solid effort. With their eyes set on at least one free agent signing, MLB Trade Rumors asks, "Which top free agent should the reds sign?" (Warning: Some of the names on the list are pretty lofty.)
MLBTR Poll: Which Top Free Agent Should The Reds Pursue?https://t.co/FqVOAWghxy pic.twitter.com/UKc1P2LDk3

— MLB Trade Rumors (@mlbtraderumors) November 25, 2019
The Reds have also claimed OF Nick Martini off waivers from the Padres, acquired RHP Jimmy Shafer from Toronto (cash deal), and have designated RHP Jimmy Herget and OF Brian O'Grady for assignment.
From the Rest of MLB:
Twins: Minnesota has reportedly "kicked the tires" on several free-agent third basemen, including Josh Donaldson and Todd Frazier; no word if they've checked out Moustakas or Rendon, nor has anything said about their willingness to trade for one.
Rays: Tampa has hired Greg Brown, the legendary coach at Nova Southeastern U. Brown will assume the hitting coordinator position.
Dodgers: The Dodgers may lose out on re-signing Hyun-Jin Ryu, but they've already set their sites on a replacement: Gerrit Cole. No word on negotiations yet, but LA is said to be showing keen interest. By the way, Cole isn't the end of the perspective shopping list.
Dodgers are looking at Gerrit Cole, Stephen Strasburg and Anthony Rendon. But while they can afford to go big, word is they have set valuations for each star and intend to remain disciplined.

— Jon Heyman (@JonHeyman) November 25, 2019
More Dodgers: Veteran LHP Rich Hill has undergone "primary surgery." Hill (age 39) will be out until at least late June and possibly into July. The surgery is reportedly something close (but an alternative to) Tommy John surgery.
Yankees: The Yankees have traded pitcher Nestor Cortes to the Mariners for international slot money.
Royals: KC has requested unconditional release waivers for OF Jorge Bonifacio.
Blue Jays: Toronto has agreed to a minor league deal with RHP AJ Cole.
Red Sox: Boston has placed LHP Brian Johnson on outright waivers.
Mariners: The Yankees have traded LHP Nestor Cortez to the Mariners in exchange for international bonus allotments.
"Nestor is a versatile lefty who can do a little bit of everything," Mariners GM Jerry Dipoto said in a statement announcing the deal. "He can start, he can relieve, he can give you those middle innings or even operate as an opener."
Sounds like someone the Cubs should've taken a look at…