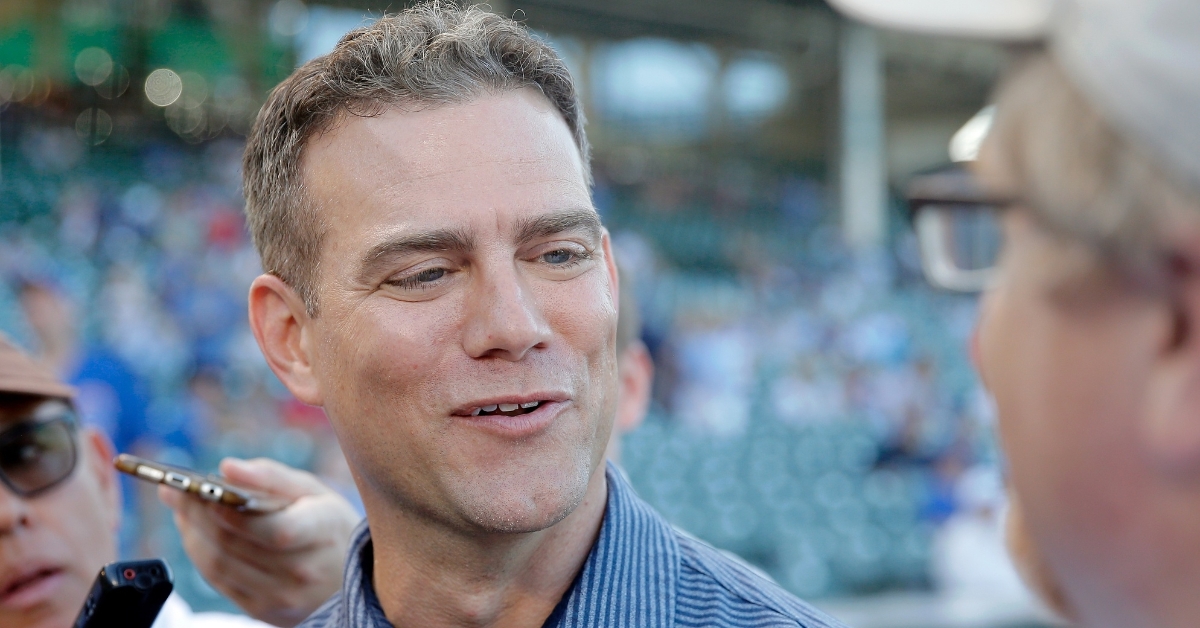 | | |
| --- | --- |
| Cubs News and Notes: Coronavirus and MLB, Theo Epstein's plan, Rickett's statement, more | |
---
| | | |
| --- | --- | --- |
| Friday, March 13, 2020, 9:17 AM | | |
CUBS NEWS AND NOTES
Next Game: CANCELED
Opening Day: Postponed through at least April 9.
Baseball Canceled: You almost knew it was coming, but somehow it still feels like a gut punch. MLB – along with the NBA, NFL, MLS, NCAA, and XFL – have all postponed their seasons/tournaments. Rob Manfred didn't have much choice. Continuing with the season when every other major sport folded to the pressure and threat of the coronavirus outbreak wasn't going to be a good look.
Players, personnel, and public safety must be prioritized, but man, this still kind of stinks. It's not the end of the world, however, and baseball will (eventually) be back. We'll get past this, just like we did every other obstacle that resulted in less baseball along the way, but for now, all any of us can do is wait and hope for the best.
Epstein's plan: Theo Epstein says that the Cubs spring training facility in Mesa will be closed today for what's going to amount to the ultimate in spring cleanings. Obviously, the idea is to rid the facility of any possibility that the COVID-19 virus is alive and thriving on surfaces.
Theo on deep-clean of spring facility: pic.twitter.com/y1JeXnOVlM

— Mark Gonzales (@MDGonzales) March 12, 2020
To this point, no MLB player has tested positive for the virus, and Theo stated that none of the Cubs had met the criteria for needing to be tested. As you'll recall, a week or so ago, the Cubs had some flu-like symptoms among their team, resulting in Yu Darvish being taken to the hospital. Darvish was tested as a precaution, but the tests came back negative.
Cubs in works for work-from-home policy for staffers here, scouts

— Mark Gonzales (@MDGonzales) March 12, 2020
Theo Epstein talks with @LenKasper regarding MLB's decision to suspend play. pic.twitter.com/GFCKoergah

— Marquee Sports Network (@WatchMarquee) March 13, 2020
The Governor of Illinois (J.B. Pritzker) announced yesterday that he'd asked all of Illinois' professional sports teams to cancel home sporting events until May 1; the owners have all agreed. This will affect a total of 18 home games for the Cubs, including two divisional series with the Pirates and one with the Cardinals.
ICYMI: Chicago teams will cancel home games or play without fans until May: https://t.co/ycltNDebIs pic.twitter.com/QdF5BIVqBP

— CubsHQ.com (@ChicagoCubsHQ) March 13, 2020
Tom Ricketts: Tom Ricketts issued the following statement yesterday:
"The health and wellness of our fans, players, and associates is our team's top priority. In light of rapidly changing developments resulting from the coronavirus, we believe Major League Baseball's decision is in the best interests of the safety and well-being of the public and the game of baseball.
"While our hope is to play baseball at Wrigley Field soon, we will continue to work in close coordination with Major League Baseball, as well as with Illinois Governor J.B. Pritzker and Chicago Mayor Lori Lightfoot and their administrations to ensure that we make the best decisions to protect public health and safety.
"In the meantime, Major League Baseball is preparing a variety of contingency plans in concert with clubs regarding the 2020 regular season schedule and will be offering updates as soon as possible."
Statement from Tom Ricketts on delaying MLB season, Coronavirus: https://t.co/PXz0zUhYDM pic.twitter.com/M6F7GmcwEn

— CubsHQ.com (@ChicagoCubsHQ) March 12, 2020
Ken's take: Somehow this all seems like some surreal dream. It's not like there's a strike or a lockout (that'll probably happen after the 2021 season), at least that could be understood. This is all so intangible unless it affects you or me directly, and let's pray that it never does.
Public schools have now closed in Kentucky, Ohio, and Illinois for at least a couple of weeks, and I can only imagine that my son will be receiving "an extended spring break" from the state of Missouri before he's due to go back to school on Tuesday. I'm sure more states (including the Manhattan area of New York) have closed their schools, and I'm equally certain more will come.
My daughter in Ohio messaged me last night, describing a scene at a Kroger grocery store that looked like pre-hurricane panic in Florida. Come to think of it, I was never scared by the hurricanes and tropical storms when I lived outside of Tampa, but this whole coronavirus thing has me a little concerned. Unlike the hurricanes, you can't just get in your car and drive away from danger (though we never did that anyway), this thing is everywhere and nowhere, but your home is really safe.
Don't panic, but certainly be concerned. Be smart about how you conduct your daily activities and limit your exposure to strangers. If your immune system is somehow compromised, take that many more precautions. This thing is, unfortunately, going to kill a lot more people – both abroad and here in the U.S. – before it's over, but eventually, the threat will end, and we can start enjoying baseball once again.
In the meantime, stay tuned to CubsHQ. We won't stop delivering content to you, and you can always stay informed of the latest updates concerning the Cubs and MLB. Stay healthy.
Cubs' Birthdays: Celebrating yesterday, were ex-Cubs Horacio Piña (75) and posthumously, Johnny Callison (81), Lyle "Bud" Tinning (114), George Maisel (128), Walter "Doc" Curley (146), and George Mooli? (153).
Baseball Quotes: "If the people don't wanna come out to the ballpark, nobody's gonna stop 'em." - Yogi Berra
Chicago Cubs manager/first baseman Frank Chance takes his cuts during batting practice.


National League Park (Baker Bowl), Philadelphia, 1910.#ThePeerlessLeader @Cubs pic.twitter.com/dNSMhAZJcz

— Alex Cheremeteff (@AlexCheremeteff) March 12, 2020