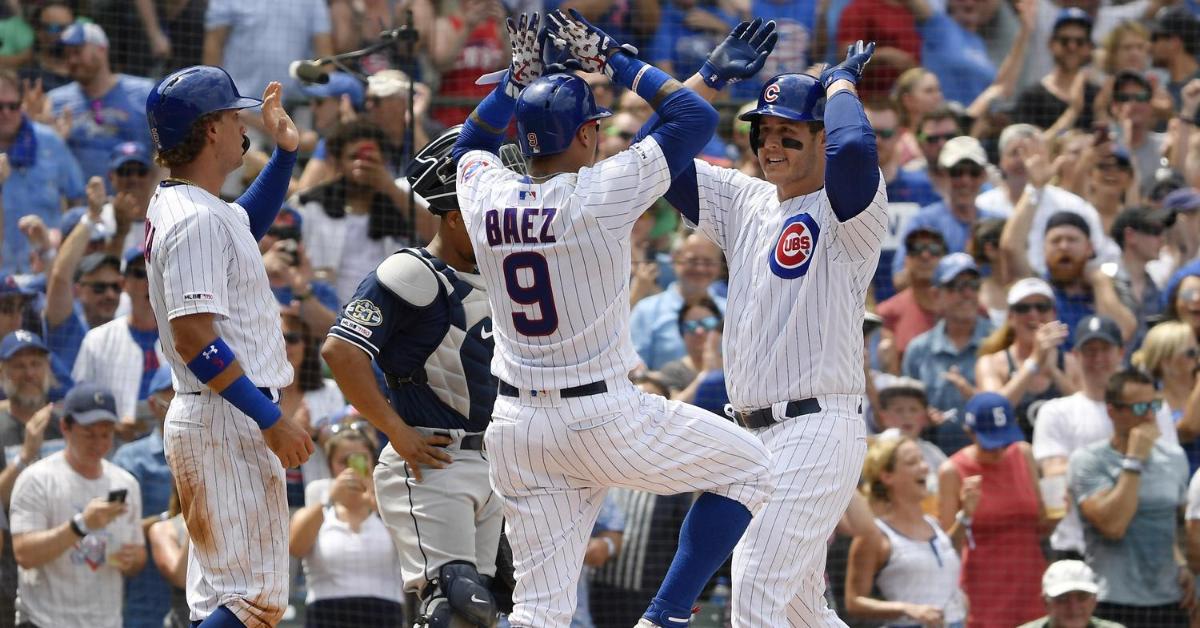 | | |
| --- | --- |
| Cubs News and Notes: Cubs 2021 payroll, The Compound, Grandpa Rossy, more | |
---
| | | |
| --- | --- | --- |
| Friday, April 10, 2020, 8:44 AM | | |
CUBS NEWS AND NOTES
The silver lining: Not that signing high-dollar free agents ensures a successful season, but like many others, I thought the Cubs did a terrible job this winter. Jeremy Jeffress and Steven Souza Jr. comprised the bulk of the Major League deals, with others like Jason Kipnis and Hernan Perez on split deals. As it turns out, that may have been the smartest move in MLB this winter.
Nobody knew that COVID-19 was coming, so it wasn't like Theo Epstein was some sort of visionary as the Cubs entered the offseason. With little additional payroll on the books this year and a bunch of cheap, one-year (mostly minor league) deals signed, the Cubs stand to come out of this ahead.
2021 Payroll: If the shortened season was a silver lining in terms of payroll, the downside may be that the Cubs will have a bunch of holes to fill next year. Barring extensions, they'll be losing Jose Quintana ($10.5M) and Tyler Chatwood ($13M) next year, in addition to the expired one-year contracts of Souza ($1M), Kipnis ($1M), Daniel Winkler ($750k) and Josh Phegley (financials not available). The Cubs also need to determine whether they'll pick up the options on Daniel Descalso ($3.5M), Jon Lester ($25M), and Anthony Rizzo ($16.5M).
I'd have never said this three years ago, but it's an absolute shame that the Cubs may lose Chatwood. The guy couldn't hit the broad side of a barn in 2018, then magically found his groove in 2019. Joe Maddon left him to languish in the pen, often not calling on him for weeks at a time. Chatwood shined brightly when he did get opportunities in 2019 and has rightfully earned the spot as the fifth starter this season.
It's almost a foregone conclusion that they won't exercise Descalso's option, especially if they feel that Nico Hoerner can stay in the bigs. I doubt very seriously that Quintana will get an extension, and I'd be willing to bet that Souza doesn't get renewed. That trio alone will give the Cubs an extra $27M to spend in 2021, but they'd better prepare themselves, as they lose a plethora of key players (Kris Bryant, Anthony Rizzo, Javier Baez, Kyle Schwarber, Anthony Rizzo and Jon Lester) in 2022.
A few years ago, Theo Epstein sold his soul and leveraged the farm, but it brought a World Series championship home to Chicago. Nobody would have had it any differently, but the chickens are now coming home to roost. There's absolutely no way to keep this entire core together, and they haven't made any progress on re-signing Baez, which was supposed to be their mission during this offseason. Embrace this group while you can, we may not have them very much longer.
Poor Rossy: For all of the MLB people who can't do their jobs right now, I'd have to say that I feel the worst for David Ross.
Ross went through the interview process, figuring that he probably wouldn't get the job due to his lack of managerial experience. In his head, he reconciled being declined, while wrestling with the thoughts of how he wanted the position. When he finally got the call, Theo Epstein toyed with him a little, telling him that he'd be a good manager one day".
With his new position in the bag, Rossy went to Wrigley, greeting fans as he walked down the sidewalk toward the entrance. After meeting with Theo then going through the press conference to announce him as manager, David Ross had one request – he wanted to walk through the tunnel and stand on the top step of the dugout to see how it felt. Ross was looking for what would be his perch when he finally managed.
By all accounts, Rossy worked his tail off over the winter, recruiting his coaching staff, contacting players and formulating a strategy. When spring training finally arrived, Rossy worked like crazy with the team, only to miss the first three or four games due to being sick with flu-like symptoms.
Here we are, at the end of the second full week of what should have been the regular season, and Ross still hasn't had the opportunity to manage a game. The guy is so likable, so motivated and so excited, you have to feel for him.
I wrote more than a few times that this season was going to be as much about Rossy as it was the Cubs. Now, there's no telling when he'll finally get his chance.
MORNING POSITIVITY
"Tough times never last but tough people do."
- Robert H. Schuller pic.twitter.com/nVjHZBsHhq

— South Bend Cubs (@SBCubs) April 10, 2020
The Compound: Ian Happ, Zack Short, Dakota Mekkes and Nico Hoerner are at it again. Here's a link to Episode 5 of Happ's podcast. This version features the best and worst parts of today for the hosts and questions from fans.
Some of the more interesting questions (and the resulting answers) included "Do you put the peanut butter on the bread first, or the jelly?", "Seeds or Hubba Bubba mid-game?" and "Which one of you has the best story about being ejected?" Nico Hoerner was actually ejected (and banned from the league) at age nine, for cussing out a teenage home plate umpire.
Here's the web link to Episode 5 of The Compound. Fan Questions Episode!! https://t.co/EILlsde7yU

— Ian Happ (@ihapp_1) April 9, 2020
Several landmarks are lighting it up blue for front line workers dealing with COVID-19:
We join landmarks across the country to shine a light on those who are working tirelessly every day. To @advocatehealth, and all front line and essential workers, thank you for your continued efforts during this unprecedented time. #LightItBlue #MakeItBlue pic.twitter.com/VuyT3arKBF

— Chicago Cubs (@Cubs) April 10, 2020
Tonight with others around the country we #LightItBlue to show our support for healthcare, front line, and essential workers putting their lives on the line every day to fight against this pandemic.

From our team to yours, thank you.
???? pic.twitter.com/KeaMepn0jI

— Chicago Bears (@ChicagoBears) April 10, 2020
#LatestNews U.S. landmarks including the Empire State Building and Times Square are lit up in blue as America thanks healthcare workers amid coronavirus crisis. American sports teams also turned their stadiums blue including the Baltimore Ravens and Chicago Bears. pic.twitter.com/LjhlPfPjgD

— Dave Vescio (@DaveVescio) April 10, 2020
Cubs' Birthdays: Celebrating yesterday, were ex-Cubs Ryan O'Malley (40), Blaise Ilsley (56), Mike Brumley Jr. (57), José Guzmán (57), Brian Dorsett (59), and posthumously, Claude Passeau (111), Earnest "Tiny" Osborne (127), James "Hippo" Vaughn (132), and Jack Hendricks (145).
Baseball Quotes: "I've come to the conclusion that the two most important things in life are good friends and a good bullpen." - Bob Lemon
One of the beautiful things about baseball is that every once in a while you come into a situation where you want to, and where you have to, reach down and prove something. -Nolan Ryan pic.twitter.com/HAZYhKJWsc

— Baseball Quotes (@BaseballQuotes1) April 4, 2020

Tags: Chicago Sports Baseball
,
Jeremy Jeffress
,
Hernan Perez
,
Jose Quintana
,
Tyler Chatwood
,
Daniel Winkler
,
Daniel Descalso
,
Jon Lester
,
Anthony Rizzo
,
,
Kris Bryant
,
Kyle Schwarber
,
David Ross
,
Ian Happ
,
Dakota Mekkes
,
Joe Maddon
,
Theo Epstein