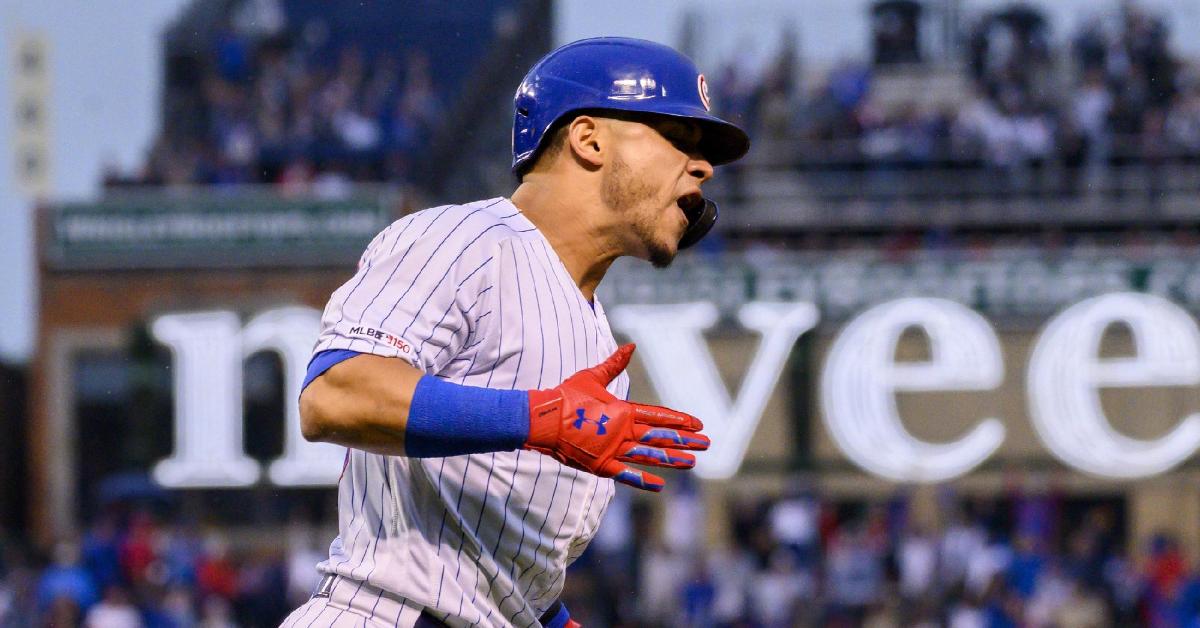 | | |
| --- | --- |
| Cubs News and Notes: Cubs Camp begins, Epstein's decisions, Roster talk, more | |
---
| | | |
| --- | --- | --- |
| Tuesday, February 11, 2020, 7:58 AM | | |
CUBS NEWS AND NOTES
Next Game: Next Game: 11 days – Saturday, February 22, 2020: Athletics vs Cubs (Sloan Park).
Opening Day: 48 days – Thursday, March 26, 2020: Cubs vs. Brewers (Miller Park).
David Ross' first day as manager started yesterday, as the pitchers and catchers reported to Mesa.
Pitchers and catchers report tomorrow. Kyle is very, very excited about it. pic.twitter.com/rdGoHNDbbd

— Cubs Talk (@NBCSCubs) February 10, 2020
1st interviews of 2020: Along with the players, media arrived in Mesa with 1000 questions to be asked. Willson Contreras talked about trade rumors and understanding the business side of baseball.
"First of all, I was kind of surprised. At the end of the day, I understand the business. I understand from what I read that they were trying to get better farm [prospects], and the value that I got from my whole career in the big leagues to now is really good. I talk to my agent a lot and told me it is about business. Even if they do trade, I don't think they don't like me anymore. It's just part of the business."
?@WContreras40? on trade speculation: "I was kind of surprised." pic.twitter.com/OiX71icChd

— Mark Gonzales (@MDGonzales) February 10, 2020
Willson Contreras, on dealing with trade rumors over the offseason and still being with Cubs as camp opens. pic.twitter.com/MqbEqj4oho

— Jordan Bastian (@MLBastian) February 10, 2020
Meanwhile, Brandon Morrow is just praying for a comeback.
"So far so good," Morrow told reporters on Monday morning. "I'm not going to declare I'm back yet, but I've been off the mound a few times, so far so good. Cautiously optimistic."
Here's Brandon Morrow on re-signing with Cubs. Has thrown four bullpens so far, but has more built-in off-days as part of a conservative schedule. He's not declaring he's "back," but hoping to contend for Opening Day job. pic.twitter.com/GcKbgAyoAK

— Jordan Bastian (@MLBastian) February 10, 2020
Decisions, decisions: TC Zencka of MLB Trade Rumors an interesting article yesterday about the Cubs plight this winter.
"Of course, the Cubs haven't yet moved their young stars, but their value has declined. Epstein and company are stuck choosing between trading the stars from the curse-breaking Cubs at lower than peak value and watching them depreciate into a mediocre ballclub. -TC Zencka, MLB Trade Rumors
Though hard to digest, Zencka's words are spot-on. For some reason, the Cubs haven't meshed as a team for two years now and barring a complete bounce-back season as a team, and the Cubs might only move backwards from here.
Theo Epstein knew the day would come when the core would all surpass arbitration and head into free agency, but little has been done to preserve them. Perhaps a smart move, considering their demise over the past three years, but should they reemerge into a powerful team, the time to retain them all has now passed.
To most, trading Kris Bryant is almost a foregone conclusion. That trade could come today, next week or by the deadline in July, but it seems inevitable. Neither Javier Baez nor Willson Contreras have signed extensions and Kyle Schwarber's future in Chicago also hangs in the balance.
"Despite near-constant discussion this winter, Kris Bryant remains a Cub with just days until pitchers and catchers report to Mesa, Ariz. Whether that is still the case by the time the team opens the season in Milwaukee is still up in the air. -Sahadev Sharma, the Athletic
I have faith in David Ross and this year's roster. The Cubs' ability to win doesn't concern me; however, the rest of the division's ability to win more does.
Sharma's picks: Sahadev Sharma wrote a subscription-based article for The Athletic yesterday morning, outlining his picks for what the Cubs' roster will look like as they break camp. To no surprise, the list of 21 locks contains only two new faces: Steven Souza Jr. and Jeremy Jeffress. Also, somewhat shocking, Nico Hoerner is not on the list of locks (bad pick, Sahadev).
Sharma predicts the bullpen to be completely up for grabs, with Brad Wieck, Ryan Tepera, Dan Winkler, Dillon Maples, Trevor Megill, James Norwood,
Manuel Rodriguez, Casey Sadler, Justin Steele and Duane Underwood Jr. and fighting for positions. I truly believe that Wick, Wieck and Ryan are locks, and I'd venture to bet that Sadler and Tepera make the roster.
Days away from pitchers and catchers reporting, a look at where the Cubs roster stands and who is expected to be with the club when the season opens in Milwaukee in six weeks https://t.co/IjofQkp4hq

— Sahadev Sharma (@sahadevsharma) February 10, 2020
If you add my choices with Sharma's the roster stands at 27 – one too many, but then again, I'd also discount Daniel Descalso as a lock. One way or another, the Cubs are going to have to eat the $2.5M that they're paying Descalso this year. He's untradeable and playing him over Hoerner or Ian Happ makes little sense.
Descalso is only a career .235 hitter, batting .235 against righties and .239 against southpaws. Happ's saving grace is that he plays better defense and switch hits, but his offensive numbers aren't much better than Descalso's. He's a career .246 hitter, batting .248 against right-handers and .238 against lefties, but bear in mind the improvements and adjustments he made after an extended stay in Iowa last year.
It's probably not fair to lump Hoerner's stats in here, but for what it's worth, Nico's 20-game Major League stint netted a .282 average, a .305 on-base percentage and a .436 slugging percentage. Even being able to bat only from the right side, Hoerner slashed .282/.314/.418 against right-hander (70 plate appearance, 67 at-bats), while accruing a .273/.250/.545 slash line against leftie (12 plate appearances, 11 at-bats).
With Souza (another .233 career hitter) in the outfield mix, either Albert Almora Jr. (.236 career average) or Happ are going to be squeezed for playing time. Almora's defense is generally superior to Happ's, but neither hold a candle to Jason Heyward's Gold Gloves.
The infield and outfield are no less crowded than they were last year, despite losing Nick Castellanos and Ben Zobrist (who's all but disappeared from the public eye). David Ross has going to have some tough decisions to make, and those with minor league options remaining may find themselves in the same boat that Ian Happ sailed last year.
Cubs' Birthdays: Celebrating yesterday were ex-Cubs Allen Webster (30), César Izturis (40), and posthumously, Randy Jackson (94) and Bob Logan (110).
Baseball Quotes: "Your job as a baseball player is to come to the park ready to play every day." -Cal Ripken, Jr.
I'm not concerned with you liking or disliking me... All I ask is that you respect me as a human being. -Jackie Robinson pic.twitter.com/xo2s4lbYEr

— Baseball Quotes (@BaseballQuotes1) January 31, 2020

Tags: Chicago Sports Baseball
,
David Ross
,
Willson Contreras
,
Brandon Morrow
,
,
,
Kyle Schwarber
,
Dillon Maples
,
James Norwood
,
Manuel Rodriguez
,
Justin Steele
,
Duane Underwood
,
Daniel Descalso
,
,
Albert Almora Jr
,
Jason Heyward
,
Ben Zobrist
,
Theo Epstein