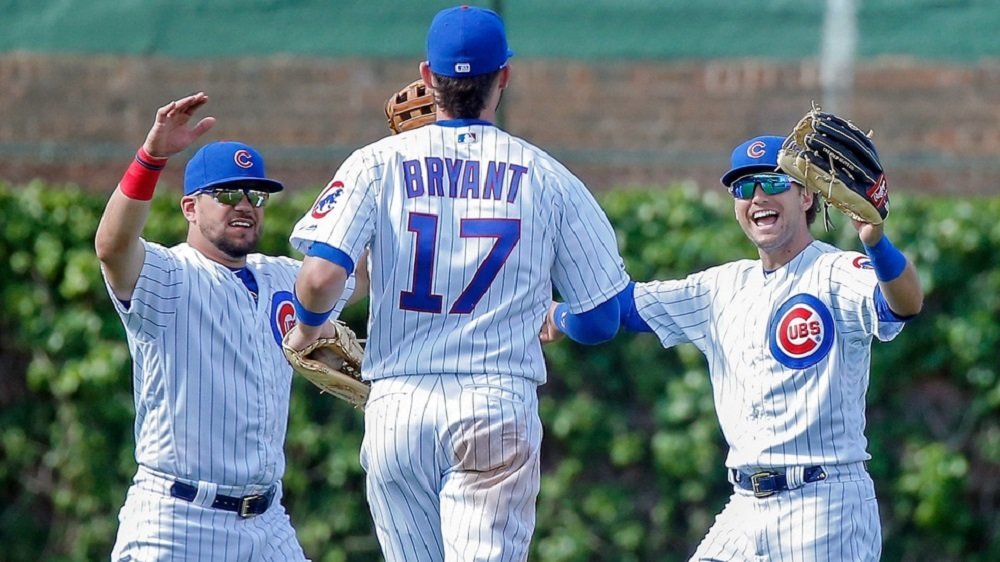 | | |
| --- | --- |
| Cubs News and Notes: Cubs prepare for spring training, Rizzo honored, Casey Sadler's treat | |
---
| | | |
| --- | --- | --- |
| Tuesday, February 4, 2020, 8:01 AM | | |
CUBS NEWS AND NOTES
Next Game: 19 days – Saturday, February 22, 2020: Athletics vs Cubs (Sloan Park).
Opening Day: 53 days – Thursday, March 26, 2020: Cubs vs. Brewers (Miller Park).
Getting closer: Although the first Spring Training game isn't for another 2-1/2 weeks, the Cubs' pitchers and catchers are getting ready to start relocating to Mesa. Baseball is almost here again.
Pitchers and catchers report in few days??

— Willson Contreras (@WContreras40) February 3, 2020
The Cubs equipment truck left Chicago yesterday for the trip to Arizona.
On the move! ?? #SpringTraining pic.twitter.com/jKjmkUAldV

— Chicago Cubs (@Cubs) February 3, 2020
New names: As we prepare for the start of Spring Training, get ready to learn a whole lot of new faces. The moves this winter may have seemed minimal, cheap, and safe, but they have added a bunch.
40-man roster: RHP Jharel Cotton (competing for roster spot as either a starter or reliever),; RHP Jeremy Jeffress (reliever); LHP Trevor MeGill (reliever), RHP Tyson Miller (reliever); RHP Manuel Rodriguez (reliever); RHP Casey Sadler (reliever); RHP Ryan Tepera (reliever); RHP Dan Winkler (reliever); OF Steven Souza Jr. (bats right-handed).
The Cubs are also expected to have several non-roster invitees but have yet to release the list.
Spring training is thissss close pic.twitter.com/wsBbJ8KvGQ

— Ian Happ (@ihapp_1) February 4, 2020
Honoring Rizz: Yesterday, Anthony Rizzo was honored by Marjorie Stoneman Douglas High School – his alma mater. The school has announced that it will rename the ball field in Rizzo's honor.
Proud of where I came from and honored to be a part of the new lights at MSD. Shout out to my brother Johnny who played a huge part in making this happen and everyone else who worked tirelessly to make this dream a reality. Go get 'em Eagles!

February 4, 2020
Class act: Talk about a class act. New Cubs' pitcher Casey Sadler is leaving Los Angeles for Mesa, hoping to be en route to Chicago from there. On his way out of town, he elected to share one more moment with the Dodgers' fans.
During my time with the @dodgers I may or may not have been known for my love of #InNout ??! To honor that & thank my fans, I'll be buying lunch for the next 10 people who come eat lunch at the Burbank location on 1st St with us. ?? I'll be here for the next 30 min!

— Casey Sadler (@sadler_squared) February 3, 2020
Coincidence? I find it very odd that for the last four months (longer really), we've heard rumors and speculation about Kris Bryant being traded this winter, but now, there's not been a peep for a few days. With the grievance settled, Bryant is now tradeable, yet all of the teams who had interest have now fallen silent publicly – despite still needing a third baseman.
Guys like Jesse Rogers and Ken Rosenthal usually have a pretty good nose for sniffing out things that are going on, yet each has been mum. The Braves, Nationals, Dodgers, Rangers, and Rockies (presuming they trade Arenado) are all still looking, yet there's not ben so much as a peep from any of them over the last four or five days.
Is everyone now resolved to go forward with what they currently have? I find that hard to believe, especially considering the situation with Arenado and the Rockies. Equally as staled, were rumors coming fast and furious about the Padres and Red Sox working out a deal for Mookie Betts. Just a week ago, sources were reporting an Arenado trade as "inevitable," sparking fantasy-like rumors of a one-for-one Bryant for Arenado swap. I never really bought into it, although it would undoubtedly beat trading for prospects.
If the Cubs are continuing talks with teams about KB, Theo and his counterparts are remaining extremely tight-lipped, with the same holding true for the Rockies regarding Arenado.
Jon Jay: Former Cub Jon Jay has latched on with Arizona. Jay agreed to a minor league deal with the D-Backs yesterday.
Guns N Roses: Rockers Gun N Roses will be among the concerts held at Wrigley Field this summer. The Concert will be held Sunday, July 26th, with tickets going on sale this Friday (February 7th). The band will play hits including "Welcome to the Jungle," "Paradise City," "Sweet Child o' Mine" and "November Rain."
Cubs' Birthdays: Celebrating yesterday, were ex-Cubs Joe Coleman Jr. (73), Don Kaiser (85), and posthumously, Newt Randall (140).
Baseball Quotes: "Life is like a throw to first. Aim high." -Kevin Youkilis
Man, these two could hit. Hank Aaron and Ernie Banks sharing a laugh at Wrigley Field in 1957. #BellLetsTalk #Cubs #Braves pic.twitter.com/uE3wCRexUD

— BaseballHistoryNut (@nut_history) January 29, 2020
MLB News and Notes:
Phillies: The Phils have signed infielder Logan Forsythe to a minor league deal.
Yankees: The Yanks have signed righties Dan Otero and David Hale. Both will get non-roster invites to spring training.
ASTROS NAME JAMES CLICK NEW GENERAL MANAGER
Click spent the last three seasons as Tampa Bay's Vice President of Baseball Operations.

— Jim Bowden (@JimBowdenGM) February 4, 2020
Astros: Houston has announced that they have hired James Click to serve as their new GM in the wake of the Lunhow firing, following the sign-stealing scandal.