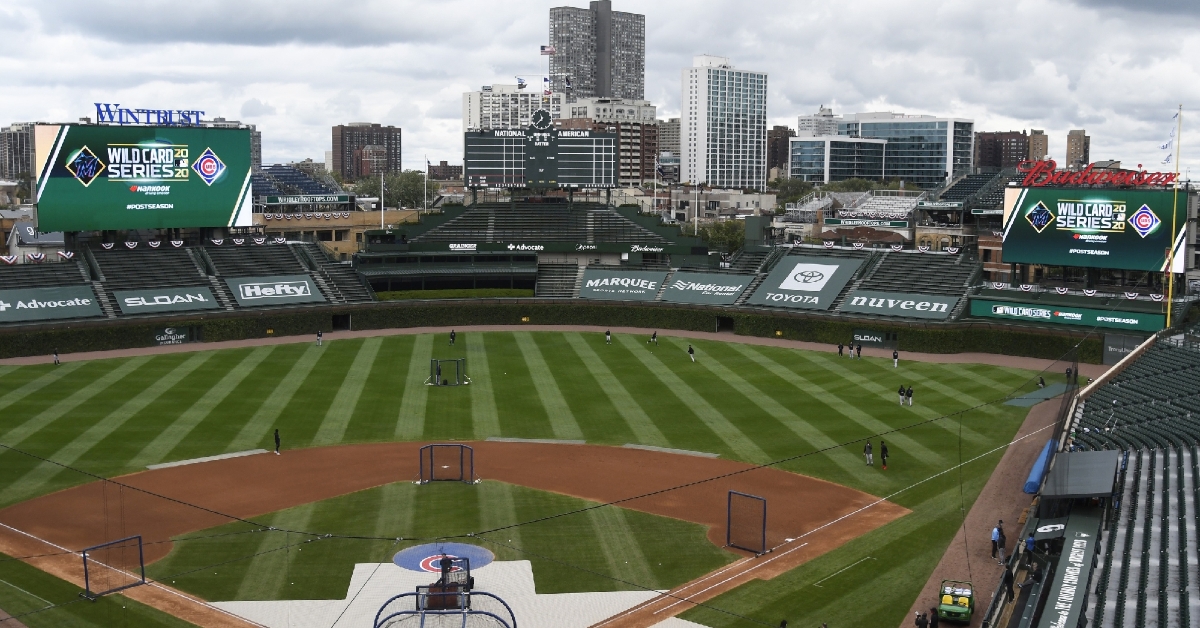 | | |
| --- | --- |
| Cubs News and Notes: Cubs' season reflections, no extension reportedly for Epstein, more | |
---
| | | |
| --- | --- | --- |
| Monday, October 5, 2020, 9:10 AM | | |
CUBS NEWS AND NOTES
With that, it's over: Let's not fool ourselves, the Cubs' offense had been showing some severe weaknesses this last month or so, especially when it came to advancing runners. Still, I thought for sure they'd squeak by the Marlins, even if it meant losing to either the Braves, San Diego (or ultimately Los Angeles) in the upcoming rounds. On the other hand, the Marlins are now 7-0 in postseason series wins, so there's that.
I know, I know, the season ended a couple of days ago, but a weekend trip out of town gave me some time to put my thoughts together while trying to figure out how something that started so good could end so bad. Did you see Anthony Rizzo sitting in the dugout as the Marlins celebrated on the field? While other members of the Cubs began cleaning out their equipment from the dugout, Rizz sat mostly alone in silence, his head looking down at the dugout floor. To me, that said it all.
The team overcame threats posed by COVID-19 – the only club in MLB not to have an infection from what I've read. They began the season with a 13-3 record (as of August 13th), and at that point, they were 6-1/2 games ahead of the second-place Reds. They began the year with a rookie manager (God Bless David Ross for all he did in his inaugural year), and they made the most of it.
All good things must eventually come to an end, and I think now we may be seeing the beginning to the end of what should have been a dynasty. Look anywhere on social media – the consensus is that changes are imminent.
Goodbye, Theo? OK, I fully expect there to be a lot (and I mean a ton) of roster changes, but I honestly thought Theo Epstein would get an extension – this, however, may not be the case, according to an article by CBSSPORTS.com.
According to the piece, written by R.J. Anderson, Theo was expected to be discussing his future with the team, and according to a report, he's not expecting to ask for an extension. Epstein is to meet with Tom Ricketts sometime this week to discuss his future with the Cubs. "Epstein, whose contract runs through next season, is not expected to ask for an extension. Rather, [David] Kaplan reports that the two options believed to be on the table entail Epstein 1) remaining another year and helping the club transition to a new president, and 2) leaving this winter."
Yes, Theo has made some questionable calls with contracts. The first three that come to mind total $348,000,000.00, including the contracts signed for Jason Heyward, Yu Darvish, and Tyler Chatwood.
OK, so Heyward has underperformed since 2016 - until this year, that is – when he posted one of his best offensive seasons ever, and by far, his best as a Cub. Darvish was down with injuries for his first year-and-a-half in Chicago but is in the running for the Cy Young this season. Chatwood? He couldn't hit the broad side of a barn in 2018, but turned it all around last year, rejoined the rotation this year, and was doing well until the injury bug bit. Baseball's a crapshoot on its best days, and in Theo's defense, he has rings from both Chicago and Boston to show for his efforts.
While Kaplan mentioned no short-list names as possible replacements, he does note that (1) Theo isn't likely to leave immediately for another team, and (2) Cubs' GM Jed Hoyer could be a possible suitor for the position.
Bryant said what? I've only been saying for two seasons now that the Cubs should have dealt Kris Bryant. From a quote I read, it sounds like Bryant may be saying the same thing himself.
"The Dodgers are doing all they can to win," Bryant said. "They really want to win. That's kind of admirable. They're really going for it. They traded away a really good outfielder that really helped their team last year for, what, maybe one year of Mookie Betts? Which they saw as a chance to get them a World Series. Good for them. I wish more teams would kind of follow that in terms of really trying to win and go all-in."
There are definitely some overt innuendos in that statement. I suppose you must read between the lines, but it sounds to me like either: (1) Bryant doesn't think the Cubs do enough to put together a championship caliber team (hence maybe he wants out), or (2) KB is thinking he deserves a 12-year, Mookie Betts type of extension from Tom Ricketts – something he'll never get.
Cubs' Birthdays: Happy birthday to ex-Cubs Bobby Scales (43), Mike Walker (54), Billy Hatcher (60), Larry Sorenson (65), Tony LaRussa (76), Bob Kelly (93), and posthumously, Bob Rhoads (141), Jim Gardner (147), Ossie France (162), and George "Orator" Shafer (169).
Baseball Quotes: "[I'm] very sad right now because my focus today was to have Lester pitch one more start at Wrigley. That was my goal today, and I couldn't make that happen. I'm very disappointed." -Yu Darvish, after losing to Miami in the NLWC Series.
Yu Darvish says that he is disappointed because his goal was to give Jon Lester another start. pic.twitter.com/HmpnkigIR5

— CubsHQ.com (@ChicagoCubsHQ) October 2, 2020
MLB NEWS AND NOTES
Beginning tomorrow, MLB's equivalent of the NCAA's March Madness Elite Eight (aka the Divisional Series) begins. For the National League, it'll be Dodgers vs. the Padres and the Marlins vs. the Braves. Meanwhile, the AL will see the Rays and Yanks have at it, while the Astros and Athletics engage in battle.
I see Tampa beating NY, and the A's beating Houston (if there is, in fact, a God), then on the NL side, I believe you'll see the Friars fall to LA, while the Fish upset the Braves. I'd love to see the World Series come down to Tampa vs. Miami or San Diego vs. Oakland, but I'm not sure either scenario is going to happen.
Time is ticking. By the end of this week, it'll be down to the Final Four, then the NLCS/ALCS, and finally the World Series. Then, the countdown begins. Just a handful of days after the final game of the World Series, players can declare free agency, and boy, is there a list to be had this winter.