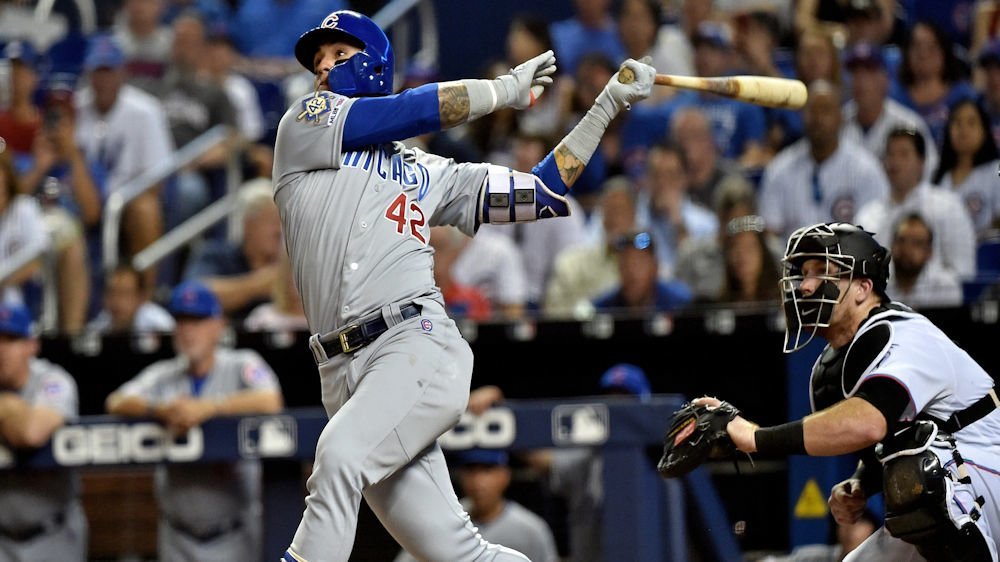 | | |
| --- | --- |
| Cubs News and Notes: El Mago in the house, Professor changes, MLB fires back at Astros | |
---
CUBS NEWS AND NOTES
Next Game: Next Game: 7 days – Saturday, February 22, 2020: Athletics vs Cubs (Sloan Park).
Opening Day: 44 days – Thursday, March 26, 2020: Cubs vs. Brewers (Miller Park).
Kyle Hendricks: According to Tony Andracki (NBC Sports Chicago), The Professor is changing things up this year. Hendricks says that he wants to become less "mechanical" and more "physical," and has changed his workout to accommodate that. He also started throwing earlier than normal this winter, stating that he "didn't like the trend I was going the last two years or so."
Kyle Hendricks is feeling great after making some changes to his offseason training program. pic.twitter.com/3jMfppzdoR

— Cubs Talk (@NBCSCubs) February 14, 2020
Javy's home: The Cubs position players weren't due to report until Sunday, but they've been steadily trickling in all week. Javier Baez made it into camp today.
Javy in the house pic.twitter.com/qjj2015xi2

— Gordon Wittenmyer (@GDubCub) February 14, 2020
Good morning! Javy is here. pic.twitter.com/zJrfFnuB1U

— Chicago Cubs (@Cubs) February 14, 2020
Javy says he ready to rock.
Go inside the batting cage and get a 3D view on our Snapchat: https://t.co/1vrnNQAcfV pic.twitter.com/zPXPwmvAZk

— Chicago Cubs (@Cubs) February 14, 2020
The most beautiful sound you could hear this #ValentinesDay #Cubs pic.twitter.com/fQ7iheZahd

— Scott Changnon (@ScottyChags) February 14, 2020
KB news: Recently thought to be in the running for a potential trade for Kris Bryant, and the Nationals are now reportedly "content" with the third basemen they have. This could be an attempt to further drive down an already low offering price for Bryant, but then again, the Nats never wanted to give up what the Cubs wanted anyway.
For all the banter on Thursday from David Kaplan and others about a potential Bryant for Arenado deal, things were rather quiet yesterday. Bryant has not yet reported to camp and may very well wait until the minute, if for no other reason than to avoid the media.
Bryant, from what I know, is the only player not already in camp. I guess that he's holding off to avoid the media for long as possible, as once he gets there, he'll be pelted with questions. There's nothing obvious going on concerning a trade, so I doubt that the Cubs have asked him to hold off, but stranger things have happened.
CubsHQ was on hand Friday at Spring Training practices to give you an inside look with the Cubs:
Make sure you subscribe to our CubsHQ YouTube account (button is below this video) so you don't miss any of the action this season.
Astros taking heat: For whatever may have happened with the Cubs in Mesa today, it was overshadowed by more fallout from the Astros' cheating scandal. Things just keep getting worse in Houston. Owner Jim Crane offered a (non) apology that was nothing short of mind-boggling.
LOLOLOLOLOLOLOLOLOLOLOLOLOLOLOLOLOLOL pic.twitter.com/KVA2rrkmjM

— ElElegante101 (@skolanach) February 14, 2020
ESPN's Jeff Passan summed it up this way: "Jim Crane's latest attempt at damage control blew up in spectacular fashion Thursday. In 27 minutes at a news conference, he claimed his team's routine cheating during its 2017 championship season didn't impact the game, declared he shouldn't be held accountable for the organization he runs, used commissioner Rob Manfred's report on the Astros' malfeasance as a binky and so often repeated talking points that the Apology.exe program he tried to install in his head looked as if it were glitching. The entire charade devolved into a glorious bonfire, Crane's mouth a veritable fountain of lighter fluid.
Cody Bellinger is not happy about the Astros and their sign stealing or apology! pic.twitter.com/Q9po7TvhIx

— Baseball Quotes (@BaseballQuotes1) February 14, 2020
Trevor Bauer had something to say about Jim Crane's apology: "You don't think it affected the game? You're either lying, or you're a f*cking idiot. And [you] don't become a billionaire owner of a team by being a f*cking idiot. So, you're lying."
Cubs' Birthdays: Celebrating yesterday, were ex-Cubs Daniel Garibay (47), Len Gabrielson Jr. (80), and posthumously, Uel Eubanks (117), Mike Hechinger (130), and Ace Stewart (151).
Baseball Quotes: "Quit trying to strike everybody out. Strikeouts are boring, and besides that, they're fascist. Throw some ground balls. They're more democratic." -Bull Durham
The Pro's Cheese Pizza Box featuring Chicago #Cubs star Ernie Banks (1967)
~ Let's eat two! #MLB #NationalPizzaDay pic.twitter.com/VWNhRQPHmN

— Baseball by BSmile (@BSmile) February 9, 2020
MLB News and Notes:
Brewers: Brewers closer Josh Hader has lost his arbitration hearing. Hader wanted $6.4M, but an arbitrator said he'll play for the $4.1M that Milwaukee had offered.
Injury Report: It seems like a lot of MLB players are getting hurt in the first week of spring training. Cole Hamels (Braves) will miss the first three weeks of camp (shoulder), Mike Clevinger (Indians) needs surgery after tearing his left meniscus on Wednesday, and Mitch Haniger (Mariners) is down due to needing back surgery for a disc issue.
Jeremy Hellickson (Nationals) has suffered a setback from a 2019 shoulder injury and is now thought to be sidelined for 2020. The Blue Jays have shutdown LHP Ryan Borucki for elbow tightness, and the Astros have slowed Brad Peacock down due to nerve issues in his neck.