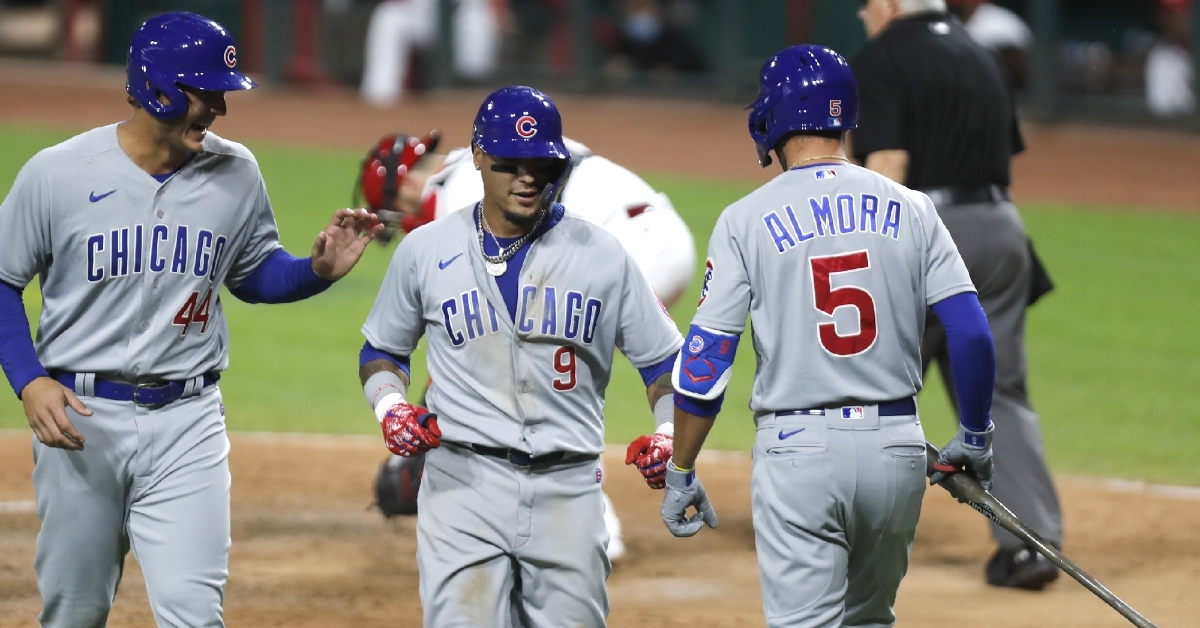 | | |
| --- | --- |
| Cubs News and Notes: Fly the W, Bryant with elbow issue, Cubs could use Foltynewicz | |
---
CUBS NEWS AND NOTES
Next Game: Today, 5:40 PM. Cubs @ Reds. Kyle Hendricks will look to match his Opening Day performance (gonna be hard to do), as Chicago's offense faces Reds' righty, Sonny Gray.
This is a four-game set, so the finale will be tomorrow with a 5:10 PM Central start time. Slated for that one are Yu Darvish and Luis Castillo (RHP) for Cincy. Everyone's had a solid start, but Yu, but don't fret, he'll get it locked in.
Fly the W…twice: Since I've been down, the Cubbies have managed to take not one, but two from the always problematic Reds. Last night, they won 8-5 on a great outing by Alec Mills; on Monday, they took the Big Red Machine by a final of 8-7, behind a refreshingly solid start by Jon Lester.
You say you want some highlights? I've got you covered.
On Monday, the Cubs bullpen just about gave it away, as they ponied up seven unanswered runs throughout three innings, squandering the 6-0 lead the Cubs had given Lester.
A little drama and a big W.

Recap: https://t.co/NSDBr7eaj7 #WhereStoriesPlay pic.twitter.com/1hhGZaEWfJ

— Chicago Cubs (@Cubs) July 28, 2020
Oh, by the way, Big Jon had himself a no-hitter after five innings of work.
.@JLester34 posts 5 hitless innings in his season debut! pic.twitter.com/oc60ZpBadE

— Chicago Cubs (@Cubs) July 28, 2020
Anthony Rizzo has been on absolute fire, blasting three homers in the first four games. He's also now been beaned four times.
Four games, three dingers. #TeamRizzo pic.twitter.com/CR4OPzyoWb

— Chicago Cubs (@Cubs) July 28, 2020
Last night, the bullpen did a little better, allowing the Cubs to hold their lead.
Javy turns it up a notch. ??

Recap: https://t.co/tosGYnHCrI #WhereStoriesPlay pic.twitter.com/8kNehTg1cm

— Chicago Cubs (@Cubs) July 29, 2020
It must be nice
It must be nice
To have Javier on your side pic.twitter.com/y35Bw24PIN

— Chicago Cubs (@Cubs) July 29, 2020
6 IP
2 H
2 ER

?? @ATMills37 pic.twitter.com/KS2IAHOLZZ

— Chicago Cubs (@Cubs) July 29, 2020
Bryant injured: Kris Bryant is now dealing with left elbow issues and was sidelined for last night's game. Bryant is getting treatment from the medical staff and considered day to day for an unspecified amount of time. Well, so much for that 1 for 17 leadoff man who's currently sporting a .059 batting average and a .158 OBP.
This is David Ross' chance to remove Bryant from the leadoff spot quietly. This project has been a disaster since Day-1, yet the Cubs have managed to win despite it.
Now 4-1, the Cubs have built a 1.5 game lead over the Cards, a two-game lead over the Brewers and Pirates, and they're now up three games on the Reds, which is very surprising.
Could Foltynewicz help? Very surprisingly, and even more abruptly, the Braves DFA'd Mike Foltynewicz just minutes after he was pulled Monday night after a bad start. Foltynewicz gave up four earned runs on four hits and as many walks in only 3.1 innings. The Braves ended up falling to the Rays by a final of 14-5 that night.
Foltynewicz is DFA'd after his first start of 2020, after being tapped to start the decisive Game 5 of the 2019 NLDS. His combined line for those two games: 3 2/3 IP, 12 ER, 7 H, 7 BB https://t.co/tbAsSXnYBl

— Baseball Reference (@baseball_ref) July 28, 2020
Foltynewicz may just need a change of scenery. He had an excellent second-half last season, he's young, still in his arbitration years and controllable through the end of next season.
Would I put in him in the rotation? Not unless I had to, but he'd be in the bullpen, hopefully shoring up what's become a complete debacle. With plenty of starting experience, Folty could act as a swingman, but he'd definitely be a top reliever candidate, as nothing coming out of the pen seems to be working lately.
Folty's no stranger to Chicago, as he grew up about 90-minutes west in Sterling, IL. Hire the hometown boy seemed to be the rationale for taking on Jason Kipnis, so the Cubs may as well get Foltynewicz a shot as well. I've read two articles in the last 12 hours about how he could benefit both Philly and the White Sox, so I may as well plead the case for the Cubs to latch onto him.
Cubs' Birthdays: Celebrating yesterday was ex-Cubs outfielder Carmelo Martínez (60).
Baseball Quotes: "There are three types of baseball players: Those who make it happen, those who watch it happen and those who wonder what happens." – Tommy Lasorda
A home opener is always exciting, no matter if it's home or on the road. -Yogi Berra pic.twitter.com/uEBqWKvLoV

— Baseball Quotes (@BaseballQuotes1) July 28, 2020
MLB NEWS AND NOTES
Dodger and Astros clash: LA fans(and apparently players) are still bitter over the 2017 WS loss to Houston – especially now that the cheating has been unmasked. Joe Kelly had his way with the Astros last night, doing a little taunting of his own after striking out Correa.
July 29, 2020
The benches cleared after Kelly yelled, "Nice swing, B***h!" No punches were thrown, but after Kelly spent the night throwing at Astros' batters, fines and maybe a suspension may be coming.
Joe Kelly throws a 3-0, 96 mile-per-hour fastball behind Alex Bregman

Looks like the first attempt at retaliation to the Astros pic.twitter.com/aDYMGCmIKz

— Baseball Quotes (@BaseballQuotes1) July 29, 2020
Carlos Correa and Joe Kelly exchanged words after Kelly struck out Correa. Benches cleared following the exchange. pic.twitter.com/sVHaibpN2y

— FOX Sports: MLB (@MLBONFOX) July 29, 2020
Dusty Baker said after Carlos Correa struck out, Joe Kelly said, "Nice, swing, bitch." Dusty: "What upset me was the umpires warned us. Why don't you warn him? He's the one throwing the ball. He's the one that started this mess in the first place. I didn't like it at all." pic.twitter.com/DOtaiYPVYT

— Alyson Footer (@alysonfooter) July 29, 2020
Cards in trouble: The Cardinals have lost star-pitcher Miles Mikolas for the season due to an elbow issue. He'll be undergoing surgery, as per team Executive, John Mozeliak.
Upgrade Your Account
Unlock premium boards and exclusive features (e.g. ad-free) by upgrading your account today.
Upgrade Now