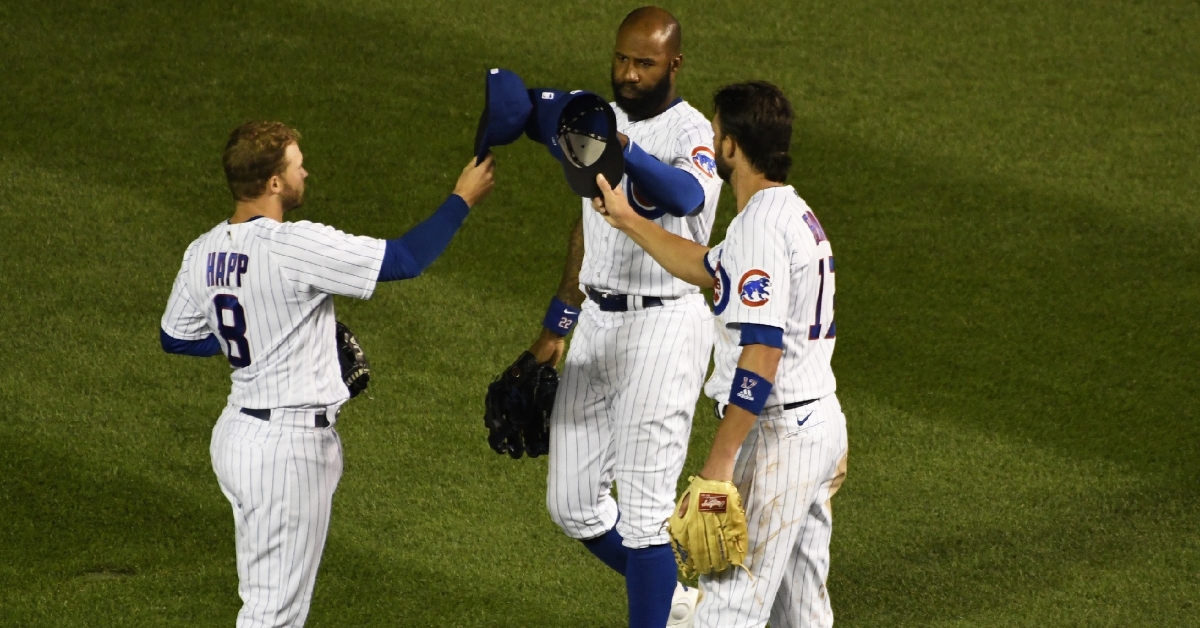 | | |
| --- | --- |
| Cubs News and Notes: Fly the W, Mills hot, K-Boom, El Mago, COVID-19 and Cards, more | |
---
| | | |
| --- | --- | --- |
| Tuesday, August 4, 2020, 8:31 AM | | |
CUBS NEWS AND NOTES
Next Game: Tonight, 7:15 PM Central. Royals at Cubs. Kyle Hendricks will get the start for Chicago, while right-hander Brady Singer is scheduled to take the bump for Kansas City. You can always find the game on the Marquee Sports Network or MLB TV, assuming that you are not in the blackout area. No matter what it takes, find a place to watch, is the Cubs have been impressive so far this season.
Cubs win again: increasing their winning streak to four, the Cubs improved their record to 8-2 (eat your heart out Joe Maddon) last night with a win over the Kansas City Royals. Final score Cubs-2, Twins-0.
With that win, Alec Mils improved to 2-0 with the win. Mills now boasts a 1.38 ERA.
He told the media in a postgame interview that he really enjoyed winning against his former team that traded him.
"That was a team that got rid of me a couple years ago," he said. "I understand the business. My job is to make it hurt whenever I face them again. It took four years for it to happen, but I'm glad i did."
How good was @ATMills37 tonight?

Very good. pic.twitter.com/qLgHimk4mp

— Marquee Sports Network (@WatchMarquee) August 4, 2020
Except for Kyle Hendricks' last outing, and a rough first start by Yu Darvish, the Cubs have gotten phenomenal starts every game.
According to STATS, through 10 games this season, Cubs starting pitchers have held their opponents to a .156 batting average which is the lowest batting average allowed by starters through 10 games in the live-ball era (since 1920).
4 straight quality starts ??

The rotation is shoving right now. pic.twitter.com/hZu6CjYGWn

— Marquee Sports Network (@WatchMarquee) August 4, 2020
K-Boom: While I'm still not sold I Kris Bryant leading off, he was absolutely impressive last night out of the number one spot. Bryant raked a double in his first at-bat, then later smacked one into the center field bleachers, despite the wind blowing in.
Bryant told the media that he told his son that he would hit a homer for him. He was asked how often he had told that to his newborn?
"First time. I'll probably tell him tomorrow, too."
Haters will say it's fake. #KBoom@BinnysBev pic.twitter.com/OMXgeIGTsX

— Chicago Cubs (@Cubs) August 4, 2020
Cubs Defense: Duffy was good on the mound last night for the Royals, limiting the Cubs' offense, but that doesn't mean that Chicago's defense didn't have a chance to shine. First, there was an unbelievable play at third base by David Bote, which looked almost Javy-esque.
.@DavidBote13 putting on a clinic at 3B! pic.twitter.com/hfnSn6VGaP

— Marquee Sports Network (@WatchMarquee) August 4, 2020
Then there's Javier Baez, and words can't describe the incredible tag he applied while cutting down a would-be base stealer. Watch the following video. Buy a supply of his classic no-look tags, never looks at anyone but Willson Contreras, all while giving Willy what appeared to be an "OK" sign. Very Impressive. El Mago is back.
Cubs win!

Mills leads @Cubs to 4th straight win. pic.twitter.com/1gbOS3CymC

— Marquee Sports Network (@WatchMarquee) August 4, 2020
Bullpen woes: although the Cubs have been stringing together wins, the bullpen remains a weak spot. Rowan Wick looked good last night, but the Cubs have been receiving sporadic outings by almost everybody in the pen.
As the trade deadline nears, one can only wonder what Tom Ricketts may do, now that the Cubs look like legitimate contenders. The other question, however, is how much do skeletonized rosters from the opposition play into this? The Cardinals are down nearly a dozen players, and when you consider all of the players who have opted out, one must wonder whether this can be called a legitimate season or not.
Either way, someone will be crowned World Series champion, and if that is to be the Chicago Cubs, then changes must occur. Chicago may be accumulating wins, but the current bullpen will never allow them to go nowhere in a playoff setting, especially if (when) it comes to facing the Yankees or Dodgers.
I still think that Mike Foltynewicz would be a good pickup, and there will be plenty of others out there – if the price is right.
Cubs' Birthdays: Celebrating yesterday were ex-cubs Félix Sánchez (39), Roosevelt Brown (45), and posthumously, Rod Beck (52), Jim Hegan (100), Al Kaiser (134), and Frank "Silver" Flint (165).
Baseball Quotes: "It's hard to be a Chicago Cubs fan. Everyone gets that. There have been so many close calls, like in 1962, when they missed the postseason by 42.5 games." – King Kaufman
MLB NEWS AND NOTES
Braves: The Braves suffered a devastating loss last night, and I'm not referring to the game. Ace starter Mike Soroka went down with a torn Achilles in his right leg, ending his season. There's almost some sick and twisted irony here, as Soroka chose to play rather than opt-out, then ends up sitting out for the season anyway.
#Braves ace Mike Soroka was carried off the field after appearing to injure his lower right leg. pic.twitter.com/E2jKAU5C9e

— Danny Vietti (@DannyVietti) August 3, 2020
Prayers for a speedy and full recovery.
Cardinals: Reports now say that 13 members of the St. Louis cardinals – not all players – are currently infected with the coronavirus. The team is now under quarantine at a motel in Milwaukee.
Reportedly, players found some amusement in visiting a casino in Illinois, while being kind enough to pose for pictures with fans. The word irresponsible doesn't even begin to describe what these players have been. Personally, I think they should be suspended and fined for jeopardizing not only themselves, but other players on their team, players they will come into contact with during play, and the MLB season as a whole.
Congratulations Miles Mikolas and John Gant: You're idiots.
Not difficult to believe the Cardinals have a coronavirus outbreak, reported by @markasaxon as two pitchers, when John Gant and Miles Mikolas seem cool with hugging strangers - maskless. @lastoneformiles #STLCards #MLB pic.twitter.com/yFNObkwmRr

— Nathan Woodside (@Nathanwoodside) July 31, 2020