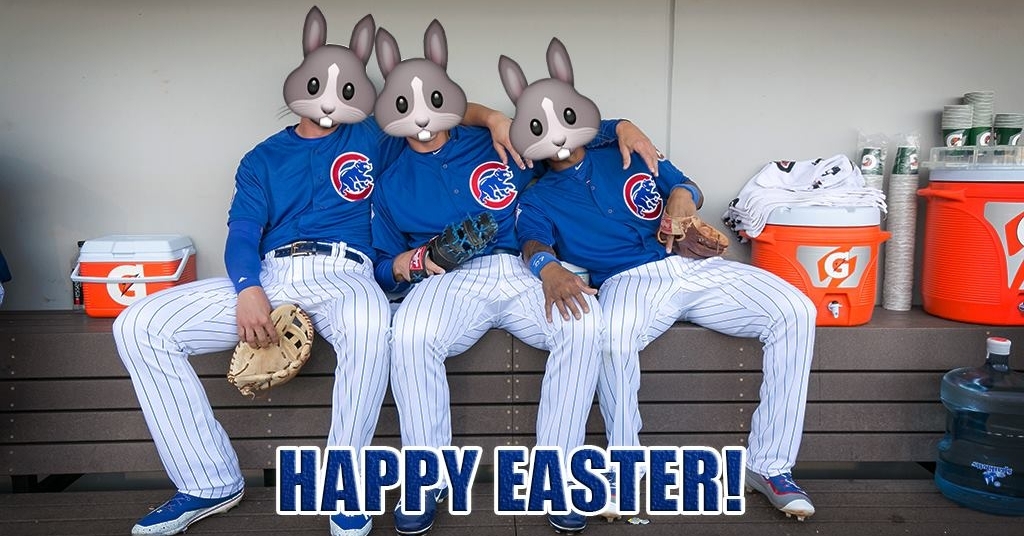 | | |
| --- | --- |
| Cubs News and Notes: Happy Easter, Congrats to Bryants, Cubs helping employees, more | |
---
| | | |
| --- | --- | --- |
| Sunday, April 12, 2020, 12:28 PM | | |
Happy Easter, everyone.
There hasn't been much to celebrate this year. Who knew that when the clocks sprung forward this spring, that we'd blast past daylight savings time, and enter the twilight zone?
Whether or not you're religious, there's still plenty to celebrate today. For those usually in church on this day, there's a ton of churches who are streaming services.
If you're struggling without baseball (and aren't we all?), celebrate the fact that every day we're without baseball brings us one day closer to its return.
Hopefully, if you have kids, they'll have an Easter basket, even if it doesn't look quite the same. My wife braved Walmart this week for groceries and found out that our local store was out of Easter egg coloring kits. Fortunately, my son figured out that there is no Easter Bunny.
If he hadn't, I was fully prepared to tell him that due to social distancing rules…
Stay healthy and safe. Enjoy your Easter dinner.
This time away has definitely been tough but with so many resources available now from zoom meetings to podcasts, books to connecting more with players and coaches. 2020 has presented some challenges, but also a ton of opportunity to continue growing and developing.

— Travis Fitta (@TravisFitta) April 11, 2020
CUBS NEWS AND NOTES
Baseball Held Hostage: It's hard to believe, but it's now been a month since we've had baseball.
Bryant's bundle: With all of the pandemic everyone has had to face lately, this should come as a welcome announcement: Kris and Jessica Bryant now have a bouncing baby boy. The couple chose the name Kyler Lee Bryant for their son. By all accounts, mom and baby are both healthy and doing fine. Congratulations.
??Kyler Lee Bryant??
4•7•20 pic.twitter.com/vL1Z9mb1uQ

— Jessica Bryant (@Jess__bryant) April 11, 2020
Others on the team don't have any kids – that is, unless you count dogs. Anthony Rizzo and his wife Emily have Kevin, who has become some sort of an internet sensation. Watch as Rizz and his teammates discuss what they ask if their pets could only answer.
.@ARizzo44 has a lot of questions for Kevin.#NationalPetDay ?? @ViennaBeef pic.twitter.com/A2yPawKEmE

— Chicago Cubs (@Cubs) April 11, 2020
Employee pay: Last month, MLB and all 30 teams agreed that $1M per team would be set aside to help compensate park employees during the postponement of the season. According to MLB Trade Rumors, the Cubs (and White Sox) have offered $500 grants to their employees as their way of disbursing the million dollars. According to the Cubs, that disbursement won't be the last, as the agreed-upon $1M was intended to be a minimum.
At $500 each, it only took 2,000 employees to blow through a million bucks. That's certainly not much to do anything with. I don't know how many park employees the Cubs have, but with ushers, security, parking attendants, concession workers, and guest services staff (among others), they'd almost certainly have to exceed 2,000 workers.
Kudos to the Braves, who have now set the bar for taking care of displaced workers. Atlanta's franchise has now vowed to pay all employees – whether full or part-time – through the end of May. The Braves will pay gameday employees from the $1M fund, but employees who are not dependent on games being played will be paid their full salaries each payday.
Best logos: Below are several Cubs' logos from today and yesteryear. If you could pick the three to be used for the season, which would you pick?
You can only pick 3 #Cubs logos, which are you taking? pic.twitter.com/I6jBN9ubnL

— Cubs Insider (@realcubsinsider) April 11, 2020
My votes are for numbers 9, 8, and 5. Number 9 just screams Cubs' baseball. The Cubs have used this logo for over 40 years (introduced in 1979). I like number 8 because it features the iconic Cubs' "C," but has the bear cub prowling, rather than to spell out the team name. You have to be old to remember the Cubs using the #5 logo, as it was introduced in 1972 and was replaced with the current logo after the 1978 season.
Comic relief: Who can't use a laugh right now. Comedian Roy Wood Jr. made a video parodying Ryan Dempster's baseball tips videos. Dempster has been posting videos about how to work out and stay in shape during the quarantine, most likely helpful to ballplayers at all levels.
In his own video, Wood decided to address the unsung heroes. Those who have no baseball skills but still made the team. Those who ride the bench.
Been fun watching @Dempster46 give out baseball tips you can work on during quarantine. This inspired me to start giving tips for people who are terrible at baseball.

This is the debut episode of 'Ridin Pine w/ Roy Wood Jr'@MLBNetwork @Cubs pic.twitter.com/gynmnzWZHO

— Roy Wood Jr- Ex Jedi (@roywoodjr) April 11, 2020
Cubs' Birthdays: Celebrating yesterday were ex-Cubs Andres Blanco (36), Todd Dunwoody (45), Robin Jennings (48), and posthumously, Hank Schenz (101).
Baseball Quotes: "Baseball is like church. Many attend, but few understand." - Leo Ernest Durocher
The dumber a pitcher is, the better. When he gets smart and begins to experiment with a lot of different pitches, he's in trouble.

All I ever had was a fastball, a curve and a changeup and I did pretty good. -Dizzy Dean pic.twitter.com/yDd16pzHf7

— Baseball Quotes (@BaseballQuotes1) April 11, 2020
MLB NEWS AND NOTES
More MLB drama? MLB Commissioner Rob Manfred hadn't even meted out punishment for cheating to Alex Cora or the Red Sox franchise before the COVID-19 pandemic came along, forcing Manfred to postpone the entire season. We're still a ways from getting to the end of the coronavirus debacle, and now the next potential baseball drama is brewing.
Aaron Judge (Yankees) and Blake Snell (Rays) tried to do something nice for charity. They made a friendly $5,000.00 bet, with the loser donating the five-grand to the winner's charity of choice. There's just one potentially huge problem as they bet on Major League Baseball. #DOH!
Aaron Judge & Blake Snell have agreed to a $5,000 wager on who will win more games this year: the #Yankees or Rays. Loser will donate to the winner's favorite charity.

— Bryan Hoch (@BryanHoch) April 10, 2020
Judge bet on the Yankees and Snell on the Rays, so I don't see a problem, as the bet is for charity. Betting on their teams to lose would have been a huge problem.