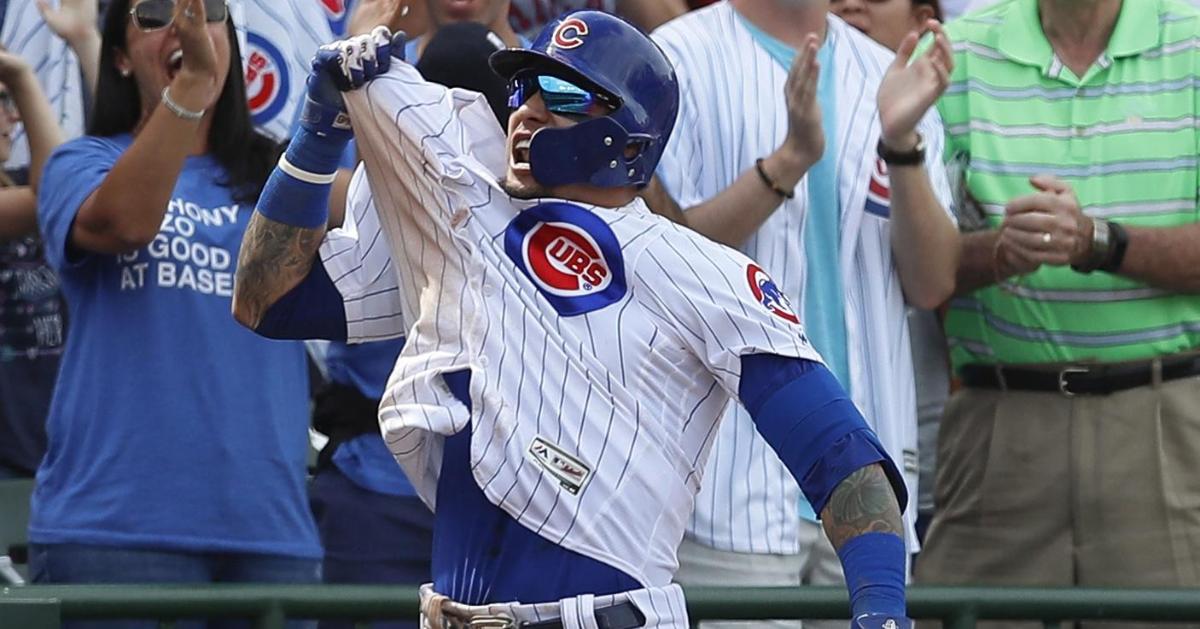 | | |
| --- | --- |
| Cubs News and Notes: Happy New Year!, Joe Maddon's Post closes, Hot Stove, more | |
---
| | | |
| --- | --- | --- |
| Tuesday, December 31, 2019, 6:01 PM | | |
CUBS NEWS AND NOTES
HAPPY NEW YEAR! Just a handful of hours remain until the decade ends and 2020 begins. Let me be the first to wish of you each a happy and
SAFE New Year.
If you're going to go out and celebrate tonight, please do so carefully. Find a designated driver if you want to "over-celebrate," so that you don't risk hurting yourself or somebody else. Oh, and hey, please have one for me, as I'll most likely be asleep by 10:00 pm!
These 10 best Chicago sports moments from the decade will remind you what it was like to be good at sports pic.twitter.com/JDRuAsk1pa

— Barstool Chicago (@barstoolchicago) December 30, 2019
Wrigley in December. pic.twitter.com/8D2VpbFwZ5

— Wrigley Aerials (@WrigleyAerials) December 30, 2019
As we put a lid on the 2010s, the biggest take away may very well be that the Cubs finally won a World Series. That's something that we'll never forget, and even if they don't win another in my lifetime, I'll always be grateful (although maybe not satisfied – wink).
The #Cubs won the World Series this decade. The #Yankees didn't. Deal with it. pic.twitter.com/jlxs6dap0D

— Tennessee Smokies (@smokiesbaseball) December 30, 2019
Next Game: Now that we're over the hump of the New Year, it's time to start the countdown again.
Next Game: 53 days – Saturday, February 22, 2020: Athletics vs. Cubs (Sloan Park)
Opening Day: 86 days – Thursday, March 26, 2020: Cubs vs. Brewers (Miller Park)
The Cubs will get busy right off the bat (no pun intended), shaping the NL Central standings. After a three-game set in Milwaukee, the Cubs will dart back to Wrigley for the home opener (three-game set) against Pittsburgh, beginning on March 30. Three games later, they'll be in Pittsburgh for a four-game set, followed by a three-game set (at Wrigley) against the Cards, which begins on April 10. By the time that April ends, the Cubs will see the Pirates yet again (at Wrigley) for another trio of games.
Of the 76 interdivisional games that the Cubs will play in 2020, a total of 16 of them will be played by the end of the first full month (21%). Also, by the end of April, the Cubs will have already faced the Pirates 10 of the 19 times that they'll see other in 2020, equating to 53%.
On Sept. 17, Yu Darvish struck out eight straight Reds, a Cubs' record for the longest streak in a single game.

More: https://t.co/DRe0AT6EP4 pic.twitter.com/9OWwUiYnmZ

— Cubs Talk (@NBCSCubs) December 30, 2019
Time to find a gear The winter is cruising by, and well, we all know what Theo has (not) gotten done. I opine daily about the need to trade Kris Bryant and how the Cubs will forego top-tier free agents, instead of looking to fulfill the roster via trades. Everyone, including Theo, Jed Hoyer, and Tom Ricketts, agrees that trades are going to happen, but here we are, three months into the offseason and… crickets.
When people say "New year, new me!"
I think... yeah that's the spirit, the old
you did kinda suck.

— Tim Dillard (@DimTillard) December 31, 2019
Joe Maddon visited 670 The Score on Monday and spoke to Laurence Holmes. The following quotes are from that interview.
Maddon on Ross: "I told him to manage like he played . He will be fine and eventually, a terrific manager."
Maddon on analytics: "… analytics [are] creating a sameness that may be contributing to a robotic way of playing. I want to create a roll that adheres to the theory that heartbeat matters and incorporate analytics into that. "
Maddon on Trout: When asked how Joe Maddon intended on coaching Mike Trout this season, he said, that while Javy might not have the offensive success that Trout enjoys, when it comes to being baseball players, Javy and Mike are pretty equal in charisma on the field, abilities on the field, athleticism on the field.
Maddon: "Great comparison between Javier Baez and Mike Trout. Javier may not be there yet. Mike is a humble young man; he may end up being the best player who ever played our game."
Maddon's Post: Well, it sure didn't take long for Maddon's Post to become a thing of the past.
Maddon's Post, the restaurant that neighbors Wrigley Field and named from the Cubs former manager, has closed https://t.co/Cd6WVfoztA

— Eater Chicago (@eaterchicago) December 30, 2019
I walked by the restaurant last June when I went to Wrigley, and the bar was hopping, but we avoided eating thereafter the game because of the things that I had read about the place. Multiple reviews by customers complained about the service, the portions, the prices, and in some cases, even the taste of the food. I guess sometimes name-value – even when you have a name like Maddon – just isn't enough.
Each year this event gets better, and raises more money for charity. Who doesn't love that?! Can't wait for 2020! https://t.co/kbEfYElSzP

— Jon Lester (@JLester34) December 30, 2019
Cubs' Birthdays: Celebrating yesterday were ex-Cubs Sean Gallagher (34), Steve Davis (66), and posthumously, Ray Prim (113) and Clarence Currie (141).
Baseball Quotes: "I think anything is possible if you have the mindset and the will and desire to do it and put the time in." -Roger Clemens
Above anything else, I hate to lose. -Jackie Robinson pic.twitter.com/2e4E2WjNtG

— Baseball Quotes (@BaseballQuotes1) December 24, 2019
MLB and the Hot Stove
NL Central News:
Reds: Looks the Theo has missed another opportunity, as the Reds have now signed Japanese CF Shogo Akiyama to a three-year deal.
Time for the Reds to go ALL IN? @StevePhillipsGM | #Reds pic.twitter.com/wOiwuZ1XeU

— MLB Network Radio on SiriusXM (@MLBNetworkRadio) December 31, 2019
From the Rest of MLB:
We lost The Great One 47 years ago today, but Roberto Clemente's legacy is eternal. pic.twitter.com/i5i0HxLskO

— National Baseball Hall of Fame and Museum ? (@baseballhall) December 31, 2019
Blue Jays: Toronto has designated infielder Richard Urena for assignment. His spot will now be used by Travis Shaw, whom the Jays signed last week.
The #WhiteSox might not be done yet https://t.co/wa6dRkf18v pic.twitter.com/AWHuxVXhwu

— MLB Trade Rumors (@mlbtraderumors) December 31, 2019
David Price: Even during the offseason, MLB players are subject to drug testing, and David Price has had just about enough of it. Not that Price has anything to hide, but he's been "randomly" picked for the third time in three months – and he isn't pleased about it.
David Price got drug tested a third time this offseason, and he let everyone know he's not happy about it!https://t.co/t5xwtBUQmy

— 12up (@12upSport) December 30, 2019
Mets: According to reports, the Mets may be willing to shop 1B Dominic Smith. Smith shows promise, but after rookie 1B Pete Alonso took the NL Rookie of the Year honors – in part, by belting 53 homers – it doesn't look like Smith is going to get a lot of playing time in NY.
And before we say goodbye to 2019, take a moment to remember some of the ballplayers we lost this year.
Remembering the ball players we lost in 2019, including Frank Robinson, Bill Buckner, Don Newcombe and Tyler Skaggs pic.twitter.com/8f77KBnlmY

— Baseball Quotes (@BaseballQuotes1) December 31, 2019
Remembering the ball players we lost in 2019, including Ron Fairly, Mel Stottlemyre, Jim Bouton, and Chris Duncan pic.twitter.com/yqRLegRkUD

— Baseball Quotes (@BaseballQuotes1) December 31, 2019